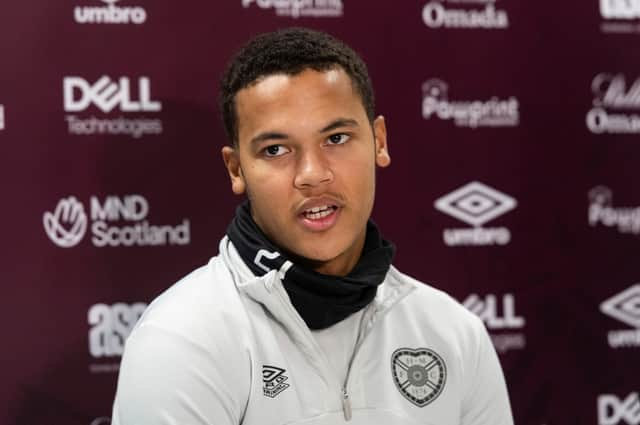 The subject of a couple of new year switches in the past, this time he was able to avoid a January flit as the Tynecastle club batted away any advances, allowing him to concentrate on his blossoming performances and on helping Hearts lift silverware and book a return to European competition.
"It's nice because it shows your worth," said 23-year-old Sibbic , who has turned his Hearts career around this term and become one of the most consistent performers. "It's nice to have interest from elsewhere but my mind was focused here. I just wanted to stay and keep playing.
"To be honest, it's just background noise. I'm at a good club, fighting for European places and we're still in the Scottish Cup. That's something we want to win this season so it wasn't really in my mind. I had conversations with the gaffer, but in my mind I just want to be here, keep playing games and keep developing."
That development has been obvious to anyone following his career and while there is an obvious financial lure south, he sees the value in waiting. "The Championship is a very good standard but we are in a good place now," continued Sibbick. "It would have been silly for me to exercise another option because I want to stay in the team and keep progressing as a player. I have more development in me and there is no better place to do that than here."
He was also grateful to the club for the way the interest was handled. "One of my friends messaged me saying: 'This has happened.' Then I saw the news," explained Sibbick. "I came in for training the next day, spoke to Joe [Savage, Sporting Director] and the manager and they said they wanted me to stay.
"I said: 'Listen, I'm happy to stay and I enjoy being here.' It would have been silly for me to leave, especially given where we are at this moment. Even if times are tough I don't necessarily want to run away. That can look like a weak mentality and it's easy to do but I'm in the team and playing and I just want to keep playing well, and help the team to keep doing well."
That stance allowed him to sit back and relax on deadline day, Sibbick revealing: "When Hearts put out that statement, I was on Twitter scrolling through and I saw my name and thought something had happened without me knowing. But they had just put it to bed and I spoke to my agent and said: 'I'm in a happy place so no need to entertain any other offers'.
"I'm here, I'm happy, I'm playing, so I just want to see how well we can do this season. We are in third place just now and we still have the cup to play for. To have the air cleared quickly was nice. The gaffer said I'm an important player for him now and it was obviously nice to hear that. It was a good conversation to have and now the window is shut and I'm focused on here."