Aidan Smith: Hearts maverick Rab Prentice had immaculate timing
Limited wardrobe but winger was a source of brilliant stories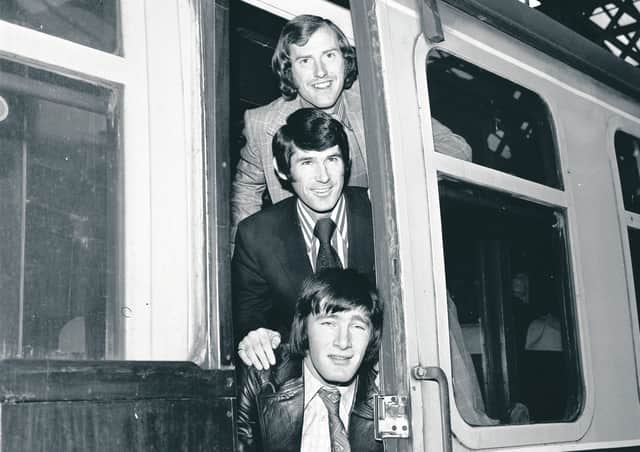 The late, great Rab Prentice, bottom, off on his travel again, with Hearts team-mates Jim Brown and Donald Ford. Picture: Scotsman Publications
When Manchester City checked into the airport, all dressed in double denim, I was looking forward to a poncey performance against Real Madrid in the Champions League and a virtually season-ending defeat. But they won the game so fair play, I suppose.
Just to be sure, the next time they're playing abroad maybe they could follow the example of Rab Prentice the maverick Hearts winger, who I learned from team-mate Graham Shaw this week, embarked on a four-month world tour with the club in 1976 – England, Norway, Denmark, Thailand, Australia, New Zealand and Mauritius – carrying an Adidas holdall containing just the one T-shirt.
For a while in this job I seemed to be collecting stories about another wayward son of Gorgie – Johnny Hamilton, also of Hibs – and I was pleased about that because they were very funny. But I'm beginning to think that tales about Prentice, who passed away last year, could rival them. News also reached me last week about Rab in Toronto holding up a coach trip because he was keen to phone home.
The call, incredibly, was made to a Penicuik phonebox. Equally incredibly, it was answered. "Hullo, is that you, Wullie?" Indeed it was Wullie, Prentice having timed the call for when his pal would be moseying towards the local betting-shop. "I'm in Canada so I need you to put on a line for me… "