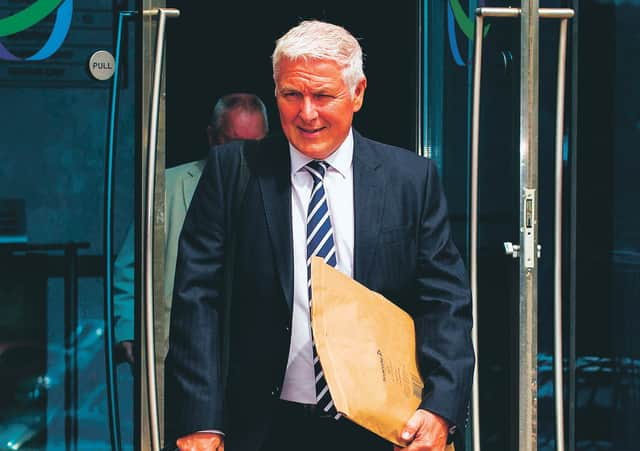 The likelihood of a 14-team top flight has increased significantly, although clubs remain divided over how the leagues will look below the Premiership if the revamp is approved.
The SPFL's Reconstruction Group, led by Hearts' Ann Budge and Hamilton's Les Gray, met on Friday and there is understood to be more momentum behind expanding the top tier in time for next season.
Two factions have emerged, however. One favours a Premiership of 14 teams with three leagues of 10 beneath it, while the other prefers three leagues of 14 clubs.
The 14-14-14 plan would have more chance of success because it does not bring two new clubs into the set-up and nor does it change the financial distribution model.
A vote on such a structure would require a 75 per cent majority across three groups: the Premiership, the Championship and Leagues One and Two combined.
However, for a 14-10-10-10 model to be approved it needs an 11-1 majority vote of the Premiership clubs, plus 75 per cent of the other divisions.
The latter model would add two new clubs from the Highland and Lowland Leagues, with respective champions Brora and Kelty in pole position.
Expanding the top league would spare Hearts, Partick Thistle and Stranraer from relegation. The latter two were bottom of their divisions when the league was ended early for the bottom three divisions. Hearts are currently bottom of the Premiership.
Gray, the Hamilton director, denied the purposed of the Reconstruction Group was to save those clubs.
"We are not charged with finding a solution which fixes things for Hearts, Partick Thistle and Stranraer, we are charged with finding a solution that is a remedy to the consequences of Covid-19 but at the same time has a firm eye on all 42 clubs and what is best for football, not just this one issue," he said.
"When we eventually get back to playing, we need to have a structure that we want to play in, so we need to carry on with this process and see if we can get to the end of it and if we can't it will not be for the want of trying.
"We have had two good meetings. The meeting we had on Friday lasted about two hours and there was a lot of views expressed and everybody got a chance to speak, and from the first meeting on Monday to the second meeting on Friday they had all submitted a paper to Ann [Budge, pictured inset] and I for consideration that laid out what they felt was the way forward and also, after speaking to colleagues in their leagues, what they thought would work and might get the necessary support.
"What we haven't discussed in the group is the distribution model and we haven't gone into depth about temporary or permanent restructuring of it, that's the next stage in the debate. If we can get a preferred way of doing it, can we then get into the nitty-gritty. That's where we are at.
"There are two methods that appear to be gathering support and momentum, but there's two or three other suggestions still on the table that we have to get to the bottom of as well.
"We hope to have a paper going back to the Reconstruction Group next week, with a view of meeting again towards the end of the week. That paper will hopefully give them as a group what we as a board of the SPFL think are the pros and cons of all the methods that have come up for debate."