Hearts' Lawrence Shankland: I live in the here and now - it would be hard to leave nights like Thursday behind
Hearts captain Lawrence Shankland may be attracting interest from cash rich Saudi Arabian clubs but Thursday night's European success served as a reminder that there are some experiences that money can't buy.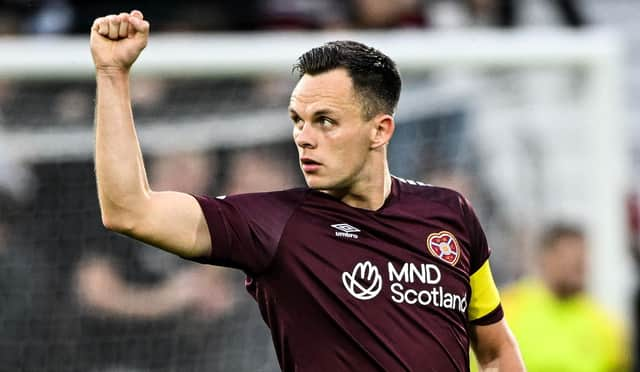 With less than a fortnight until the transfer window closes, there has been no formal bid lodged with the Gorgie club and the striker has said that until that changes he will focus on trying to help Hearts deliver more memorable victories. The Scotland forward was one of Thursday evening's star performers and within a team display that offered cut and thrust, he combined heart, soul, and a footballing brain as he joined with Liam Boyce to effectively lead the line.
It was his equaliser that allowed Hearts to hit the reset button after they conceded the early goal and, in the dying minutes, he was the one who blocked match winner Cammy Devlin's initial stoppage time effort which he joked "was going to hit the corner flag" and "managed to get him another go at it". In between was sandwiched a performance that numbered among his best for the Gorgie side.
"Last season was great for me, I played well," said the man who topped the capital club's goal charts with 28 goals and enhanced his reputation as one of the league's most prolific goalscorers. "But last weekend against Kilmarnock was probably my worst game for Hearts. So it was important that I bounced back against Rosenborg, for myself. That put a smile back on my face.
"Listen, I live in the here and now. I play my football at Hearts and I'll keep doing that until I'm told not to. But would it be hard to leave nights like Thursday behind if an opportunity came up? Of course, because these European games, with the big atmospheres, are great to play in. It's the same when we play the Old Firm or Aberdeen, Hibs – those are the matches you love to play in. So, until that moment comes, I won't take any interest in it."
Recalled to Steve Clarke's Scotland side last term, he has not spoken to international colleague Jack Hendry, who has already made the switch to the Saudi Pro League, "I've just seen all sorts of social media posts from over there, like everyone else. But I might text him and ask if he got the same deal as Neymar!"
At 28, the financial enticement would be hard to refuse if an offer is tabled but, if nothing comes of the speculation, it's unlikely the player will be heart broken, especially if Hearts can back-up their Europa Conference League qualifying success over Rosenborg with another rousing underdog performance against PAOK of Greece in the final play-off round.
"It would be brilliant to reach the group stage. We got a taste of it last year and it was a great experience for us. The games are always big and that's where you want to be. You want to be playing at that level. We've given ourselves an opportunity now so hopefully we can go and take it.
"The European games here always seem to bring a good atmosphere. It was the same last year, Tynecastle is renowned for it. They're great games to play in and, thankfully, we got a result. We want more of the same next week against PAOK.
"The European games are different to Scottish ones. If you watch our game against Kilmarnock last week and then watch Thursday night - it's a totally different game of football but I enjoy the European games because they are more open, especially when teams come to Tynecastle. That's when we get a bit of joy.
"But the biggest thing is the atmosphere. There's big pressure on these games but that's what you want to be involved in. Every team you play is different. Last season we played against Fiorentina who were totally different to Rosenborg. It's a mixed bag. For me personally, I just try to concentrate on scoring goals. As long as that happens, I'm happy so I'll stick to that."
As Hearts' influential captain, there is also the lure of lifting silverware. But, as last season proved, it is tricky to maintain consistently high standards when bouncing between European and domestic fixtures. Partick Thistle travel to Tynecastle on Sunday hoping they can capitalise on that and oust the Premiership club from the League Cup but victory would see Hearts into the quarter-finals and with Devlin bagging the brace against the Norwegians and Liam Boyce getting back to full fitness, there is no need for Shankland to shoulder as much of the scoring burden this term.
"It's great to have Boycie back," said Shankland. "He's a top player and he's been here longer than me. We started last season together and were starting to get a real connection between us. He's come back sharp and he's looking good again after his injury."
That understanding has been increasingly evident in the minutes accumulated this season and looked particularly incisive in their first start together since August last year but there are also new relationships to foster, with Shankland a big fan of teenage midfielder Aidan Denholm. The 19 year old has impressed in recent weeks but still required some guidance from his captain on Thursday after a poor challenge saw him booked.
"That's all part of being captain. He had a wee look at the sky but he'd hardly done anything wrong. He tried to do the right thing in the middle of the park and lost the ball but I said to him, when you start games, you'll make mistakes. Before Thursday, he'd hardly put a foot wrong. When the mistakes come you have to bounce back so I reminded him of that."
Shankland is experienced enough to recognise that focusing on the here and now is all that players can do. As for the rest of the noise? That's for others to deal with.