Hearts, Hibs and Rangers give us something to celebrate: big five fly flag, how it impacts coefficient, the nations battling Scotland
A cut-out-and-keep moment for Scottish clubs' participation in European competition has been fashioned by the exploits of Rangers, Hearts and Hibs this week.
Even more joyously, courtesy of the three clubs emerging from respectivedicey qualifying ties, there is the – outside, it must be accepted – possibility of more reasons to reach for the scissors in the next fortnight. In itself, that deserves to be celebrated. For, let's be frank here, no-one who has watched Scottish clubs in the arena so often flail when fortitude has been required, would have laid tuppence on all three navigating the choppy waters they found themselves in.
Yet, this is what Rangers did in shaking off a ghastly first half away to Servette to find their way, and the net, and secure a 3-2 aggregate success to book them a Champions League play-off with PSV Eindhoven. What Hearts did in recovering from the loss of a goal in the decider of their Europa Conference League third round that had them trailing 3-1 on aggregate to Rosenborg at Tynecastle only to stage a revival that earned a 4-3 triumph over the two legs and set up a play-off with Greek club PAOK. What Hibs did in refusing to fold when they found themselves 2-1 down in Switzerland to a blood-scenting Luzern, instead striking back to claim a 5-3 aggregate success that has set up a succulent set-to with weighty English Premier League opposition in the form of John McGinn's Aston Villa.
With Celtic automatic entrants to the Champions League group stage, and Aberdeen entering at the play-off round of the Europa League on Thursday when they travel to Sweden to take on Hacken on Thursday, for the first time come late August in any season Scotland has five teams still involved in European competition. Moreover, the country is one of only nine among UEFA's 55 nations not to lose any of its representatives to this point.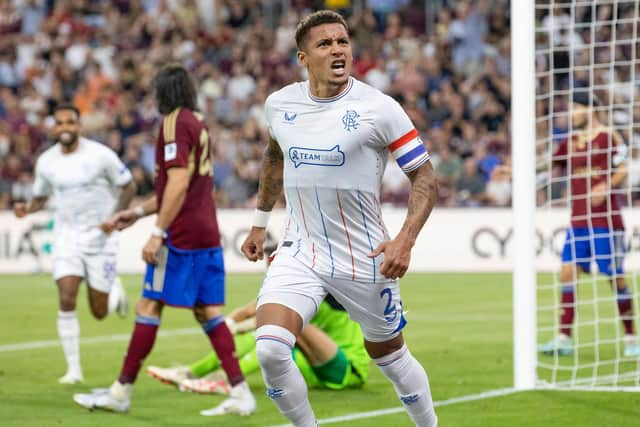 Even if, as seems likely, PSV – at Ibrox on Tuesday for the Champions League play-off first leg – prove too hot to handle for Rangers, and it is a similar story for Aberdeen, Scotland are guaranteed to have three group-stage participants. In that scenario, Michael Beale's men would drop down to the Europa League as the Pittodrie side bank the consolation of competing in the Conference League. A situation, however unromatically it might sound, that would pit them against more favourable opposition and so be actually advantageous for the crucial coefficient point-gathering demanded to ensure Scotland do not drop out of the top 10-ranked nations come 2025-26.
Currently sitting ninth, Turkey, Austria, Switzerland and Serbia are breathing down their necks. All amassed a higher points total than the combined haul of Scotland's five European entrants last season. Indeed, Turkey's tally of 11.8 was 8.3 greater than Scotland's paltry figure (calculated by dividing the overall total by number of representatives). A similarly poor return could push them out of the top 10, the standing necessary both to ensure the Scottish champions go directly into the second staging of a revamped Champions League next season moving to a one set-up structure, and that two other clubs are guaranteed to contest the replicated format in either of the other two competitions.
Scotland have never had four straight seasons when they have been in the top 10, as they are striving for in the coming months. Equally, they have never had four teams playing European group stage football in any one season. This is what makes the continued presence of Hearts and Hibs in continental competition so compelling, the first such campaign in which the country's five big five are its representatives in the domain. Perhaps a factor in all the clubs proving competitive against teams to which they should have been able to measure up, and the peak interest levels that have ensued.
That situation changes in the coming week. It is fanciful to believe Hibs could eliminate Villa – who will be entertained at Easter Road at tea-time on Wednesday – and be playing group-stage football alongside Celtic, Rangers and Aberdeen across the autumn months. The reality is that Hearts are also long odds to prevail over the Thessalonian side, who pitch up at Tynecastle on Thursday. Possessing pedigree at this level with seven Europa League group campaigns in the past 13 years, two years ago they reached the quarter-finals of the maiden Conference League. It might seem a comedown to believe that over the next week-and-a-half all four Scottish teams in the various European play-offs will come up short, but it should be a source of cheer that the nation even has a quartet bidding to avoid such fates.