Harry Kane: Premier League top-scorer fuss is weird and he's right to chase real glory in Germany
I defer to my mate Matt, who runs the best coffee house in town, on many things. Among them what a decent flat white should taste like. He recently started selling books as well. A small and perfectly formed collection. Some Murakami. Nan Shepherd's The Living Mountain. Kerouac. A bit of beat poetry. Plenty of cycling titles, particularly by Richard Moore. Nothing on Duncan Ferguson, but we'll overlook that.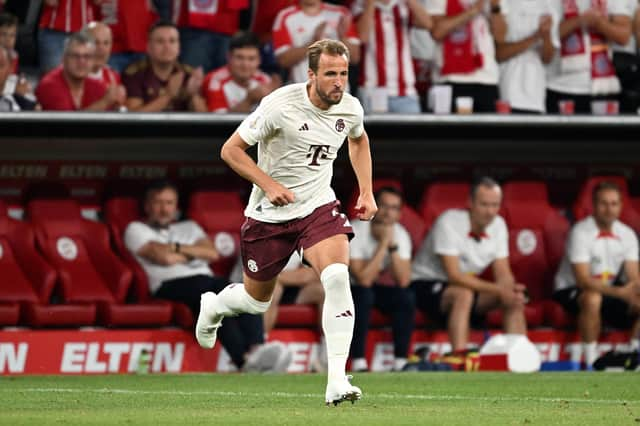 Over and above this, his views on and taste in music are beyond reproach. He runs the kind of impeccable place that, the morning after Robbie Robertson's death had been announced to a shocked Twittersphere, was playing the luscious sounds of The Band to those drifting in from the street in search of their first hit of caffeine.
Basically, he knows his beans.
But we were at odds a couple of mornings ago. He's a big Spurs fan, you see. And he's been in a state of high anxiety all week as the Harry Kane story built to a climax.
An additional portion of drama arrived on Friday. Like something out of an episode of Succession, the Kane private jet set to take him to Germany to sign for Bayern Munich remained grounded at Stansted while some aspect of the £100 million deal was being tweaked.
"We are trying to get the captain of the English national team out of England, out of the Premier League. That says it all. It's a huge deal," explained Thomas Tuchel, the Bayern Munich manager, making it sound as if the Premier League owned Kane, which is sometimes how it felt.
The plane has, of course, since deposited Kane in Germany and the wailing and gnashing of teeth has been staggering. Not all of it from Spurs fans like Matt, it has to be said. The biggest tantrums have been heard from pundits who can't quite believe Kane is leaving The World's Best League to join that piffling Bundesliga, where – whisper it in the vicinity of Micah Richards et al – last season's average crowd of over 43,000 comfortably outstripped the equivalent figure in the Premier League.
Jamie Carragher still wasn't having it, typing into Twitter that "Alan Shearer's PL goal record gets talked about a lot more than his PL winners medal. That record will be huge for HK." A four-year contract at Bayern Munich suggests otherwise.
Kane can create new records that actually mean something at Bayern, who are bidding for a 12th consecutive Bundesliga title. He will be under more extreme pressure at the Allianz Arena, because success is expected. Bayern aren't hapless romantics like Spurs - though I won't be telling Matt that.
He's a bit crushed. He was hoping against hope that the lure of such personal glory as becoming the top scorer in Premier League history might tip the balance towards Kane staying in North London. I wasn't having that.
"The game's about glory Matt, you should know that - you're a Spurs fan. Danny Blanchflower, remember, and all that stuff about 'doing things in style, going out to beat the other lot, not waiting for them to die of boredom'." Glory isn't sitting atop a stack of names on a list. And anyway, it's Jimmy Greaves who really heads the pack when it comes to all-time top-flight goalscorers, not bloody Shearer.
Football didn't start in 1992-93, you know. And even if we accept this is a relevant target, Kane's still 47 goals shy of Shearer's 260-goal total. He was hardly on the brink.
In addition, there's a new kid in town called Erling Haaland, who's already two to the good this season and sits on 38 goals in 12 months.
Matt was unsure. He was making me doubt myself. Taking a cue from Carragher, he wanted to know what Shearer will be best remembered for - winning the title with Blackburn Rovers, or topping the Premier League all-time scoring chart?
I told him exactly what he'd be remembered for. Spearheading that title win with Blackburn. Shearer and Sutton. SAS. Footballer-turned-solicitor Stuart Ripley. Kevin Gallacher with the ammo. Defensive colossus Colin Hendry. Local hero Jack Walker on the pitch. Tears. The potentially ruinous defeat at Anfield on the final day that didn't matter in the end because Manchester Utd had blown it elsewhere. Drama in excelsis.
And then the trophy, the top of which Shearer placed on his head as he and his ecstatic teammates frolicked in front of the fans at the Anfield Road end. You can't physically lift the title of Premier League top-ever goalscorer and share it with the supporters.
It's a dry statistic that doesn't even make sense except in the heads of those behind the Premier League marketing machine, who have somehow succeeded in drawing a line between football before 1992 and afterwards, rendering even those such as the incomparable Greaves redundant.
A new level of idiocy was reached on Friday evening when a pundit on Radio 5 Live contended that Liverpool's Steven Gerrard didn't win a league title but it didn't matter, because he remains Liverpool's "greatest-ever player".
This might be news to Kenny Dalglish with his three European Cups and eight league titles, one of which he secured with the match-winning goal at Chelsea while player-manager. I mean, there's your glory.
Dalglish could have stayed at Celtic. But he spied new frontiers. Kane is now a Champions League contender. And whether or not he wins this title at Bayern Munich, he could yet gain immortality in Germany – by leading England to next summer's Euro 2024 title, thereby becoming the first player since Bobby Moore to captain the men's side to a major honour.
It's not as if he is retiring by going to play for one of the biggest clubs in the world.
Viel glück, Harry Kane.​​​​​​​​​​​​​​