Hamilton boss John Rankin makes Christmas baby quip as celebration for cup win as he swerves players' night out
John Rankin has told his Hamilton Accies team to go and enjoy their night out for winning the SPFL Trust Trophy final without him – joking that his own celebrations may lead to a fourth member of the Rankin family being brought into the world at Christmas time.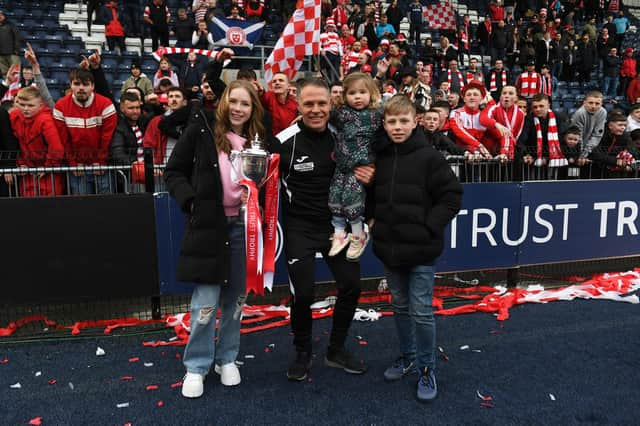 The Hamilton manager was put through the mill as his team suffered three first-half injuries and then saw out the final 35 minutes with ten men as they held on to beat Raith Rovers 1-0 at the Falkirk Stadium. But with his team battling relegation, Rankin has urged them to savour the moment before coming back to preserve their Championship status.
"I don't drink but I have told the boys to go and enjoy the night without me," said Rankin. "It's important they spend the night together and enjoy the moments like this. They are few and far between. I want them to build their spirit, I know it is there now, but they can add to that." He then added, on his own plans, with a grin: "There's three children in my family and if there's another due on Christmas Day, I wouldn't be surprised."
On a more serious note, Rankin said: "They can enjoy the night but they will be in tomorrow as we have a battle to win to stay up.
Matchwinner Reghan Tumilty, scoring against his former club, echoed his manager's sentiments. "To get the winning goal in the end is special for me. It's never usually me, I'm never up for corners," he said. "But the gaffer sent me up for a set-piece – I'm not even the man to head the ball, I'm the decoy! It's going to bring us together even more. The boys are buzzing in there, so hopefully this can help propel us up the league."
Losing Raith manager Ian Murray said: "We are extremely disappointed. We started really poorly and looked nervous. I understand that as players are human. We lost a really bad goal. But second half we were excellent. We just couldn't get that goal and their keeper has had a couple of really good saves. We have to pick ourselves up now. We can't swell on it. It's about trying to push into the play-offs."