Greatest voices in Rangers history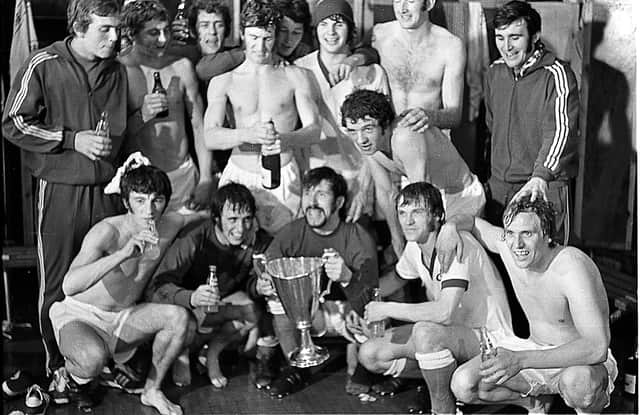 There have been countless great voices to enter through the famous doors at Ibrox.
But how many of them had such an impact that years, even decades, later, echoes of their voices can still be heard?
In this article, we look through six of the most valuable and try and what made them true Rangers legends.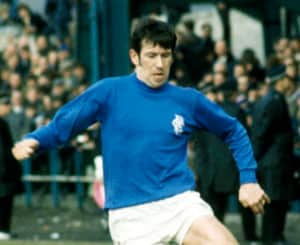 Managers who never played the game may seem like a recent phenomenon, but in the early days of the sport it wasn't too uncommon to find leaders who hadn't excelled at the highest level. One of them, Bill Struth, would go on to become an Ibrox legend.
A professional middle distant runner and stonemason, Struth started his coaching career at Tynecastle before taking over the manager's job at Clyde in 1907.
After leading the Glasgow side to two Scottish Cup finals, where they would lose to Dundee and Celtic, he accepted a trainer's position at Rangers in 1914.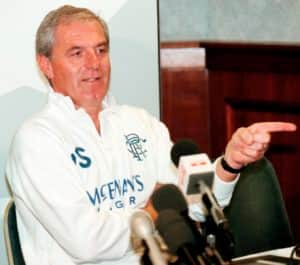 Ultimately, he would take over the role as manager and stay in the position for an incredible 34 years. It makes him the club's longest running manager and is a Rangers record that will likely never be broken. The same goes for his 18 league titles won at Ibrox, which is the most by any one gaffer in Scottish football history.
After amassing an astounding 30 major trophies, including the first ever League Cup, Struth became a director of the club in 1947.
Sadly, he would pass away nine years later, though his legacy lived on throughout the decades, and in 2006 the club took the decision to rename the Main Stand as the Bill Struth Main Stand.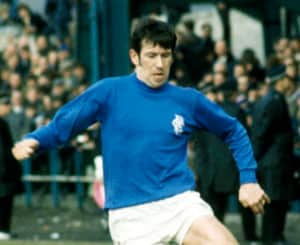 The former Ibrox half-back had already achieved legendary status at another club when he succeeded his former boss Struth as manager at Rangers. In a six-year spell at East Fife, Symon led the Methil club to two League Cup victories and a pair of third-place finishes in the Scottish top flight.
After taking over at Ibrox he continued the proud winning tradition, collecting six titles in a 13-year span, to go with five Scottish Cups and four League Cups. He would lead Rangers into Europe for the first time and even reached two Cup Winners Cup finals, paving the way for the club's eventual success in the competition in 1972.
He also handed a debut to the most popular Rangers player of all time.
John Greig in action for Rangers. Picture: SNS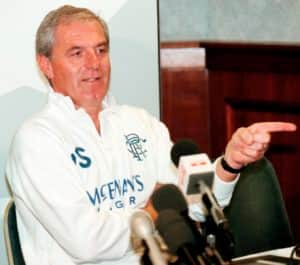 Considering the success throughout the club's history, to be named as the greatest Ranger of all time, as the fans voted Greig in 1999, is the ultimate compliment.
The honour is not too surprising when you see what Greig gave to the club and what the club gave him in return. He made the most appearances of any player ever (755), captained the club for years - including in the 1972 Cup Winners Cup triumph - went on to manage the side for a five-year spell and would eventually become a director.
It is a testament to Greig's legacy that he is so highly revered by fans despite over half of his 17-year career coming during Celtic's nine-in-a-row era.
He was a true leader among men.
A stalwart for the club during the nine-in-a-row era, McCoist is Rangers' all-time leading scorer with an incredible 355 goals in all competitions. This included back-to-back triumphs as Europe's Golden Boot winner in 1992 and 1993.
He didn't do too bad in terms of collecting medals either. In total, McCoist won 21 major honours as a Rangers player, including nine league titles. Even in his final game at the age of 35, though Rangers would not win, his determination to succeed shone through as he almost clawed back a 2-0 deficit against Hearts single-handedly in the 1998 Scottish Cup final, scoring once and coming within inches of winning a penalty.
He would later go on to become assistant manager to Walter Smith before eventually succeeding his former boss. While McCoist's record as manager, from 2011-2014, may not have been the greatest of successes, he still stuck with the club through the darkest period in its history when many others decided their future lay elsewhere.
Walter Smith talking to the media in 1996. Picture: SNS
The leader throughout the majority of the nine-in-a-row era. Though Graeme Souness got the ball rolling, it would be Smith who captured seven of the nine titles won throughout the most successful period in the club's history. Some fans still believe that, had Smith not been pressured by the board into announcing his upcoming resignation halfway through the 1997/98 season, Rangers would have went on to break Celtic's record by winning ten straight league titles.
Seeing as Celtic were struggling throughout a lot of the 90s, while Rangers were lavishing spending, his most impressive job may have been after he came back to the club in 2007. He won eight trophies in four-and-a-half years on an ever-reducing budget, despite competing with a Celtic side who were dominating the top flight prior to his return, and even led the team to the 2008 Uefa Cup final.
The shortest tenure of any Rangers man on this list, but undoubtedly the most popular player among fans old enough to only remember the early 90s onwards - and dare say the most popular player in the eyes of many seasoned supporters as well.
The Dane was a terrific technical football and ruthless competitor who would light up Scottish football for four years between 1994 and 1998, snagging three player of the year awards (one Players'; two Writers') and winning three league titles.
Aside from his superb play, he'll always be remembered fondly for the header in a 1-0 win at Dundee United which secured the club's ninth title in a row.