But very little in Scottish football is uncomplicated. The matter of who he will be willing to win is not at all clear cut in the case of Shinnie, who will be on holiday with his family trying to relax when the showpiece occasion takes place.
A Celtic triumph of course guarantees Aberdeen European group football until Christmas, which represents a considerable boost to the Pittodrie club's coffers.
But will Shinnie even be with Aberdeen next season? As it stands, he won't be. He has one season left at Wigan Athletic, the club who have just been relegated to English football's third tier amid ongoing financial strife.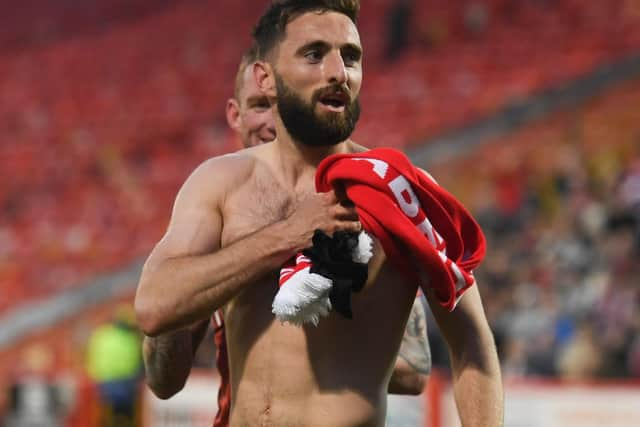 They might wish to be rid of their weekly wage commitments to Shinnie but can Aberdeen match these same sums? They might be better placed to do so if European football is secured until Christmas, which increases the likelihood of Aberdeen fans settling down in front of their TV sets at 5.30pm next Saturday evening praying there is no upset.
It might be an unpalatable scenario but when the good of their club is at stake they will need to grin and bear it. If it was presented as starkly as a Celtic win meaning Shinnie will sign permanently then Aberdeen fans would likely happily belt out a few lusty choruses of "It's A Grand Old Team To Play for..." while they're at it.
The obvious question to ask Shinnie after he starred in Aberdeen's 3-0 win over St Mirren in midweek is whether it was his farewell Pittodrie appearance, or will he be back to lead the team into Europe next season?
"Let me enjoy it will you!" he said. "We still have one game to go and then I will have a holiday with my wife and two kids to switch off for a bit. We will then see what happens. There is stuff to be dealt with, in terms of where I will be. That will be dealt with over the summer.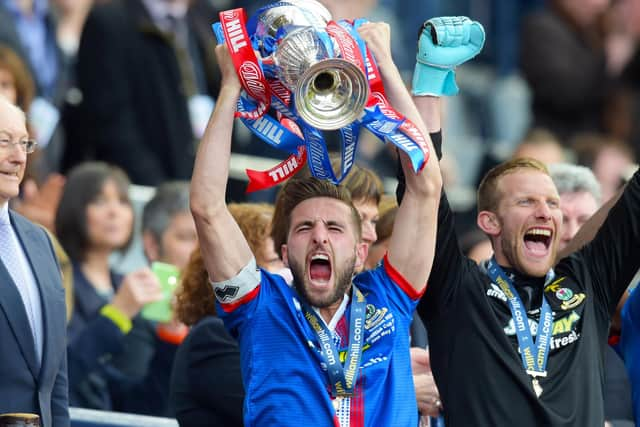 "Right now, I am a Wigan player at the end of the loan spell. We will wait and see. I love it here and it feels like home here. I am captain and I love the club. You can see that with the passion I have for the club but we will wait and see."
The million-dollar question is what does he want to do? "That is a bit obvious," said the boyhood Aberdeen fan. "It's one of those, let's see what happens. I can't say anything here or there because it is still up in the air. We still have the season to finish and that is what I am focusing on and then we can sort it out and we will see what happens."
Amid so much uncertainty, Shinnie must feel terribly conflicted about the Scottish Cup final. Clearly there's a significant emotional attachment to Inverness, the club where his status as first skipper to lift a major honour is secure.
Shinnie is looking at it positively. It's unhelpful to get bent out of shape over something he has no control over. May the best team win, and all that. His main concern is a familiar one for many football fans abroad: will he find a pub showing it?
"I will be in Spain and hopefully I will be able to watch it," he said. "It is going to be a mad one with the European places and it changes if Inverness win.
"We (Aberdeen) want to be in the group stages but it is one of those where it is my old club and I won the Scottish Cup with them so I know what it brings. It will be a win-win either way, isn't it?"
Perhaps. He certainly won't be short of offers come the summer though it's clear Aberdeen would be his preference providing they can come close to matching his Wigan deal. He was at the heart of his side's victory on Wednesday as Aberdeen clinched third place, leading from the front as always and even helping himself to a rare double.
It is the first time he has struck twice in the same game since a 2-0 win over St Johnstone in 2019 during his first spell at the club, which was the only previous time he has hit two goals in a game in his career. "The boys were selfish and never got me a penalty for my hat-trick!" he said with reference to Wednesday.
He admitted there was extra motivation after the four-game suspension he had served following a controversial red card against Ross County. He was given an extra one-game ban due to what was termed Aberdeen's "frivolous" appeal. Although it was only four matches, the suspension actually spanned six weeks – longer than a close season. He certainly looked fresh and eager to go - as well as conspicuously motivated.
"There was a feeling of injustice but I think that frustration came out," he said. "It was four games but almost six weeks. It was longer than what I would have had off in the summer. Some of the games were good to watch. Rangers, especially, when you are winning but the Hibs one was tough to watch.
"When things aren't going right and the team isn't playing as well as we know they can and I am watching on and can't help them that is frustrating. The lads have done well. It has been a remarkable turnaround from where we were in January. I am just delighted for everybody, the staff players and everybody at the club."