Fan fury and 'no apology' verdict from Sandy Clark; Albion Rovers lose league status after 120 years on Spartans' day to savour
Whither Albion Rovers? What now for a club so steeped in Scottish League history?
On the morning of the Wee Rovers' sole Scottish Cup final appearance in 1920, local paper the Coatbridge Leader included pen pics of those stars of yesteryear, including fabulously named goalkeeper Joe Shortt, and posed the question: "Will they lift the cup?"
The Coatbridge Leader is no more but another question hung in the air in the town on the morning of this Pyramid play-off final second leg shootout against Spartans, perhaps the most momentous game in the club's history since that trip to Hampden, when 95,000 watched as Albion Rovers lost by the odd goal in five to Kilmarnock.
It was not about glory now. It was about desperate, last-ditch, nothing-else-matters survival. Could the current men of dear old Cliftonhill preserve the club's Scottish league status?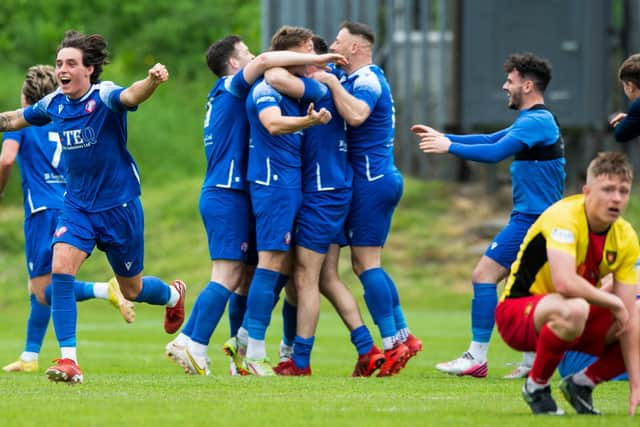 Sadly for them and those with a keen sense of the history of the Scottish game, the answer was no. Indeed, the question seemed a redundant one from the moment skipper Blair Malcolm was red carded for a fly kick at grounded Spartans player Rhys Armstrong with 15 minutes left. The hosts, including wanted man Charlie Reilly, already looked bereft of ideas.
A nonchalantly-taken penalty by Blair Henderson after 15 minutes that belied the high stakes nature of the game stood as the game and tie's winner as Spartans became the third successive Lowland League club to gain access to the SPFL via the play offs.
The award came after Kyle Fleming had whipped the legs from under Jordan Tapping following a corner. Henderson rolled the ball to Rovers keeper Jack Leighfield's right like he was Zinedine Zidane or something.
"Who's the Diamond in the black" chorused the home fans at referee Matthew MacDermid. It was a reminder that, despite Rovers' predicament combined with Airdrie's own play off success, local rivalry will remain a feature of their existence. But other things will change. They must.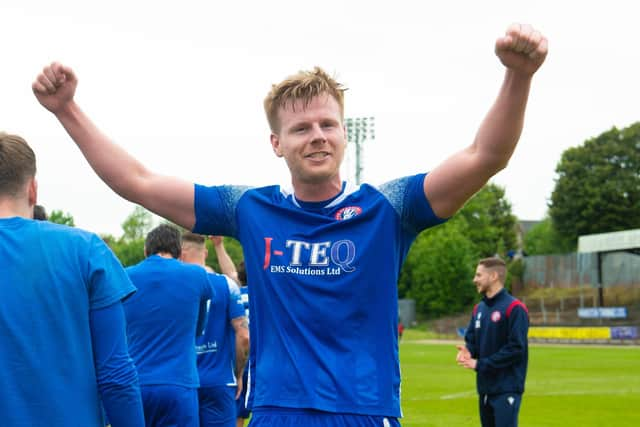 It seemed strange to reflect that having driven into a town that housed a Scottish League team, and had done so for the past 104 unbroken years, one left a town deprived of one just a few hours later.
Not everyone munching away in a McDonald's just a few hundred yards from Cliftonhill might have cared. However, plenty clearly do. All 1200 tickets for this clash sold out in ten minutes.
"It is 120 years," reflected Albion Rovers manager Sandy Clark afterwards. "It is a sore one for everyone connected with Albion Rovers." A tweet from the club described it as "the darkest day in the club's history".
Clark has only been in situ in this latest spell at the club for seven weeks but was clearly hurting. "I feel it enormously and I am sure the supporters who have been supporting this football club for a long time feel it a lot more than me," he said. "I am not apologising. It is football. I think some things went against us today but we have to deal with it better. We have to pick ourselves up, settle down and plan ahead."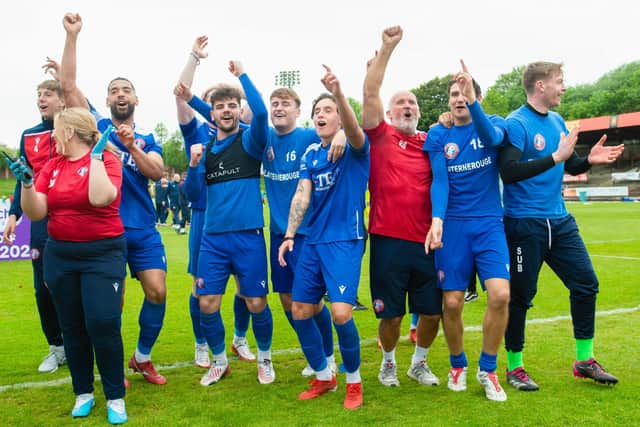 Caution must be applied when lamenting another historic club slipping through the SPFL trapdoor, an innovation nearly everyone willed into being, because it wouldn't do to neglect to applaud the victors from north Edinburgh. Three cheers for Spartans, who skipped showers to head home to Edinburgh to celebrate as quickly as possible. Theirs is a story well worth the entrance fee.
They are exactly the type of club this modification was designed to encourage; ambitious but still rooted to their community, well-maintained and almost certainly destined to be a credit to the SPFL.
But. There's a but and it is not solely centred on the charms of Clifftonhill, which, as the now collectible match programme put it, "is perhaps one of Scottish football's last truly traditional grounds".
One Albion Rovers fan lost the place completely at the end as he fired a volley of abuse at Clark. The manager chose to react and things briefly threatened to turn ugly. More than survival was at stake. So, too, was pride, identity and a way of life.
Clark has vowed to carry on. "I will be here next year," he said. "That is the plan. I know the Lowland League a wee bit with my time at East Stirlingshire but we need to address it and see where we are and do the best we can going forward."
It was incumbent on those reporters present to step nimbly between intruding on private grief in the case of Clark and then endeavouring to share in Spartans manager Dougie Samuel's obvious and understandable delight. He has been preparing for this moment for ten years and still struggled to grasp its enormity. He might have had tears in his eyes but he found the words eventually. He always does.
"Spartans are a football club with a unique DNA and a unique chairman and I think we fully deserved it today," he said.
"It genuinely is The Spartans' family. It's a club that is authentic, compassionate and caring. It's fuelled by love and that's what makes it quite unique in a sport that's mainly dominated by alpha males."
Around 25 years ago, Samuel, then a midfielder with Whitehill Welfare, stood at Ochilview following a 2-0 defeat by Stenhousemuir that had ended his side's hopes of a Scottish Cup third round clash at Rangers.
Asked what he would do that night, he paused to think for a moment before replying – rather profoundly I remember thinking at the time – that he and his teammates "will do what all players at this level do - we'll go home and we'll dream".
For Samuel and his players, for his chairman, Craig Graham MBE, and the pyro-touting young team that made up such a large part of their vociferous support, the time for dreaming is over. Spartans have made the great leap forward. Their time is now.
Comments
 0 comments
Want to join the conversation? Please or to comment on this article.