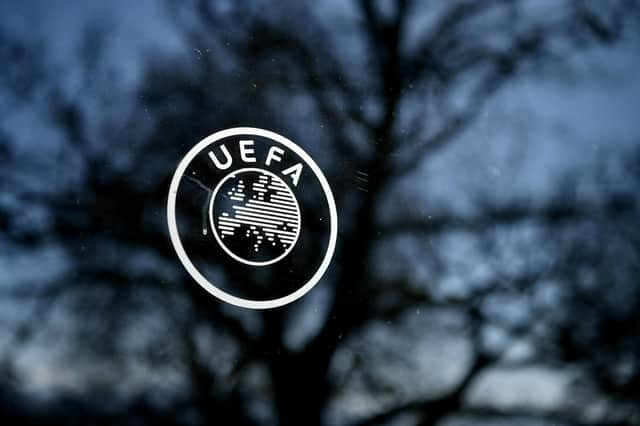 UEFA and football associations across the continent have been reacting to the proposed breakaway European Super League (Photo by FABRICE COFFRINI/AFP via Getty Images)
Six clubs from the English Premier League – Arsenal, Chelsea, Liverpool, Manchester City, Manchester United and Tottenham – will join AC Milan Atletico Madrid, Barcelona, Inter Milan, Juventus and Real Madrid in the proposed new European Super League (ESL).
It is anticipated three more clubs will join the breakaway group as founding members with the new tournament, which will begin "as soon as practicable" to eventually feature 20 teams.
After the bombshell plans emerged on Sunday afternoon condemnation was almost instant throughout the game, before the clubs released statements just before midnight.
What it means for Scottish football remains to be seen, but the proposed the new competition will be played in midweek with the eventual 15 founding members being joined by five qualifiers. It will be played initially in two groups of 10 with an eight-team knockout stage.
The organisers claim it will generate more money than the Champions League and that will result in a greater distribution of revenue throughout the game, while critics say the move is being driven purely by money, would destroy domestic leagues and is against the integrity of the sport..
Scroll down for all the live breaking reaction from Scottish football and the rest of the world.
Get a year of unlimited access to all The Scotsman's sport coverage without the need for a full subscription. Expert analysis of the biggest games, exclusive interviews, live blogs, transfer news and 70 per cent fewer ads on Scotsman.com - all for less than £1 a week. Subscribe to us today
European Super League RECAP
Last updated: Monday, 19 April, 2021, 22:09
12 clubs sign up for new breakaway league
Arsenal, Man Utd, Chelsea, Liverpool, Spurs & Man City involved
AC Milan, Inter, Juventus, Barcelona, Real Madrid & Atletico Madrid also sign up
UEFA threatens to ban clubs from all competitions and players from internationals
Liverpool fans protest
A banner has apppeared outside Anfield as Liverpool fans make their feelings known to the club owners over the decision to sign up for the breakaway Super League
Uefa threats
Could Uefa be considering drastic - and immediate - action against the breakaway clubs? Three of the 12 - Real Madrid, Chelsea and Man City - are due to compete in the Champions League semi-finals next week, with Man Utd and Arsenal also involved in the Europa League semis.
Germans say no to Super League
Borussia Dortmund and Bayern Munich will not be joining the breakaway Super League, according to a statement from the fan-owned Dortmund side. The two clubs, as well as the German Football Association, are committed to the European Club Association (ECA) and are backing Uefa's proposed reforms to the Champions League instead.
Bayern Munich and Borussia Dortmund will not join the breakaway Super League launched by 12 of Europe's top clubs, according to a statement from the latter
Implications for players
UEFA president Alexsander Ceferin has stated players who compete in the Super League will be banned for playing for their countries in major tournaments. Can't imagine many players being happy about this ...
Players involved in the planned European Super League should be banned from all UEFA competitions, president Aleksandr Ceferin has said – and called on the move to be made "as soon as possible".
Scottish internationalists at risk?
Could Arsenal, Liverpool and Man Utd signing up for the breakaway league rob Scotland of Andy Robertson, Kieran Tierney and Scott McTominay for this summer's European Championships?!
The Celtic/Rangers non-starter
Scotsman columnist Andrew Smith on why Celtic and Rangers would be irrelevancies if European Super League was realistic
It was a triumph of wishful thinking for certain parties to speculate Celtic and Rangers could be among the five invitees for the proposed, pie-in-the-sky European Super League.
SPFL back Uefa
Scottish football's voice has been added to the opposition against the proposed 12-team European Superleague breakaway competition with SPFL chief executive Neil Doncaster criticising the plans as "a cynical and very worrying attempt to thwart the core principle of sporting merit"
Scottish football's voice has been added to the opposition against the proposed 12-team European Superleague breakaway competition.
"It's ludicrous"
It's ludicrous, it's money driven and I've not heard a single positive statement about it.

The players haven't been consulted, management or staff.

Tottenham are seventh, Arsenal ninth - you're talking about the best teams? A super league? I think it's ludicrous
Shelley Kerr, BBC Sportsound
SFA hit out at plans
The SFA have now added their criticism to the growing anger at the Super League plans of the 12 rogue clubs planning the breakaway league
Plans to form a European Super League led by 12 of the continent's wealthiest clubs have 'galvanised' football in opposition against the rogue clubs' project, the Scottish FA has said.
Klopp criticism
Jurgen Klopp, the Liverpool manager, has been a critic of the idea in the past - and told Sky Sports his opinion hadn't changed.
People are not happy with it and I can understand that but we were not involved in any processes - not the players, not me - we will have to wait to see how it develops.

I am 53 years old and since I was a professional the Champions League was always there. My aim was always to be there, as a player it was not possible as a coach it was to manage a team there. I like the competitive factor of football and like that West Ham might play Champions league next year - I don't want them because we want to - but I like that they have the chance.

It's really not easy.
Jurgen Klopp, speaking to Sky Sports