English Premier League preview: Man City to get sternest test yet, new Everton broom must bring change, Man Utd's broken mirror
​The English Premier League is back in full swing this weekend after the international break, with defending champions Manchester City the only team boasting an 100 per cent record.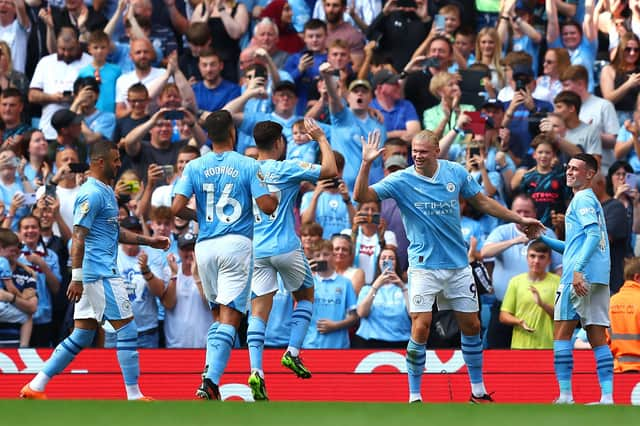 City have made a strong start to their title defence, taking a maximum 12 points from their opening four fixtures. The treble-winners, and Erling Haaland, delivered their most potent display so far last time out with a 5-1 thrashing of Fulham which featured a hat-trick from the Norway star – even if one of the goals was highly controversial .
Next to try to thwart City, whose boss Pep Guardiola has returned to work after a back operation, are West Ham – and they may well fancy their chances. David Moyes' men welcome the champions to London Stadium on Saturday having won each of their last three games, to sit fourth in the fledgling table. Many had expected the Hammers to struggle, mainly due to their lateness in entering the transfer market, but the acquisition of James Ward-Prowse in midfield looks extremely shrewd. The 3-1 victory over Brighton a couple of weeks showed just how good a team they can be. City can expect a tough examination.
West Ham are among four teams with 10 points – also on that total, and three-match winning runs, are Tottenham and Liverpool. Spurs will look to continue their impressive post-Harry Kane form under new boss Ange Postecoglou, the league's manager of the month, when they host Sheffield United, shortly after Jurgen Klopp's Reds play at Wolves in the early Saturday kick-off.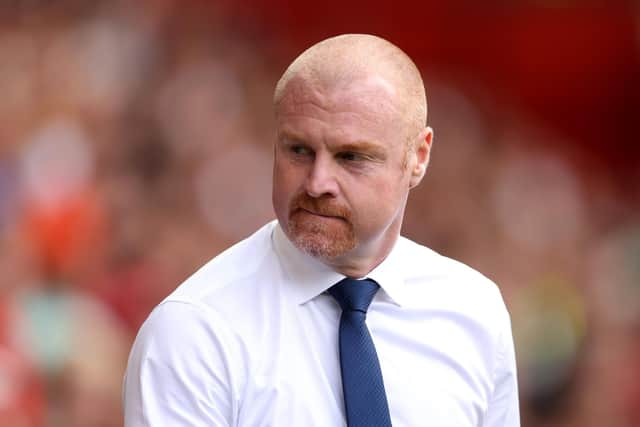 The other side with 10 points are 2022-23 runners-up Arsenal, visitors on Sunday to struggling Everton, who on Friday announced an agreement had been reached for the club to be taken over by American investment firm 777 Partners. More about them later, but for the Gunners – who return to the Champions League next week – this is the sort of match they just have to be winning if they are to be serious title challengers. Interestingly, the Gunners have not won at Goodison Park since 2017 – they may not get a better chance given the state of tumult the hosts are.
Okay, let's get to the sticky Toffees. Everton are a club that feel in a permanent state of disorder. Narrowly escaping relegation on the final day of last season under Sean Dyche, fortunes have not improved. They at least got on the board last time out with a 2-2 draw at Sheffield United but, in front of the Sky Sports Super Sunday cameras, they will need to be much better against Arsenal.
Dyche insists 777 Partners' takeover of the club will have no immediate effect on him or the players. The Miami-based investment group have agreed a deal to buy Farhad Moshiri's 94 percent shareholding in the club, subject to the necessary approvals by the Premier League, Football Association and Financial Conduct Authority.
"There's no impact on me or the players other than the news. As the manager I was aware something maybe happening," he said. "The noise has been there for a long time, I think people have got used to it. It's not that big a deal to myself or the players. Ever since I've been here there have not been many press conferences I've done which have been purely about football."
That line from Dyche is interesting, given he was used to relative stability during his days as Burnley manager. Everton are a club that has struggled massively under the Moshiri reign. When he arrived in 2016 the talk among Everton fans was of a shift in the balance of power on Merseyside. However, after spending more than half-a-billion pounds on players the squad appears in a worse state than when he took over, with very few transfer successes and many more flops and failures.
That level of transfer activity, plus unforeseen events like the global pandemic, has contributed to the club racking up cumulative losses of more than £430million over the last five years. That has led to the club facing a Premier League charge of breaching profit and sustainability regulations and subsequently leaving managers having to operate under restrictive financial constraints. Will the new owner bring a much-needed change of fortunes?
Speaking of poor starts to the season, Manchester United have had a troubled beginning to their campaign, losing to both Tottenham and Arsenal in their first four outings. Manager Erik ten Hag must wonder if he has broken several mirrors. The international break has then seen Antony given a leave of absence in order to address allegations made against him of violence towards women, while fellow forward Jadon Sancho is training away from the first-team squad due to a "discipline issue". The Red Devils will be eager for the positivity of a win on Saturday. Standing in their way at Old Trafford will be Brighton, who are on nine points and have won each of the last three league meetings between the clubs. Not easy.
Two further teams for whom a victory this weekend would certainly be welcome are Chelsea and Newcastle. The Blues' expensively-assembled squad has made an underwhelming start to life under Mauricio Pochettino and slumped to a 1-0 home loss to Nottingham Forest in their last game. Newcastle, after securing Champions League football last season and opening this one with a 5-1 hammering of Aston Villa, have suffered three defeats on the bounce. That 2-1 defeat by Liverpool took the wind right out of their sails. Eddie Howe's side host Brentford in Saturday's late game before Chelsea go to Bournemouth on Sunday.
Luton and Burnley have both found the Premier League fairly unforgiving, losing all of their games. That left pundit Garth Crooks saying he could "see Luton down by Christmas" – and with boss Rob Edwards branding that remark "disrespectful", the Hatters might be even more fired up when they take their search for a first point to Fulham on Saturday. The Clarets, under Vincent Kompany, will attempt to get off the mark on Monday night at Forest.