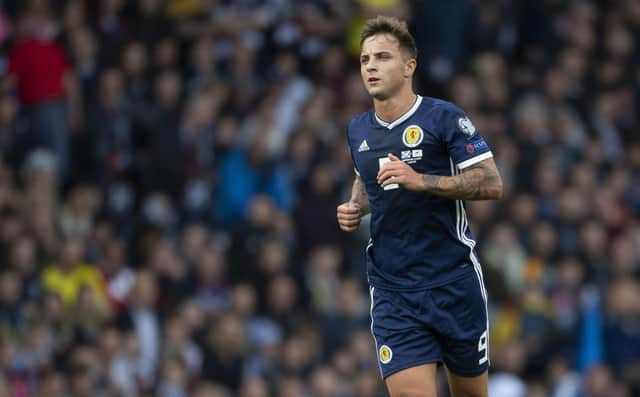 Matt Busby would join the ranks, after the splendidly-named pair, Woodville Gray and Gladstone Hamilton. Alfie Conn from Hearts' Terrible Trio was a surprise inclusion. Then there was Willie Hamilton whose wizardry for both Hearts and Hibs was so revered by Jock Stein. The Rangers pair Jim Forrest and George McLean who copped it for the calamity at Berwick. Joe Craig whose goal won Celtic their first-ever Premier League title. And let's not forget Aberdeen's Doug Rougvie which would of course be impossible.
All of them wore the dark blue once and once only. However brief and bittersweet, their service made stories. Many of the tales are lost now but at least Eamonn Brophy is around to tell his. It's pretty entertaining, I think, and proof that if you want something bad enough and keep believing, dreams can come true.
"Aye it makes me laugh," says the Ross County striker, who was capped by Steve Clarke in the manager's first game in charge in 2019 against today's opponents Cyprus. "The league had just ended and I was lying on the bed when my phone pinged: 'Congratulations: you've made the Scotland squad'. But this wasn't my bed. I was on holiday - in Jamaica. So I went from 'Brilliant!' to 'S***!' in a millisecond. How was I going to get back? What's more, the hotel was all-inclusive. The food was amazing. I thought to myself: 'Am I even in shape for this?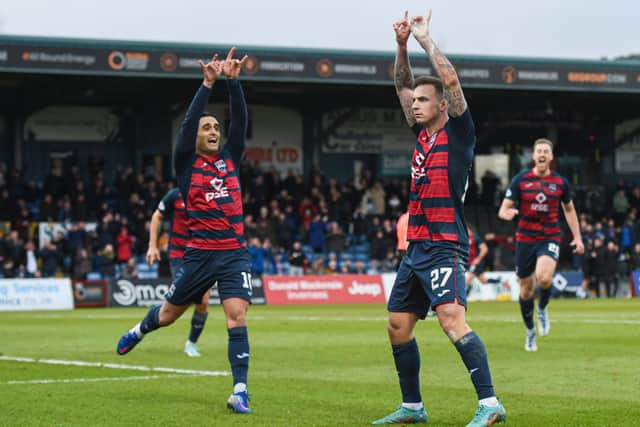 "My second thought was: 'How do I tell the girlfriend we're going to have to fly back early?' But Pamela was great - just delighted for me. I did squeeze out a few more days by the pool before it was time to go. But I got the wrong airport, we missed our plane and she was really crying after that.
"The next flight had to take us via Philadelphia and Manchester and the night before the squad were due to meet up I was sat on my mum and dad's floor eating a Chinese while Andy Robertson was on TV winning the Champions League with Liverpool. I was thinking: 'Mate, I really can't believe I'm going to be seeing you the morn!'"
The same Andy Robertson who - the verdict teenage hopefuls in a land hardly bursting with Samsons dread hearing - was deemed by Celtic to be "too wee". Just as had happened to Brophy.
We'll come back to that debut but let's hear a bit about the present. Our man, 27, is on loan from St Mirren. The switch looked like good January window business by Malky Mackay as the Staggies bolstered themselves for the scrap to avoid the drop and Brophy has settled in well in the Highlands both on and off the pitch.
Previously with St Mirren and before them Kilmarnock and Hamilton Accies, he admits visits to County were viewed with trepidation and he never confused Dingwall with Montego Bay. "Same as everyone else, I think, but spending some time here I'm really liking it. The club have set me up in a nice apartment in Inverness and funnily enough it's exactly where my dad had just stayed, looking after bridges for the railways.
"I thought I might be lonely because Pamela is still in Glasgow as it's so far away but just about everyone at the club is in the same situation so your team-mates become your family, always looking out for each other. Every day after training a group of us go for a coffee in this wee independent shop, Cup & Cone, which does these great cakes. Honestly, mate, they're incredible but maybe don't tell the gaffer that. It could explain why we're down at the bottom of the league! Mention that at nights we're usually down the gym which, by the way, is totally true."
Brophy is playing and scoring, which is a distinct improvement on his personal circumstances at St Mirren. "I'm disappointed with how it's gone for me there and I'm sure the club are, too." So can he help keep County in the top division? "Hopefully I can. It's looking like a fight between ourselves, Kilmarnock and Dundee United. I loved my time at Killie, a club with a great tradition and a support who were always good to me. I've got a lot of time for them, as well as Jim Goodwin [now United's manager, took Brophy to Paisley], and I don't want to upset anyone but this is football and I'm here to do a job for County.
"We've got tough games before the league splits - Celtic, Aberdeen and away to Hearts - but I don't think there's much between any of the teams outwith the Old Firm and reckon it's going to be really tight and probably go right down to the wire."
Brophy emphasises that he wouldn't be here today talking to me about football if it wasn't for his father William's unstinting support and encouragement, picking him up and putting back together after his early setbacks. "It wasn't just the ferrying me to my youth games, which loads of parents do, standing in the rain and all that, but he believed in me when I didn't believe in myself. If I didn't have Dad I would not be a footballer. I'd probably be working on the railways with him and my brother Declan."
Declan had trained at Hibernian as a youngster which is where Brophy went after Celtic, only to have the same judgement passed on him, that he was too slight to have a chance of making it in the game. "When you're 15 and told that your wee world collapses. That was when Dad was brilliant. I'd say to him: 'So what am I going to do now?' I was useless at school, by the way, not interested in anything but football. He'd say: 'Come on, keep going, you're good enough.' One hundred percent he's why I'm a player now."
Brophy had simply been a late developer. At Celtic he remembers lads his age returning from the summer break with muscles, facial hair and deeper voices. "Where were mine?" he laughs. It was at Hamilton - "The best move but really the only one I had" - that he made the transformation from boy to man and this coincided with Alex Neil becoming manager and promoting the buzzy forward to the first team. It was also at New Douglas Park where Brophy trademarked his "wolf" goal celebration, with ex-team-mate Lee Kilday coming up with the name.
He also credits Clarke, his boss at Killie before Scotland, for pushing him and instilling a serious attitude. "He told me that if I got an opportunity with him I was to make sure to take it. It was 'if', not 'when'. I was thinking: 'Uh-oh, I might only get one. Better train well, then.' He put me on against Dundee and I hit the bar. The following week I started against St Johnstone and scored the winner. The next week, two goals. I knew I had to keep that up. And he turned me from a squad player into a regular and took Killie from bottom of the league to third place and into Europe."
The goal which sealed the club's best finish for 53 years was a last-minute Brophy penalty for victory over Rangers. That was Clarke's swansong, and although the boss was strongly rumoured for the national job before that game with whispers that Brophy might receive his first-call up, the player left for his holiday none the wiser.
So what did his new Scotland team-mates say to him when he reported for duty under his ex-club boss - jobs for the boys? "Aye exactly. Greg Taylor, Stephen O'Donnell and Stuart Findlay had been picked for the squad as well. The banter from the rest of the guys to the Killie lads was along the lines of: 'Here's your dad coming now.'"
But Brophy had been playing his best football at Rugby Park and deserved his opportunity. "Steve was brilliant for me and for the rest of that team. He isn't a shouter, talks normally, commands total respect. Normally at a club if you're not getting a game you don't like the manager but that wasn't the case with him at Killie. He's the only boss I've known who never had his door chapped by a disgruntled player. Everyone loved him."
Maybe subsequently Brophy has missed Clarke's influence. Certainly a broken foot suffered at Kilmarnock but not properly diagnosed until after he'd moved to St Mirren hampered his progress after that Euros qualifier against the Cypriots. Notwithstanding the injury, though, he admits to not "kicking on" in the manner he would have liked.
Heading out of Dingwall for a coffee and maybe this time not a cake, Brophy adds: "I don't know if I'm going to end up a one-cap wonder. I'd love to play for my country a few more times and don't think it's impossible. I can definitely get back to the level I was before but need to perform to even be part of the conversation again. Hopefully I will."
The best moment of his life. That's how he rates 8 June, 2019. "During training I had a wee sense I might be starting but still, being told by the manager, that was amazing. I don't get nervous before games, thought I would for this one, so on the bus to Hampden was concerned that I seemed to be calm about it. Basically I then got nervous about not being nervous.
"I was trying to imagine what it would be like at Hampden, in the changing-room, the build-up to kick-off. What I didn't expect was my photo above a peg and the 9 shirt with 'Brophy' on the back. I was like: 'Oh my god, it's really about to happen!' I must admit I got quite emotional.
"I did okay in the game. The Cyprus defence was pretty solid and I didn't get much joy from them. Early on I suffered a dead leg but won't use that an excuse. Oli Burke replaced me and scored in the last minute so we won the game, which was great, but I'd wanted to make a big impression and kind of didn't do that.
"If that was the beginning and end of my Scotland career then so be it. I've played for my country and was thrilled to do so. All my family were there which made it a special night. There was no way I was going to swap shirts and afterwards I gave mine to my dad. As I say, if it wasn't for him … "