EA FC 24: When does EA FC 24 come out, release date, pre-order details and what is EA FC
The longest running and best selling football video game franchise FIFA has been re-branded to EA FC. Here's when you can get your hands on the game.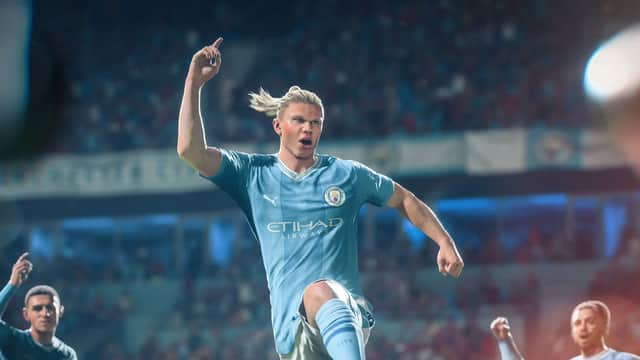 EA FC 24 is the latest edition of the long-running football simulation game previously known as FIFA from gaming giants Electronic Arts (EA) and has been the best selling game of its kind since it first appeared on the SEGA Megadrive back in the early 1990s.
With the latest edition just days from release, we looked at why the franchise has changed its name, what differences Scottish fans will love and, crucially when you can play the game on your chosen console.
What is EA FC 24, why has FIFA 24 been called EA FC 24
EA Sports FC, or EA FC 24, is the brand new name and "the future of football" said EA Sports vice president Cam Weber last year after the name popular, world renowned gaming title of 'FIFA Football' was renamed for its 2024 edition.
But why has the name of the game changed and is EA FC 24 different from other versions?
The good news for seasoned FIFA players is that EA Sports have simply renamed the game due to the end of its partnership with football's governing body. In more good news, EA Sports have confirmed it will also retain its licences for players, teams, leagues and stadiums – which is a major reason for many football fans purchasing the game.
Weber also added further good news, saying: "Everything you love about our games will be part of EA Sports FC – the same great experiences, modes, leagues, tournaments, clubs and athletes will be there.
Popular game modes such as Ultimate Team, Career Mode, Pro Clubs and Volta Football will all remain under the name title alongside their unique licensing portfolio of more than 19,000+ players, 700+ teams, 100+ stadiums and 30 leagues.
Last year, however, FIFA confirmed they would continue to develop their own FIFA series, saying it is working with "third-party studios and publishers" already to develop a brand new football simulation game.
Are Ibrox and Celtic Park on EA FC 24, which Scottish team are on EA FC 24
Unlike last year's editions, both Ibrox and Celtic Park will return to the franchise and be fully playable stadiums on the game - much to the relief of Old Firm fans who had been forced to play their home games at the fictional Eastpoint Arena in recent editions.
The Scottish Premier League will remain part of the game, with all 12 teams, kits and players on the team.
However, there is one new Scottish team being added to the game with 16 time Scottish Women's Premier League champions and pioneers of the women's game Glasgow City added to the franchise. City will become the first Scottish women's team to be featured in the game and are playable via the new UEFA Women's Champions League format.
When does EA FC come out, how can I pre-order EA FC 24
The official release date of the game has been confirmed as Friday 29 September 2023 and will be available worldwide. You can get seven-days early access to EA Sports FC 24 if you pre-order to Ultimate Edition, meaning some people will be able to play the game from September 22, 2023. The game will be available at midnight in both instances.
How much does the game cost?
For past releases of FIFA, there have been a few different editions, but for EA FC 24, there's only two - the Standard and Ultimate Edition. The Standard Edition will see prices start from £69.99 (RRP) on the PS5, Xbox Series, PC, PS4 and Xbox One. It will only cost £59.99 (RRP) on the Nintendo Switch.
You can pre-order the game now via HMV.
Comments
 0 comments
Want to join the conversation? Please or to comment on this article.