Dylan Vente on choosing Hibs, Robin van Persie impact, preferred shooting technique, Edwin de Graaf and exam to seal deal
Those who have watched Hibs striker Dylan Vente this season will have noted his composure in front of goal.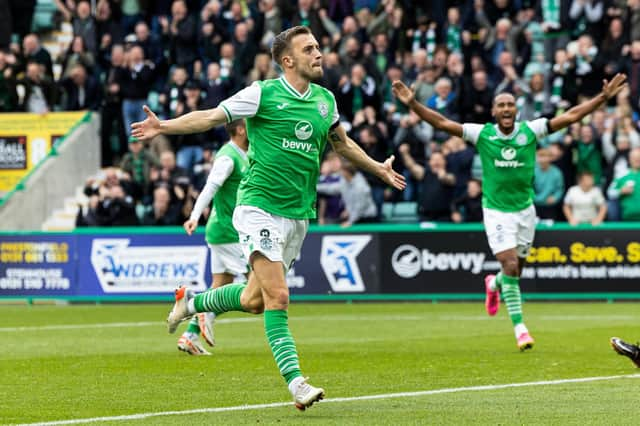 The 24-year-old has scored five times since joining from Roda JC in the summer. Goals are his thing, he says, and the stats back it up. Last season he netted 21 times from 38 appearances in the second tier of Dutch football, while he bagged 24 from 40 games in the 2021/22 campaign. A product of the Feyenoord youth academy, he honed his craft at one of the biggest clubs in the Netherlands and was able to call on the tutelage of two legendary forwards.
Robin van Persie was a team-mate during his time at De Kuip and he was coached by another former Netherlands striker in Roy Makaay, who was recently at Rangers as part of Giovanni van Bronckhorst's coaching staff. Van Persie spent one season as a player at Feyenoord before hanging up his boots and being part of the back-room set-up but he had a profound impact on a young Vente at the time. He passed on tips but was also part of the Hibs marksman deciding it was time to move on and seek regular first-team football.
"It was difficult but I knew I had to go," Vente recalls of his departure from the club he had been at since he was eight-years-old. "I was on the bench for two years and I played once in two, three months. And especially when you know Robin van Persie is the striker. You can learn a lot of things from him – but you are not going to play.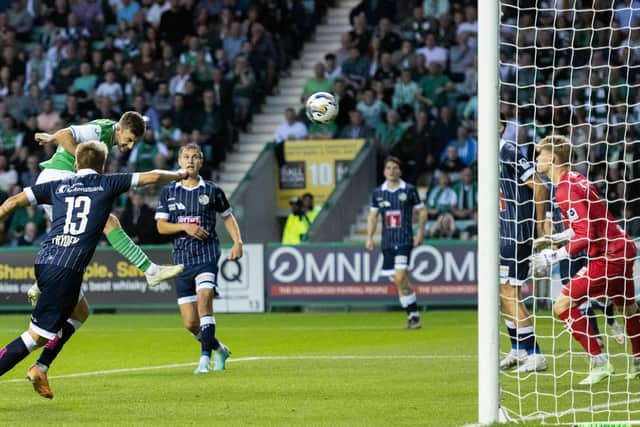 "I like Cristiano Ronaldo but Van Persie was one of the biggest players in the Netherlands so when he came ... he had unbelievable touches, his shots, it was crazy. I remember one time I was not playing well, I was just walking down the street and someone was tooting their horn at me. I was looking at the car – it was a big car – and going 'what do you want', I didn't know who it was. But it was Robin, and he was asking 'why are you angry'. He said to me, 'come train together with my son tomorrow', so we did, the three of us. He was such a good trainer, so smart."
Van Persie clocked up 50 goals for Netherlands, scored at World Cups and played for Arsenal and Manchester United. But Vente is quick to namecheck Makaay too. "Robin worked with me on finishing but there were two players – him and Roy Makaay," he continues. "I worked with Makaay for ten years and he just gave me so much advice. One was to shoot with the inside of your foot, so I started practicing like that and I never do it with my laces, only if I am 30 yards from goal. Normally it is with the inside of my foot. It's just for control and I know if I shoot like that, I have a good feeling. He told me to shoot on goal. I remember we did a finishing drill and he was so good. I learned a lot from him."
Hibs are reaping the rewards. They opened the chequebook this summer and splashed out close to £1million on Vente, fending off interest from Coventry and Swansea to land him. Director of football Brian McDermott was influential in getting the deal done, and speaking to Vente, you can sense contentment and a feeling he will flourish at Easter Road in a forward-thinking system under current manager Nick Montgomery.
"It was time to go [from Roda]," Vente says as he remembers the summer just past. "I told the club. I'd played there for two years and scored 20-plus goals in each season. I had one more year on my contract. I was not thinking about what my next destination is because football is so strange. You never know what the next move is, one day you are one country and the next day you are in other. For me the most important thing is the feeling for the club – and Hibs had the right feeling for me.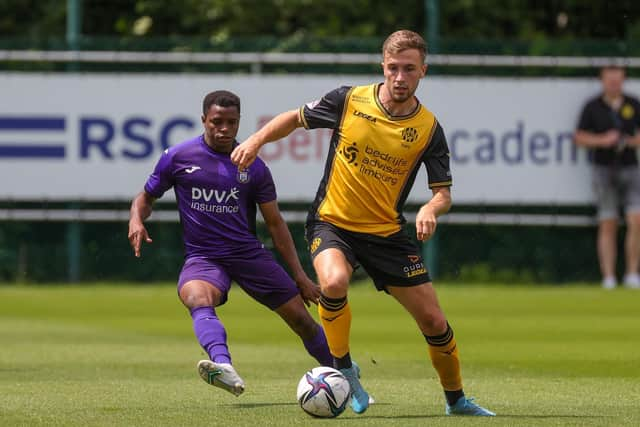 "I already knew [of Hibs' interest] last year. I spoke to Ian [Gordon, director and former recruitment chief] but I had two years on my contract and Roda just wanted too much money. A year after I heard again of the interest and then it went real quick. I remember Brian came to a game, it was a friendly in the summer, and within two-to-three days everything was done.
"Brian is a nice person and what he said is right; it's a warm club. I think I can develop here. He was saying things that are right about me, what I can improve on and what I'm good at. He showed that they really wanted me and for me, that was the most important thing. When I came here, Brian took me everywhere. It was good – Brian was important in the move."
There was one final hurdle for Hibs and Vente to overcome in the transfer process: an exam. Due to work permit rules, the striker had to sit an English exam to prove he could work in this country. "I had to go back the day after I signed to Amsterdam and did the exam," explains Vente. "It's spoken – they asked 'what do you see on the wall', stuff like that. It's not that hard. After one hour I heard I had passed so I came back the day after. It was a little strange but everything is okay."
Vente is quiet, thoughtful individual with a ruthless streak in front of goal. Settling into Edinburgh with his girlfriend, away from football he keeps himself to himself. "I'm a relaxed guy, I'm chilled. I sometimes go to a restaurant with my girlfriend and have friends over but mainly getting ready for the next day's training," he says of himself. "Not golfing," he laughs though when asked about pastimes, even if Joe Newell has tried to get him to become part of Hibs' now infamous golf club.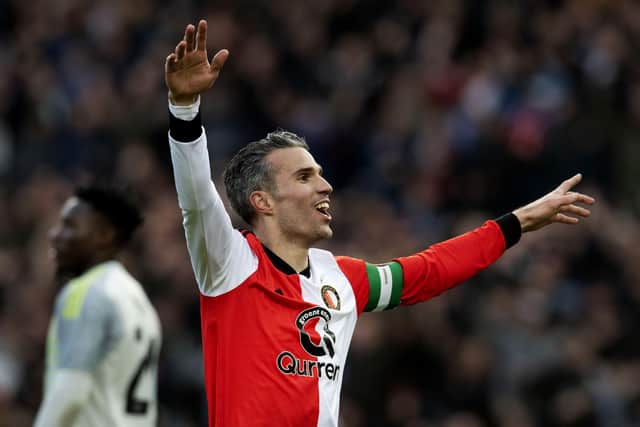 Vente admits life in Edinburgh had its early challenges, adapting a new culture and the slight upheaval of Lee Johnson being sacked just weeks into his time at the club. "The beginning was not hard but new for me, but the boys gave me good support," Vente explains. "I feel at home now. It was not so much the managerial change, more like settling in with the house and having your own thing. After two-to-three weeks everything was good. Me and my girlfriend live in the city – it's perfect. My family come every weekend. I am a family fan so it is good to have them around me. It is my first time I have lived in another country. This is something different and I like it."
Vente knew he wanted to be a footballer from the age of six. Perhaps family history meant he had no choice in the matter. His great-uncle is Leen Vente, a Feyenoord great who played for Netherlands in the 1934 and 1938 World Cups. He scored 65 goals in 82 matches for his club and had a strike rate of 19 in 22 for country. "He scored the first goal in the new stadium [De Kuip] and played for the Dutch national team. I don't know him but the stats don't lie, he scored a lot of goals!" says Vente. "It didn't put any extra pressure on me. I remember my first goal for Feyenoord was like his first at De Kuip, a header from the side, exactly the same goal. People started comparing me with him but as a player, you are your own type. My father and my mother both support Feyenoord – if you are from Rotterdam, they say Feyenoord is in your blood. My dad took me there when I was six. My dad was very proud when I made my debut for them."
Vente's Feyenoord debut came in glamourous circumstances, when he came on as a sub against Manchester City in the Champions League in 2017. "My debut was nice, it was like I was playing FIFA," he says. "I was 17. We were already 4-0 down but for me it was a dream, especially to make your debut in the Champions League."
Opportunities became limited though and Vente had the wherewithal to understand that the only way to play regularly was to leave. Roda originally took him on loan in 2021 before buying him. Latterly he played under ex-Hibs midfielder Edwin de Graaf and speaks highly of the former midfielder. "He was my trainer last year and he texted me in the summer to ask where I was going," Vente reveals. "I knew then I was going to Hibs but I thought 'I'll text him tomorrow' because that's when it is getting announced. But then there was a leak that evening so he texted me again and said 'you are going to Hibs!'. I already knew he had been here so we started talking about it, offering me help. He was good with people. He didn't shout much. I think he's a good coach. I scored goals under him so he was good for me."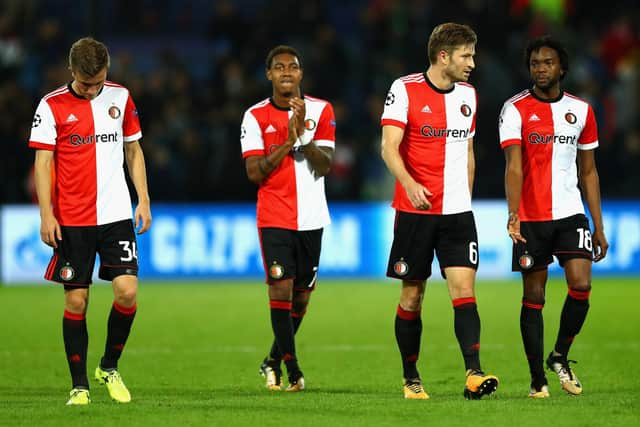 Vente is also enjoying life under Montgomery, who came in last month to replace Johnson. Hibs are so far undefeated on his watch. "We know what our formation is," Vente explains. "We play just one formation and we know we have to do the basics well. We have to play the ball to each other. It sounds easy but normally if you see games here, the defender gets the ball and kicks it long, fight for it and maybe you will score. But the trainer wants us to have the power, that we have the feeling we can win the game because we are on the ball. It's all planned. I like that – and I think in this league, it can work."
Vente is excited about the next few weeks. A trip to Ibrox to take on Rangers next weekend is followed by the visit of Celtic and then a Viaplay Cup semi-final against Aberdeen. He enjoyed his first Edinburgh derby too, a draw against Hearts at the start of the month. "I liked the derby, the atmosphere was great, a crazy game," he admits. "In the end 2-2 was a good result but we wanted more. Playing Rangers. Celtic, semi-finals, as a footballers those are the games you want. As a team we need to show ourselves at this level."
A willing learner, Vente is aware he needs to tweak his game. He is asked about work-rate – statistically he is one of the hardest-running forwards in the league – and his answer is interesting. "I think it comes naturally," he says. "I like to run a lot. It gives me more power and a feeling that I am in the game. If I do nothing and don't run, I get the feeling that I am not involved. As a striker you don't get that many balls, but the balls you get, you have to be sharp. But if you run too much, you can be too tired when the ball gets to you. Maybe I have to find a way to not do too much work, but in the end, for the team it helps."
His goals are have certainly pushed Hibs on and made them forget about the departure of Kevin Nisbet, and they'll hope their new No 9 can fire them to some big wins over the next few weeks.
Comments
 0 comments
Want to join the conversation? Please or to comment on this article.