Remarkably, however, United travel to Fir Park on Sunday with a chance of survival. Just for clarity and confirmation, this United team can still avoid relegation. Only it involves going to Motherwell and winning with Kilmarnock, who need a point to secure tenth following their comprehensive 3-0 win at Tannadice, also defeating Ross County plus the small matter of an eight-goal swing. Even then, that would mean a two-legged play-off against Partick Thistle. The Jags would relish nothing more than relegating the club Jackie McNamara defected to on the way to the club's Championship title win in 2012/13. But can this United team be trusted to do any of that? Absolutely not.
This has a club and a squad of players which has rewritten the book when it comes to poor decision making, basic errors and failure. There was a reason they were not only booed off at half-time against Killie, trailing 2-0 from more self-inflicted wounds, but booed back ONTO the pitch. This is a supporter base, who have turned up in their numbers, with back-to-back 10,000+ home attendances, who are completely and utterly fed-up. Three successive wins going into the split invoked hope and even a bit of confidence. That has been displaced with anger, frustration and, worst of all, apathy.
'Catastrophic failure'
If owner Mark Ogren, who travelled from the US for this important relegation clash, needed reminding of what a colossal, collective catastrophic failure of a season this has been, the man who, at last count, had invested £13million in the club got it. Within seconds of the game kicking off, Ross Graham passed straight to Daniel Armstrong. It set the tone for the most pathetic of performances. Forty minutes in and Jim Goodwin was screaming at his players to close down. They were standoffish, jittery and nervous in everything they did. Pressure games tell you a lot about a squad. Some thrive in the pressure, find something extra, play with energy. United wilted.
Both of the goals conceded were symbolic of a campaign of comedy. For the first, Loick Ayina, a teenage defender and the club's only January arrival, produced a brilliant Cruyff turn facing his own goal on his own six-yard box, then he beat another opponent before getting carried away and losing the ball on the edge of his box. Seconds later a Killie shot had been deflected into the path of Kyle Vassell after some statuesque defending from Ross Graham and Charlie Mulgrew. The finish was brilliant. Worse followed on the stroke of half-time. Ilmari Niskanen tried to pass to Ayina only a matter of inches away but it allowed Christian Doidge to nip in. The on-loan striker was brought down by Jack Newman, in for Mark Birighitti, who has taken error-prone into a new dimension, but the ball rolled to Vassell, a previous nemesis of United, to tap home. Boos followed as others got up and decided they had better things to do with the rest of their evening. And who can blame them?
293 bonkers days
All roads have led to relegation. Motherwell, Ross County, St Johnstone and Kilmarnock have all been touted as relegation candidates. But, truly, it was only going to be one. Three managers, three goalkeepers, 28 players and 77 goals conceded. It is unfathomable that 293 days ago, on a raucous sun-kissed Tannadice evening, United produced a phenomenal performance to defeat AZ Alkmaar 1-0. A deserved win over a team who reached the Europa Conference League semi-finals. In the aftermath fans headed straight to the ticket office to queue for briefs for the return leg in the Netherlands, while the club advertised a commemorative photo from that night for sale. It would arrive after the second-leg trousering. Since then the club have bounced between ineptitude and embarrassment. It doesn't require the benefit of hindsight to see that the squad which started the season was hugely imbalanced. No pace in defence, no midfield solidity, no pace in attack, no depth to the attack. The same goes for the decision to hand Liam Fox the managerial reigns when experience was required. Then there was the January transfer window and the decision to allow Tony Watt exit with no striker to come in and replace him. Tony Asghar bore the brunt of the United fans' criticism and he would eventually leave. But the squad of players remained and what they have produced has largely been unacceptable. The latest being this 3-0 defeat, as Killie ran riot with Innes Cameron scoring the third, on an evening where the players showed nothing that suggests they are capable of surviving . In keeping with what went on before. The only moment came from teenage substitute Rory MacLeod. This was on the club's birthday as well, a glance at the club's Twitter page would have seen balloons float up the page.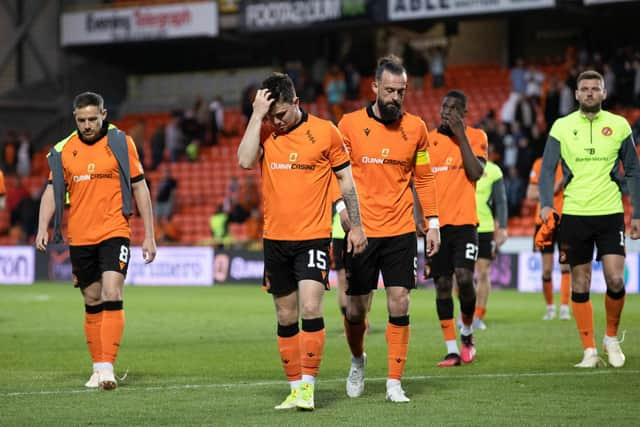 Goodwin spoke in the build up about talks with Ogren. "I'm sure he's looking forward to that opportunity to pick my brains and see what has gone wrong — and what we can do about it in the future," he said. The American may well clear his schedule for the next month such is the time it will take to go through all the wrongs. The wrongs which have led to the precipice of relegation where they will be replaced by arch-rivals Dundee.
Dundee United (3-5-1-1) – Newman; Ayina, Mulgrew, Graham; Niskanen, Harkes, Pawlett, Sibbald, McMann; McGrath; Fletcher.
Kilmarnock (3-5-2) – Walker; Mayo, Taylor, Stokes; Armstrong, Lyons, Chambers, Polworth, McKenzie; Doidge, Vassell.