Duncan Ferguson savours rollercoaster Inverness debut - five goal thriller, fan shout prompts stare, fourth official surprise
It says much about Duncan Ferguson's struggles to make an impact at Rangers to recall that, even when he scored a first hat-trick for the club, he was still overshadowed by Mark Hateley.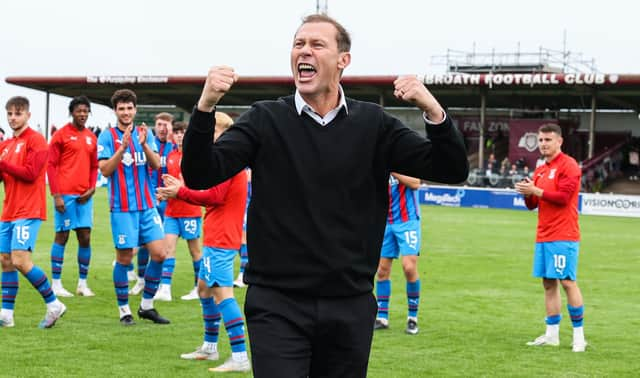 These goals, Ferguson's first senior hat trick, came in a League Cup tie against Arbroath at Gayfield in August 1994 – and on the very same evening Hateley, who treated Ferguson's arrival as a challenge to reach even greater heights, struck his 100th goal for the Ibrox side.
Hateley duly hogged the headlines and worryingly, there was some danger here that Dick Campbell might steal Ferguson's thunder on his return to Gayfield almost thirty years on in the perhaps unlikely guise of manager of Inverness Caledonian Thistle.
However, the visitors had no intention of letting him down – why, they wouldn't dare – and held on to win 3-2. Inverness swept into a three-goal lead shortly after half-time, a scenario that drew Campbell down to join his brother, Ian, on the sidelines. It finally provided the money shot. Like Pacino and De Niro finally sharing the same scene. Except it's Big Dunc next to the Bunnet as the seagulls swirled overhead.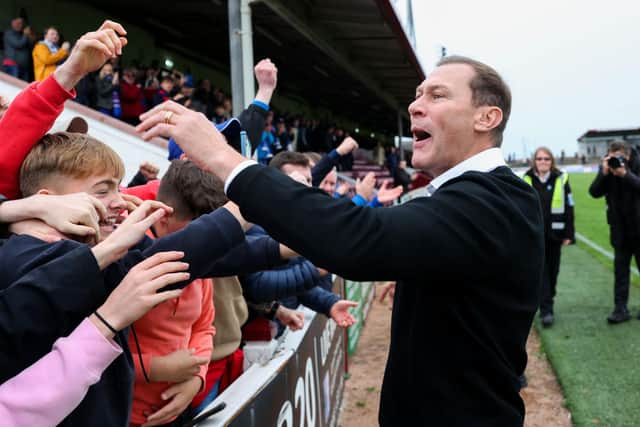 Campbell had already promised Ferguson "some craic and a beer" after the game to mark this unexpected and some would say slightly surreal occasion. But even that remark underlined how much has changed in Ferguson's world since he was last seen in Scottish football as a floppy-fringed tearaway with the world at his feet and his finger on the self-destruct button. He no longer drinks alcohol. Indeed, he hasn't since he turned teetotal nearly 15 years ago.
So it was with something less potent that he toasted this victory, one that was a lot more nerve-shredding than it needed to be in front of an attendance of 1723, including 229 fans from Inverness. "I don't know if I'll get offered that beer now!" said Ferguson afterwards. "Big Sam (Allardyce) used to like a red wine. I used to get an Oasis (fruit drink) and sit there drinking it out of a wine glass!"
The welcome was not always as warm as the one extended by the Campbells. Some main stand denizens, clearly fortified by a few halfs in Tutties Neuks, seemed to think it wise to bait Ferguson. "Oi, sit down Ferguson!" hollered one. The stare duly delivered in his direction could have turned back the tide.
That was one blessing for Ferguson. Waves weren't licking over the wall of the seafront-side of the stadium as they have been known to do. Indeed, it was an unsettlingly becalmed day by the edge of the North Sea, although there was an Autumnal chill in the air.
Wisely given the venue, Ferguson made one concession to the elements and wore a smart V-necked black pullover. He doesn't seem the superstitious sort but he might be advised to persist with this outfit. This ultimately proved a fairytale start as Ferguson belatedly reconnected to the Scottish game. I mean, what's 29 years and a steadfast refusal to play for the national side between friends?
Some things haven't changed. Ferguson was surprised to learn that there is no fourth officials at this level, something which presented a problem towards the end. With Inverness clinging on after Arbroath had pulled two goals back through Scott Stewart and Mikey McKenna, no one knew how much injury time had been allocated.
"Believe it or not, I only just found that out before the start of the game," said Ferguson afterwards, with reference to the lack of fourth official. "I said what's the fourth official's name, and someone says there's nae fourth official! That was a wee bit of an eye opener."
It turned out that around six or seven minutes extra were played. While animated, Ferguson looked in control throughout. "That's the way I work," he said. "I try to get tactical instruction to the players and give them encouragement. It is never over. I have a lot of experience in football now. I am not a trainee coach or manager, I have been through it all."
He truly has. It took him ten games to get off the mark at Forest Green Rovers so this represented a vast improvement. It's also one in the eye for the doubters.
Not in a literal sense of course. Incidents of violence – Ferguson received a record eight red cards while playing in the English Premier League – are in the past. He's more likely to be seen, as was the case here, taking selfies with young Arbroath fans. But of course, all's fair in love and football. Some locals couldn't resist referencing Ferguson's chequered past.
"You used to do that yourself!" screamed one home fan from a safe distance behind the away dugout as Ferguson complained about Arbroath centre half Thomas O'Brien almost barging Billy Mckay out of the ground and through the doors of Tutties Neuk across the road.
Mckay – and Ferguson – got the last laugh. Cameron Harper swung in the resultant free kick, Nikola Ujdur headed on and Luis Longstaff forced the ball over the line. Aaron Doran drove home a second after good work from Longstaff and Mckay delivered a finish Ferguson would have been proud of five minutes after half time when he delicately lobbed home 'keeper Derek Gaston.
A freak goal brought Arbroath back into it – Ujdor's attempted clearance cannoned off Stewart and looped over Mark Ridgers. And then McKenna put the cat among the pigeons with a second with ten minutes left. But Inverness survived and are off the bottom. Ferguson's love affair with this ground continues. A hat trick on his last appearance, three points on his latest.
"The last time I was in Arbroath before that I was in that Pleasureland!" he smiled afterwards, with a nod in the direction of the amusement arcade at the south end of the stadium. Inverness fans are advised to strap themselves in. Predictions that life with Big Dunc at the wheel promises to be a rollercoaster already seem bang on.
Comments
 0 comments
Want to join the conversation? Please or to comment on this article.