Drama in Dundee: All eyes on United v Aberdeen as Jim Goodwin hints at major team calls and Barry Robson plays it cool
Fans of football-related drama are in for a treat in Dundee this weekend.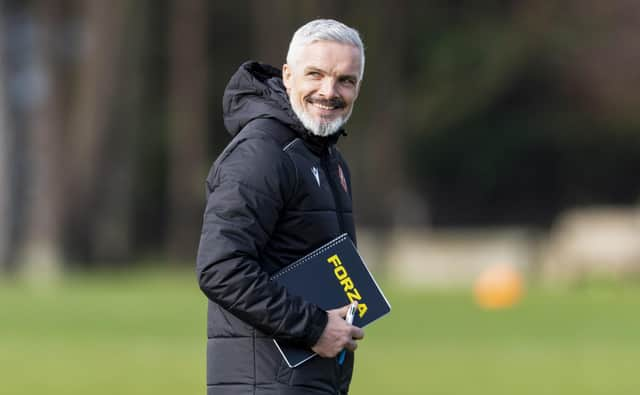 The What's On listings confirm that tomorrow night sees the once taciturn former Dundee United striker Duncan Ferguson tread the stage at the Whitehall Theatre in An Audience With event compered by Tam Cowan. Smile, a play about legendary manager Jim McLean, meanwhile, continues its latest successful run down the road at The Rep, with two performances scheduled for today.
Knowing all this, it seems strange to propose that the greatest theatre in the city is unlikely to take place at either venue. Rather, it will unfold at Tannadice Park shortly before 6pm this evening, when a well-groomed, white-haired Irishman will walk down the trackside towards the home dugout with the cheers – one presumes, despite initial scepticism – of home fans ringing in his ear.
Jim Goodwin will likely be treated to a different form of welcome from the Aberdeen supporters, who, due to the unusual seating arrangements for away fans, will be housed directly behind the man of the moment's shoulder. It is yet another spicy ingredient in one of the most eagerly awaited New Firm derbies since days when Ferguson tangled with Alex McLeish and McLean bellowed from the sidelines.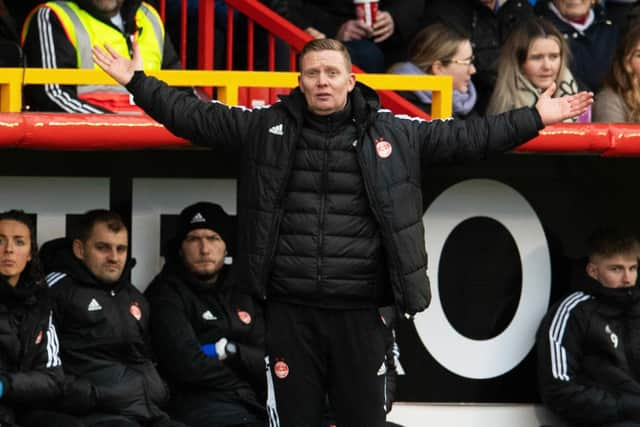 The Dundee United media team took to Twitter yesterday requesting playlist suggestions to help rouse a crowd hardly requiring extra stimulus before tonight's Premiership fixture, with the curtain due to rise at 6pm. Perhaps I'm Sorry by Irish band Hothouse Flowers might be one option. Goodwin is sorry. He is sorry it ended so messily with him at the helm at Aberdeen. He is even sorry if the poor results contributed in any way to Dave Cormack's recent heart scare.
"I was really sorry to hear I'd caused it with the results up at Aberdeen!" he quipped a couple of days ago when he was unveiled. "Listen, I'm not being light-hearted. It's a very serious situation and I'm glad that he's had the attention and care he needed." They remain close and have messaged one another since Cormack underwent open heart surgery in Atlanta last month. The Aberdeen owner, who sacked Goodwin five weeks ago today, has already communicated via social media from his hospital bed that the operation was successful. "I wish him nothing but the best, both in his recovery back to full health and in football," said Goodwin. "If ever a man deserves success in football it's him."
But sentiment can only go so far. Goodwin is not sorry for doing everything in his power to ensure Aberdeen's downfall – just as he will not apologise to any United players who are slighted by his team selection. He suspects he will put some noses out of joint. The new manager, who was appointed on Wednesday during a whirlwind week at the club, has several major decisions to make, including who plays in goal. The goalkeeper position is the most pressing area of concern, with Jack Newman having made his full debut for the club in last weekend's 4-0 defeat to Ross County.
Although involved in a mix-up for the opening goal, the 21-year-old did little else wrong. However, a big, noisy crowd under the lights at Tannadice could be considered a step too far when there is an international keeper on hand to come back in.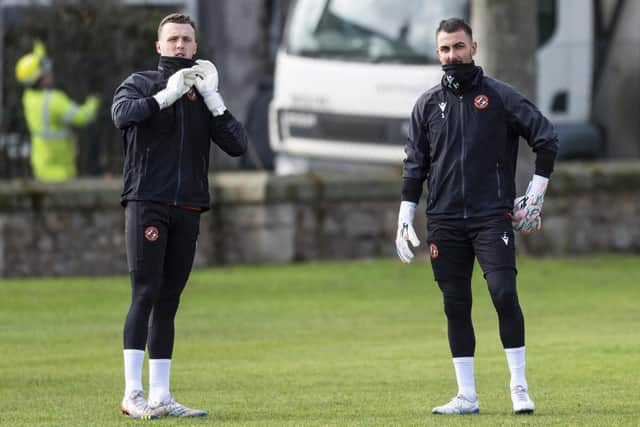 Mark Birighitti's last appearance at the stadium is still the source of nightmares for United fans after he was culpable for both goals in St Johnstone's 2-1 victory last month.
He was substituted in the aftermath of Stevie May's winner after falling awkwardly but is fit to return if Goodwin chooses. The Australian was on the bench at Dingwall last weekend and has endured a testing stay on Tayside since arriving last summer.
"There have obviously been a couple of key moments in games where his mistakes have led to goals against, which unfortunately for goalkeepers tends to be the case," said Goodwin.
"But he came here to Dundee United with a really good pedigree and I don't think he's become a bad keeper overnight. I do think confidence has played a part." A third goalkeeper, former American international Bill Hamid, is expected to arrive from the United States in the next seven-to-ten days but visa issues are complicating the situation.
"I've got a decision to make in that department but also in a number of other key areas in the pitch," added Goodwin. "I've got some hard calls to make that are maybe going to upset one or two but it's in everyone's best interests that I put the strongest XI on the pitch."
It is of course a unique situation. No one knows more than Goodwin when it comes to Aberdeen's strengths, and no one knows more about their weaknesses. Some Aberdeen fans are already resigned to being on the wrong end of the new manager-bounce, particularly given the identity of the new manager.
"Do you know what, this is all I have heard…does anyone have any statistics about the new manager bounce?" wondered Aberdeen interim manager Barry Robson yesterday.
As for the seemingly delicious detail of being pitched against his old boss, Robson was unmoved. "It is not surreal for me," said the former United midfielder. "I have never come up against Jim as manager before and have never coached against Jim."
On whether Goodwin had something to prove, he suggested asking him. "I wouldn't know that," he said. "I haven't spoken to him.
"I got on fine with Jim when he was here but he is the Dundee United manager now and I am the interim Aberdeen manager at the minute. He will be trying to win for Dundee United and I will be trying to win for Aberdeen."
Goodwin might know the players well, added Robson, but he doesn't know what they have been working on this week. All will be revealed at showtime this evening.