Dougie Imrie recalls his great Celtic moment, Morton standing by him and being an 'animal'
Back in the day, the questionnaires went like this … Favourite food: steak and chips. Favourite singers: Stevie Wonder, the Carpenters. Car: Ford Capri. Hobbies: Golf, darts. Best thing about football: Winning. Worst thing: Losing. It was tame stuff and fairly dull. By the time Dougie Imrie had arrived on the scene, though, these pen portraits had got more colourful.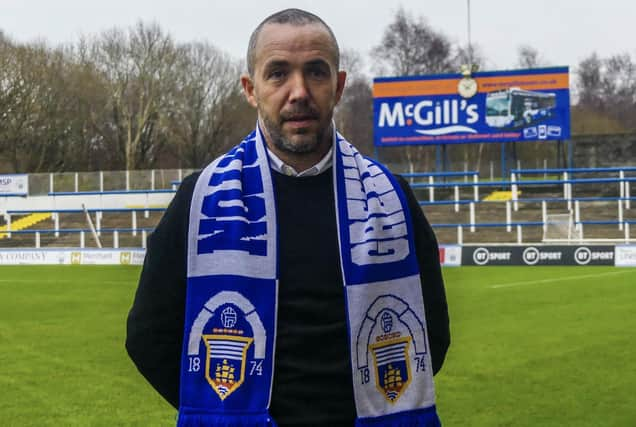 Swotting up on him, you gain valuable insight into player downtime, team bonding and how, waiting for the next game and waiting some more, these guys survived the ennui.
Maybe boredom's not called that in Greenock. Or Paisley or Hamilton. Imrie performed in these places and a few others others and now he's back at the tail o' the bank as Morton's manager, plotting a Scottish Cup upset, but before we get to Celtic, he listens dutifully to charge-sheet of malarkey, misadventure and mild character assassination.
In the tabloid Q&As either he was 'fessing up or being daubed in by so-called buddies (and Buddies). There were the pranks - a team-mate's car driven into the centre circle, the wheels of other vehicles removed. His "rubbish gear", his predilection for the most banging techno - no Carpenters mush here - and his penchant for strawberry laces and other confectionery. There was Cancun and also the three-day bender with Jonny Hayes, the latter also revealing from their Inverness Caley Thistle flatshare days Imrie's online odysseys in search of a girlfriend (cheers, pal). There was his nickname, "Animal", or now and again "Franck Ribery" because of a vague likeness identified by Scott Struthers (Imrie retorting that his fellow ex-Accies man was a dead-ringer for William Hague). And let's not forget the naked duelling where the instruction was: "Gentlemen, choose your condiments!" (Imrie opted for the bottle of brown sauce).
Across the desk in his tiny Cappielow office, the smile widens with every reminisce. "Here's another one for you, also in the scud," he says. "At Clyde, my first senior club, there was a regular punishment: running round the red ash at Broadwood, balls out, one time in minus 16." Imrie, a latecomer at 23 so in a tearing hurry to get on in the game, tended to win those races, head back and bits flapping.
There will be no lunchtime nude ultimatums for Ange Postecoglou when Imrie greets him on the Celtic Park touchline; this televised fourth-round tie is a serious business. But also seriously exciting. "I'm really looking forward to it," says Imrie. "For me, as a young manager making his way in the game, it's brilliant - but even more so for my players.
"Celtic are the best team in Scotland by a country mile. I watched them against St Mirren this week and they were different class again. So it's going to be tough for us, very tough, but I've told my lads I want them to enjoy it.
"They're going to one of the great arenas. Sixty-thousand crowd, massive pitch. A lot of the boys are Celtic fans so they'll be coming face to face with their heroes. But I don't want them to be starstruck – this is not a stadium tour. I don't want them to be in awe of Celtic or afraid of them. I want them to put their stamp on the game."
Imrie did this at the same venue in 2013, scoring the extra-time winner for Morton in a League Cup tie when the Ton were second bottom of the Championship. That was the club's first victory in the East End of Glasgow since 1971 when Hal Stewart's team spoiled the gala day for the official opening of Parkhead's new main stand.
So has Imrie been telling his players how he did it? "Not really. My time is up, the wee legs are gone and I'm a manager now. This is an opportunity for these guys to make names for themselves."
But the 39-year-old will, when prodded, indulge the Saturday Interview: "Understandably we had to soak up a lot of pressure that night and it will probably be the same on Saturday. I think Celtic must have had a hundred corners [27 actually, Dougie], all of them aimed at big [Virgil] van Dijk. But then we got our chance … " Efe Ambrose slid into a tackle, the ball hitting his arm. A penalty, thumped home gleefully by our man.
Ambrose returns to Celtic Park, this time as part of the Morton rearguard. "Efe has been terrific for us – a great player and a great character," says Imrie. "The reason I signed him was to be a good influence on our younger ones with his work ethic and passion for the game but he's also a fun guy to have around the place. He's still turning somersaults when he scores. I don't know how he can still do that at 34 when I never could even at 17.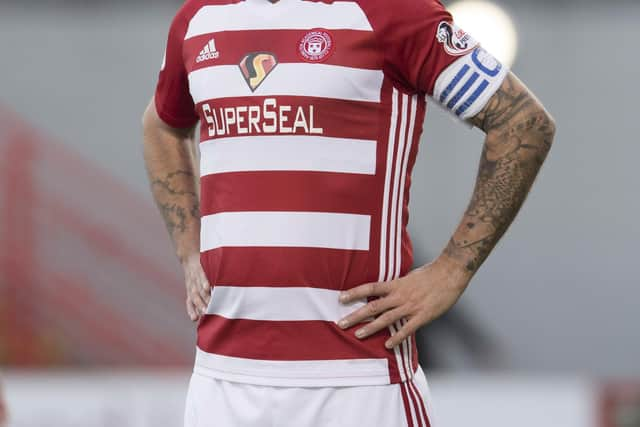 "He tells me it was never a penalty in 2013 but I treasure that goal. The only downside was my haircut back then which I still get slagged about now." [Imrie was an early adopter of the Peaky Blinders style of the sides and back being completely shorn] "Was it so bad? Ach, probably. My excuse is that the camera angles weren't kind to me. I'd actually got it cut earlier that day, which I tend to do before big games which are going to be on the telly. So I'll be nipping down to the barber's for this one. You have to look razor-sharp, don't you?"
The Lanark-born Imrie's relish for this contest is obvious here at couthie Cappielow, one of Scottish football's most endearing and enduring grounds. For long enough he'd slogged away in the Juniors, dreaming of such days. And last winter, only weeks into management, he feared his new career was about to come crashing down around him.
Last February he was banned for ten matches by the SFA for historical betting offences. But while he held his breath Morton announced they'd be standing by their man. "The ban was a sucker punch, I was sick to the core," he recalls. "I'd taken over as manager when Morton were bottom of the Championship, not thinking I'd get the job and really applying for it so's I could get experience of going before a board.
"I was over the moon when Morton took a chance on me and when they issued that statement saying I had their full support, well, that was fantastic. I'd been worried what might happen. They could have got rid of me there and then, or if results had suffered while I'd been stuck in the stand."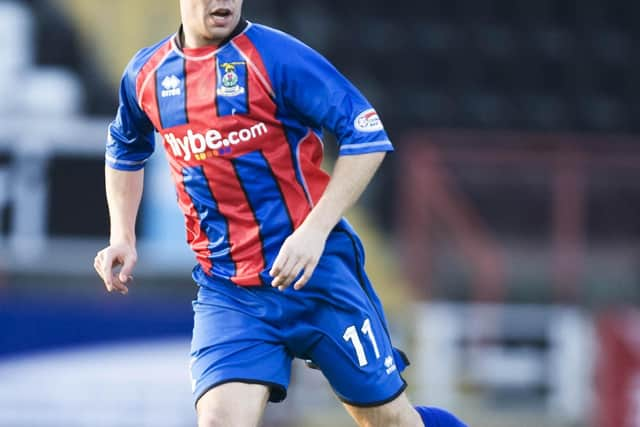 But Imrie, who'd been named Manager of the Month for January, followed up with the February award and the club fought their way out of danger. This season they've been heavily involved at the right end of the division and at one stage of an incredibly intense campaign led the league until a couple of recent narrow defeats. But they remain well in contention for promotion.
The first thing Imrie did after learning his job was safe was call his players together. "We had a very honest meeting. I wanted them to know how I'd got into that situation in the hope they would be deterred from doing something similar. We all make mistakes. I've made mine and will have to live with them. But I've learned my lesson now."
So having been a pocket battleship as a player, a wee tough nut who wound up opposition fans in what he calls a "no' bad" tenure out on the park, what kind of manager is he hoping to be? An ambitious one, for sure, and also a grateful one. "I don't know if I'd be here today if it wasn't for my grandparents. My mum and dad split up when I was 11 and I went to live with them. I don't mean I might not still be alive - I wasn't into drinking or drugs - but it was my grandpa who took me to my football, which was my whole life, and there was a helluva lot of it. At one point as a kid I was playing every day except Thursday and sometimes twice on Saturdays and Sundays. They're a massive part of my journey and I'm really thankful to them."
Management is tough, for sure, but so are the Junior ranks. Imrie continues: "I need to believe in myself, as I do, as I've always done, right from when I played for Lanark United and was being kicked straight up into the sky most weeks but was determined to win myself a wee chance in the senior game." There were sacrifices, such as quitting a £500-a-week job as a landscape gardener for a starting wage of £150 at Clyde under manager Graham Roberts, which necessitated him selling his house.
Morton legend Andy Ritchie tells Imrie he reminds him of Benny Rooney who managed that most singular of talents. The current boss admits relief, though, at not having to try and control Dougie Imrie, especially the young, impetuous, explosive version at Clyde and ICT.
"I was a handful, a bit mental," he says. "Academy kids nowadays are mollycoddled but I was a scheme boy. I was driven, desperate to succeed and, aye, harum-scarum. That's how I came by 'Animal' because in training I was always taking bodies. And it didn't matter who was in my position and how established they were, I wanted to grab it off them. At first I used to go back to my Junior club for extra training because they only did running and I wanted to be the fastest player at Clyde."
With or without his pants, but there was an occasion when he was definitely the swarthiest: "In the build-up to a Scottish Cup tie against Dundee United, Sky Sports wanted to tag along for the day with one of our players. I wish I hadn't been picked and I wish I hadn't taken them to my local sunbed shack because I was slagged rotten for weeks."
The long list of japery mentioned earlier is evidence of how much Imrie loved being a footballer. To make up for lost time, he seems to have been determined to pack in a lot of everything - laughs, charging runs, drama, goals, incident, confrontation.
At Inverness his biggest bust-up with boss Terry Butcher was his last. Returning from injury and itching to get on the park against Dundee, his chance didn't come until added-on time and he only lasted 30 seconds - red-carded for "halving" Leigh Griffiths. "Terry tried to blame me for the defeat and yet I didn't get on until the 91st minute when we were already losing!" He moved to Hamilton, one of two spells at Accies, and although he credits the influences of Billy Reid and Alex Neil, Imrie says he learned from Butcher, too. "He was on me constantly, never gave me an inch. That was what my managers in the Juniors were like. It got the best out of me, I think, although that disciplinarian approach doesn't really work now."
The gambling offences - involving games between 2011 and 2019 but not for bets against any of his various teams - weren't his first brushes with football's beaks. In 2020 a match-fixing investigation by police brought a 6am rap on his door and three hours of questioning. Bookmakers had spotted "irregularities" concerning a number of bets, some involving a yellow card Imrie received playing for Hamilton against Celtic. He was never charged and the case against him which he describes as "horrible, but absolute rubbish" was dropped, although it seemed to scare off Romanian club Panduri Targu Jiu who'd been poised to offer him his entry into management.
That was only delayed. Morton are closer to home and much closer to his heart. Son Jenson won't be at Celtic Park today, his dad reckoning the game might be too noisy for the lad, still only three, although maybe not if the Ton score and then frustrate the champions, like they did when Imrie sported his daft haircut. But he's thrilled that his grandfather, who he knows as Hamish and is now 83, will be among the crowd.
Imrie's managerial career, even this early, has occasionally threatened to be as rumbustious - "a bit mental" as he puts it - as his playing career. He's trying to remain nice and calm as kick-off approaches but if there's another famous victory imminent he can only promise one thing - no running in the buff down London Road.
Comments
 0 comments
Want to join the conversation? Please or to comment on this article.