Dougie Bell interview: Aberdeen icon on why he owes it all Alex Ferguson and his late wife Hazel
With his bandito moustache and a fondness for doing his own thing with the ball which sometimes infuriated Alex Ferguson, Dougie Bell looked like one cool and laid-back dude back in the 1980s when Aberdeen ruled the Scottish game.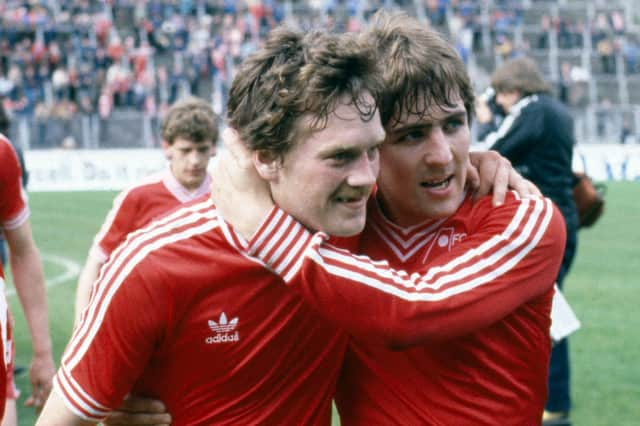 The truth, though, was a bit different. Inside, he never felt cool. "I was this shy, quiet, solitary guy," the old midfielder reflects. Inside, he could be the opposite of laid-back, bubbling like a steam pudding on a high heat. "The absolute worst thing was the post-match interview. On the rare occasions I did one I'd be dripping with sweat. After it was over I was always glad to get back to Hazel. She pushed me but only because she was so supportive.
"She was brilliant, my rock."
Bell - that oddity in our football, a lofty dribbler - is talking about his wife of 38 years, the woman who was by his side right through a career which, after the glory days at Pittodrie, dragged him hither and yon. "I played for Shrewsbury Town and also away up at Elgin City. In the space of ten years I was at 15 different clubs. Hazel would just get the new house all nice and then it would be: 'Sorry, sweetheart, I've fallen out with another manager, we're moving again.' But she never ever complained."
Hazel died of cancer last April during the first lockdown. It was a shattering blow for Bell, 61, and their two daughters, Diana and Lana. The first Christmas without her was tough. "I think I might have broken social distancing rules but what the heck," he says. "At Hogmanay, though, I was happy being alone with my thoughts and I just poured myself a whisky." But, while talking about himself and his football doesn't come naturally to him, he's doing it now. He has a book to promote, the proceeds from which will go to the hospice which looked after Hazel in her final days.
Foe John MacDonald became a great friend
Bell speaks movingly about her and he speaks well. He's been helped through these dark months by friends from football and also some former foes. "Alex has been on the phone a few times. He called as soon as he heard Hazel had passed away and he keeps checking up on me. That's been great and typical of the man. Archie Knox [Ferguson's Granite City No 2] has been very supportive, too, and they've both contributed to the book, Alex writing the foreword. Lots of my old Aberdeen team-mates have made donations to the hospice, which I'm really chuffed about."
Also part of Bell's support network are Bobby Russell and John MacDonald, two guys who used to be deadly enemies when Rangers and Aberdeen squared up for one of the most incendiary fixtures in the calendar. "I'm great mates with both of them now," he laughs, and with the clubs meeting at Pittodrie tomorrow he's happy to recall some of the occasions when the red mist descended and the red cards flew.
"For Aberdeen to achieve anything, we had to beat the Old Firm and beat them at Ibrox, Parkhead and Hampden. Alex hammered that into us. He'd tell us how the press were based in Glasgow, didn't like having to trudge all the way up to Pittodrie and just wanted to fall out of their offices and report on yet another triumph for Celtic or Rangers. Our games against the Old Firm were always big and every now and then chaotic."
A case in point was Rangers' trip to the north-east in January, 1983 - four months before the glory of Gothenburg, although Bell would miss the European Cup Winners' Cup triumph through injury. It all kicked off when our man and MacDonald clashed in the middle of the park, the Gers striker concluding the full and frank exchange of views with a headbutt for which he was sent off.
"We laugh about that incident to this day. John has always maintained that I went down like a sack of tatties which, if you look at the footage, is rubbish. I've been in pubs with him where he's told other folk that I got him red-carded. He's done that so often that I've always had the clip ready on my phone to prove him wrong."
Returning to Pittodrie with Rangers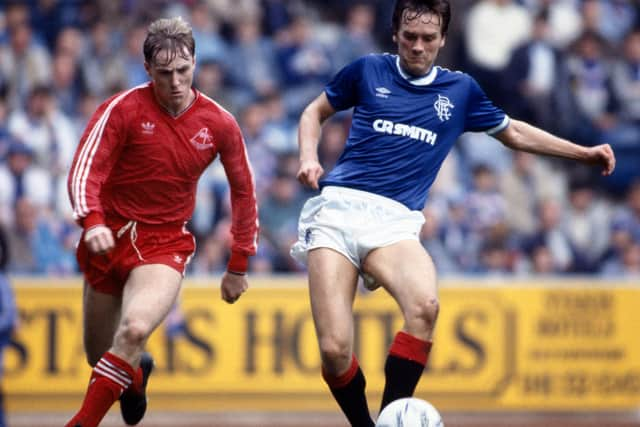 This is hilarious. Bell's trumping of MacDonald's version of events is like the scene in Annie Hall where Woody Allen, irked by a loudmouth's misrepresentation of the theories of Marshall McLuhan while trying to impress a girl, suddenly produces the media guru from behind a wall.
Bell continues: "When I told John I was writing my book he said: 'Make sure you tell the truth now - you know what you did!'" Maybe fans of the rival clubs would think, or like to think, that friendships across the Dons-Gers divide are rare to non-existent but don't forget that Bell also played for Rangers, having supported the Ibrox club as a boy.
In February 1986 Bell returned to Pittodrie with his new club and performed well - at least until the 25th minute when it was his turn to be sent off. "Simmy [Neil Simpson] and Tattie [Neale Cooper] had been niggling me, probably on Alex's instructions because I was always easy to wind up, but it was Jim Bett who took my half-punch. The Aberdeen fans had been booing me from the start so as I was walking off the park I flicked them the Vs. It was a bad day all round. Hazel had been there but obviously not in her old spot with the other Aberdeen wives. She took some abuse as well which got too much and she left. As I reached the tunnel the match commander told me he was going to charge me with inciting the crowd. I think there was some fighting after the game but thankfully, as I was apologising to Jim later in the car park, I was told the matter wouldn't be going any further though I was to watch my behaviour. That was fortunate. If it had happened today I would probably have ended up in Peterhead Prison.
"Some had the view that my V-signs had been aimed at Alex. [Dons' full-back] Stuart Kennedy told me that if I apologised he might re-sign me. I didn't because they hadn't been but, as I've always said, leaving Aberdeen was the worst decision I ever made."
A return to Pittodrie would have made it a hat-trick for, as the title of his book confirms, Bell had already been Signed Twice By Fergie. First as a 16-year-old for St Mirren when the Cumbernauld lad's job at a local supermarket had actually been curbing his football, though Ferguson just needed one bounce game to make up his mind. Then for Aberdeen bringing him these glittering prizes: three titles, two Scottish Cups and the Super Cup.
A run-in with Joe Tortolano
At Love Street, Fergie still in charge, he remembers a training-ground bust-up with Frank McGarvey, Bell having been assigned the task of cleaning the striker's boots. "Frank wasn't a good tipper and always moaning about his kit being damp - possibly I wasn't a very good apprentice. This day I caught him with an elbow and he squared up to me. Alex told us to fight each other and get it out of our systems. Back then that was football but I get on well with Frank now."
There's a similar tale from Bell's brief spell at Hibernian. On the minibus after his first day at training he was hit with a dollop of mud thrown from the back seats. The culprit was Joe Tortolano who ended up with a sock to the jaw. "We've made up since. Joe's a good lad. I suppose I could be quite a touchy guy, easily riled, but in these situations - and I'd been given a few kicks at training - you've got to show you're not going to be a soft touch."
Fergie's successor at St Mirren, Jim Clunie, made an abrupt judgment on Bell: "He told me I was 'too skilful' for the type of game he wanted his team to play and handed me a free transfer." But to be fair Bell confounded most of his managers. "Alex used to think I was greedy. Maybe I was but I liked nutmegs and wee lobs over folks' heads - and when they worked so did the crowd. To break the habit he'd only allow me one or two touches in training matches. Everyone else could play as normal. But, although when the team had been poor it often seemed that it was me who would be dropped, he did pick me for the big games, cup ties, against the Old Firm and in Europe. He was a fantastic manager who made me the player I was."
Consider the midfielders at Ferguson's disposal: Drew Jarvie, John McMaster, Andy Watson, then Simmy, Tattie and Gordon Strachan, plus Peter Weir, Ian Angus, Billy Stark and Bett, who Bell thought was a threat to his status. To make him feel even more vulnerable he suffered a near fatal rib injury against Hearts. "I thought that Alex, perfectly understandably, would worry I could end up with a collapsed lung." So in 1985 he signed for Jock Wallace and Rangers with these parting words from Fergie: "What's wrong - are you bored winning trophies and medals?"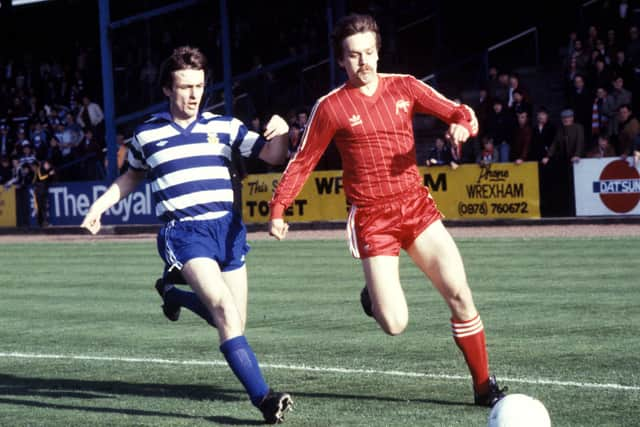 Stud marks in the face after Souness clash
As per Ibrox rules, the moustache had to be shaved off right away. "And it was collar and tie every day, plus socks pulled right up even for the short walk from the stadium to the Albion [training ground]. I can still hear Jock at his wee window shouting: 'Dinnae walk, Bell - sprint!'"
Once again the player proved a challenge for his boss. "Jock, who I liked, would tell me to play 'the Rangers way', which I never quite understood." Then Graeme Souness took over and it didn't seem that Bell was going to figure in the revolution but then the boss got injured and he impressed as a stand-in. He played enough games to qualify for another championship medal but it was never posted on to him at next stop Easter Road. Nevertheless, he liked working for Souness.
"I crashed into him once at training, smashed his nose and caused it to bleed. That got me four weeks with the reserves then when I was allowed back with the first team he caught me on the calf and somehow left stud marks on my face, all part of the one tackle."
At Hibs, though he enjoyed his stay and played his part in ending a long winless streak in the Edinburgh derby, there would be a familiar problem for Bell with boss Alex Miller attempting to clip his wings and convert him into a man-marker. Bell flew off to Shrewsbury where there was soon an anti-Scottish revolt, the fans seeming to blame the club's lousy form on the sizeable tartan contingent.
"I even got booed stepping up to take a penalty," he says. Under severe provocation he flashed the Vs again and was bundled off on loan to Hull City, relegation rivals who found form and points with Bell in the side and the Shrews ended up being demoted.
He realised he probably wasn't cut out for management when, temporarily in charge of Clyde, he was banished to the stand two games in a row, resulting in a ten-match ban. These days he runs a residential care home for troubled kids. "It's a rewarding job. Footballers enjoy a privileged existence so it's good to give something back," he says.
Waterschei and 'the Dougie Bell semi-final'
Reflecting on his time in the game he won't hear badly of clubs where it didn't work out for him or players who crossed him or managers who didn't understand him - and certainly not Fergie who gave him every chance to make the big showdown with Real Madrid but it wasn't to be.
"I asked him for a cortisone injection. I asked for a seat on the bench but he already had Stuart Kennedy there and couldn't afford another guy who was never going to be able to play. Of course he was right about that. And do you know, that was a boggy park in Gothenburg so it probably wouldn't have suited my running game."
Still, his team-mates know and the faithful know of his terrific contribution to the triumph. Earlier in the competition he'd helped the Dons escape from Albania in the middle of a coup with a diplomatic draw. He'd scored the winning goal away to Lech Poznan. He'd run Bayern Munich into the ground. And not for nothing is Waterschei known as "the Dougie Bell semi-final".
"The lads were great without me. I didn't watch the final from our dugout but walked round to be with Hazel who was heavily pregnant. Fergie had joked that he packed a pair of rubber gloves in the hamper, just in case.
"It was, I think, fate that we got together. When I arrived at Aberdeen I was staying in a flat below her parents' house which they rented to the club for young players, although I wasn't aware of this until we got talking one night in the Red Lion pub near the train station. She chatted me up and a while later admitted that her mum had told her: 'There's a really handsome boy living down the stairs who I think you'd like.' Honestly, if it had been left to me to make the first move then Hazel would have been waiting a long time, so I'm really glad that she did."
Signed Twice By Fergie: A Biography of Dougie Bell by Archie McLeod is available from Amazon, price £5.99. Proceeds will go to Strathcarron Hospice.
A message from the Editor:
Thank you for reading this article. We're more reliant on your support than ever as the shift in consumer habits brought about by coronavirus impacts our advertisers. If you haven't already, please consider supporting our trusted, fact-checked journalism by taking out a digital subscription.
Comments
 0 comments
Want to join the conversation? Please or to comment on this article.