Derek McInnes: I saw off seven Hibs and six Hearts managers at Aberdeen - now I want to take Kilmarnock into Europe
Derek McInnes can still see the sweat globules pinging off the legend's forehead and he can still hear the incongruous accompaniment - the soft, sweet sound of the Eagles. "The Gaffer would come roaring into the gym, shut down my Oasis or the Verve, rev up the cross-trainer and shout over to me: 'Now McInnes, this is real f****n' music!' He couldn't sing - brilliant at many things, terrible at that. And I'm pretty sure he was still using cassettes and not CDs. That was Walter Smith."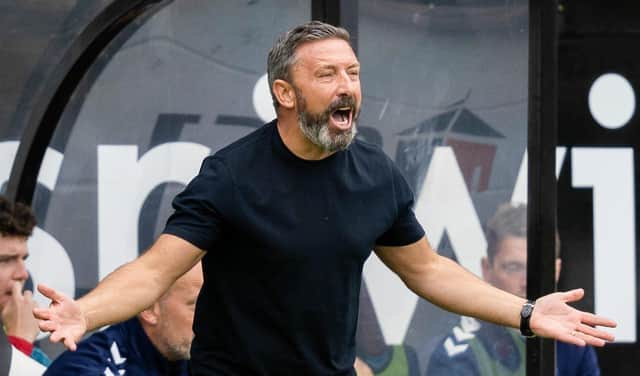 And now it's Derek McInnes. At the age of 52 he finds himself listening to his old and much-missed mentor's favourite band, with the Eagles' "Take It Easy" summing up his current state of mind. He's happy in his work as manager of Kilmarnock, the bitterness over the end at Aberdeen having finally left him. The sun is streaming through the skylight at home and very soon he'll be on the golf course.
This is his day off so I'm grateful he's made time for me. That would normally have been yesterday but Killie's media-call was moved due to what the press office, with understandable excitement, called "heightened demand". After duffing up both halves of the Old Firm, McInnes is manager of the moment.
He thinks some more about the age he is now - the age Smith and his Rangers assistant Archie Knox were when he was in their charge - and, though I prompt him on this, how he's becoming the elder statesman of the Scottish top-flight game, the one to call for advice and encouragement.
He says: "I'm just off the phone with Barry [Robson] who's in Sweden with Aberdeen and Tony [Docherty], another of my old coaches, is manager at Dundee. These guys are making their own way now. Lee Johnson was one of my players at Bristol City and I had Callum Davidson at St Johnstone. Jordon Brown was a lad I had to let go when I went to Aberdeen but suddenly he's the manager of Peterhead asking me my thoughts on a couple of players."
Not having interviewed him before, I must admit I thought McInnes would be a fairly serious subject. This was based almost entirely on what we see of him in the dugout and post-match. There are never any gags a la David Martindale of Livingston and nor does he strive for a lyrical phrase like Hibernian's Johnson. But he likes a funny story, such as this one about Robson: "At Aberdeen my old chairman, Stewart Milne, would lend me his nice place at Gleneagles when I thought I needed the VIP treatment for a potential new signing, or else I'd book a fancy hotel. With Barry, though, I didn't think I had to bother.
"We'd been team-mates at Rangers and Dundee United - a brilliant guy - and I knew he'd just bought a house in Inverurie and put his kids in school locally so I decided: the Ashfield for fish and chips. It's a great chippy, mind, please say that. Barry was after a two-year deal. It could only be one because of his age, I said, and he'd have to earn the second. He harrumphed at this and insisted he had other options. He didn't. So I got him to sign and after he finished up playing I created a coaching role for him so he could be kept at the club. But that day I'd forgotten my wallet. I whizzed out the door shouting back: 'Good man, can you get the suppers?'"
McInnes is thrilled by Kilmarnock's fast start. Four points from the first two league games were always going to be gleefully grabbed after what had been a "painful" first season back in the Premiership, McInnes having been the bogeyman to ruin the Arbroath fairytale to return the Rugby Park club there. But what a four points: victory over Rangers and a draw at Tynecastle which probably should have been another win. Then last Sunday Killie's vibrant football was too much for Celtic and Brendan Rodgers, who'd been pretty much unbeatable for McInnes' Aberdeen.
That success in the Viaplay Cup means no Treble, for the Celts at least, this time, so does our man think Kilmarnock have offered hope to the rest for a more competitive season? "The points gap last time between the Old Firm and everyone else was the biggest for a while. If Celtic and Rangers do their jobs and are on it and going toe-to-toe then any team will struggle to maintain a proper challenge. I don't think by any stretch of the imagination that team could be us, but what we do want to do is be as good as we can be. The most pleasing aspect for me so far is how quickly all the new players, most of whom weren't getting games for their previous clubs, have settled so quickly. If I can maximise the budget and everything that's been afforded me, if the team can deliver the performances of which they're capable, then we can be top six.
"Last season, last game, St Mirren were still going for Europe. Pre-split I think we were 12 points behind them. Can we find four more wins from somewhere? We know we've got work to do. If we just manage to stay up then that will not be a job done well. I want top six, I'd like a crack at Europe and I'd love for this grand old club to win a cup."
McInnes' most-used words are "work" and "job". To some, this may reinforce an impression of dourness but today there are more ripping yarns (and just wait until you hear the one about Andrei Kanchelskis). It needs restating, though, that football management is a job and involves considerable work. Relentless speculation from jabbering pundits and the great unfiltered on social media may almost be recasting those in the profession as reality show contestants, vote-offs every week, but McInnes isn't having any of it.
He says: "The current climate is so challenging and there are many managers from previous eras who just wouldn't want to be anywhere near football now. We have to put up with a helluva lot. Folk say, ah but that's just the nature of management, but it really disappoints, saddens and pains me to see good guys not being given the time to do the job.
"We're all guilty of judging too early and there's too much comment flying around. You guys in the press are paid for your forthright opinions and that's fine. It's always been the case and shouldn't change. But managers need to be working for solid people [in club hierarchies] who are not going to be up and down, fly with the wind and be swayed. I'm hearing it all the time: this club are in big trouble, that club will be relegated. It's ridiculous. No one should be judged until after the first two rounds of matches. If that's enough for chairmen then hopefully managers can be given the full campaign. If a manager signs up to a club, the club should sign up to him." So there it is: Del's remedy for the game. A restriction like the transfer window meaning chairmen who can't keep their fat fingers off Twitter are prohibited from shooting their managers before Christmas and, ideally, not before the season's end.
So: Aberdeen. Don't look back in anger, sang McInnes' Oasis. About his eight years in the north-east, he doesn't. But do reflect, while flourishing stats, records and a list of achievements. And why not?
"I look back with real pride," he says. "They're on their third manager since I left so it's not easy doing what we managed to do. We didn't do it with money. A League Cup was won with a side who were free agents, young boys, players who'd come through the academy. We challenged for second and qualified for Europe every year and reached 11 semi-finals out of 15 played. We were constantly knocking at the door. And it pleases me no end that some of my young players - Ryan Christie, Kenny McLean, Ryan Jack, Lewis Ferguson, Scott McKenna - have matured into internationals.
"With me and the club there's this narrative … " he continues but then checks himself. "Listen, Aberdeen was brilliant. I loved my time there and it was an honour. Managers at places like Aberdeen don't last eight years. We had a good thing going but, looking back now, I was there too long."
It ended messily, I say. "You know, it almost always does," he smiles. Knocking on the door wasn't deemed sufficient; nor was just the one trophy. Eventually, he says, fans grow tired of hearing the same voice coming out of their club. But a shortfall in style? McInnes isn't having any of that either.
I ask if the Dons support, reared on fabulous tales of the Sir Alex Ferguson era, are demanding almost to the point of entitlement about flair-filled football. "Well, Fergie's team were actually very robust. For me [at Aberdeen] it was about a winning team. I liked a fast team but there was loads of creativity in it. This thing about attractive football, people … " Again he drifts off. Possibly he means that saying one believes in it is merely a cliche, a truism.
I mention that a sample survey of Hibs and Hearts fans of my acquaintance would have more Hibbies than not insisting on stylish football and and more Jambos than not demanding winning football. Quick as a flash McInnes produces another stat: "During those eight years at Aberdeen, Hibs had seven different managers and Hearts six. The managers who came after me [at Pittodrie] talked about style and how they were going to do this and they were going to do that. Didn't work, didn't last. Soundbites are great, aren't they? Well, managers first and foremost need to get a winning team on the field."
McInnes, you will maybe not be surprised to learn, suffered no moments of self-doubt after Aberdeen. For his spell out of the game - just about the first since the age of 16 - he enjoyed family time with wife Nicola and sons Jack, Harry and Charlie and helping out at home, the school runs, dog walks, golfing and catching up with friends neglected because of the pressures of management. Now he's reinvigorated.
"This is an all-consuming job. You're making 20 to 30 decisions every day. After a defeat on a Saturday no one picks you up. Then you have to go into the club and lift everyone else. That cannot be a chore. I still feel young, not as young as when I started but there are the benefits of experience. One day I'd like to manage Scotland but right now it's all about Kilmarnock. I get up every morning and can't wait to get to work." It must be assumed that right now the Killie players skip through the door, too. For the boss stresses that being a footballer is a "huge privilege" and "lazy days" won't be tolerated.
McInnes flips back the pages to remember his managers and their passion for football. "At Morton Allan McGraw, because of his bad knees, couldn't get around the park at training but - and I don't think this was something he did with everyone - I'd be called into his office where he'd boil the kettle, light a cigar and kick back. This was usually after one of my poorer performances but he'd build me back up. Now, as a manager myself, the key item on the agenda every day is: 'Make the players feel important.'"
Walter Smith, when he signed McInnes for Rangers, made his father Duncan feel important. And proud, with a story to repeat to his pals endlessly. "I was away for a couple of hours having my medical and when I got back to the gaffer's office upstairs at Ibrox - and the day I joined was the only time I was ever there; the bad boys would have been more familiar with it - he and Dad were sharing cans of beer. The gaffer wanted Dad to feel special, which says a lot about him."
Smith made McInnes feel appreciated - "even though there were always multi-million pound guys he played before me." Gary Megson made him feel wanted. "He took me to Stockport County on loan, which I loved, and said that if he ever got to manage a big club I'd be his first signing." This was West Bromwich Albion where McInnes became Megson's lieutenant in the midfield, and was never more serene in the heat of battle than in a notorious game at Sheffield United, abandoned after the opposition were reduced to six men. The worst tackle was straight out of Enter the Dragon. McInnes was viciously headbutted right in front of the referee but, bloodied and bandaged, ensured his men maintained their cool.
Yes yes, all very valorous I hear you say, but what about Kanchelskis, one of those Ibrox megastars who always kept him out of the team? "Andrei was a terrific player but he wasn't too happy when Dick Advocaat put him in the reserves for a match up at Aberdeen on a cold Tuesday night. He said: 'Fiorentina - no reserves. Everton - no reserves. Manchester United - no reserves.' The punishment for not playing was two weeks' wages. He took out his chequebook and paid it there and then. I remember Charlie Miller being tremendously impressed by that.
"Then there was the time Charlie nicked his socks. Andrei stormed into lunch demanding to know who'd taken them. The next day he emptied a holdall full of 50 pairs from Marks & Spencer on the dressing-room floor and shouted: 'Leave my f****n' socks, everyone!'"
Comments
 0 comments
Want to join the conversation? Please or to comment on this article.