The Dons parted company with Goodwin in the aftermath of the 6-0 thrashing to Hibs at Easter Road with the visiting support expressing their feelings before, during and after the match. Cormack and his board had supported their manager after the loss to Darvel in the Scottish Cup but the "immediate response" they articulated didn't arrive.
"The results since the World Cup have been completely unacceptable," Cormack said. "We had 1700 of them here today, I used to be one of them. I was one of the 5,000 here when we won the league back in 1980, when we won 5-0. I feel for them. Personally I feel I have let down the supporters. I met with Jim and he is a thoroughly decent man as most of you know. He gave me a hug and said it wasn't good enough. We really did not need to say much more than that. He has given it everything he could give it but the simple fact is the results since the World Cup have not been good enough.
"Our away form has just been abysmal, totally and utterly unacceptable. The players need to take responsibility too. It is always the managers who get it. I am chairman of the club, 64 now. I first went to Pittodrie when I was about six and fell in love with the club then. Now I am the chairman and I take responsibility when things go wrong as they have now.
"Yes, I have got a board who are there but it really does not matter that things off the field commercially and otherwise have gone well. Our academy has gone well but at the end of the day first team results are what matters."
'Right people in place'
A clearly emotional Cormack revealed he had stayed in Aberdeen this week for the funeral of an uncle who he considered his "second dad". The Dons chairman will stay for "at least the next week" as the club's hierarchy begin a hunt for their third manager in the space of 12 months.
"It's not a lack of investment, when running a business, whether it's a football club or in my background in software companies, it's about having a strategy and a vision and that's all fair and well but it's down to having the right people in place at the right time that are able to execute. I'm determined from my perspective and the board's perspective to continue to drive this forward.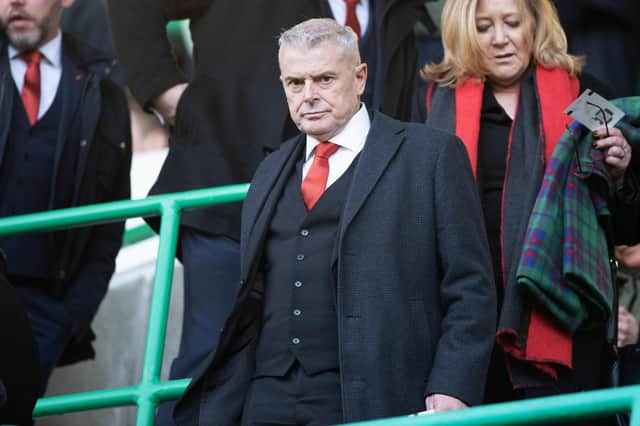 "Embarrassed, humiliated, just shell shocked at the last week are the words I have. That's how our fans feel and I feel for them, I apologise to them.
"We will gather tomorrow as a group and have a conversation. We haven't even discussed it, I've been around each of the directors of where we are today. I feel for Jim and his family today and for Sharpy, his assistant. They are two guys who have lost their jobs. Jim is a very very honourable and decent man, honest, trustworthy, transparent and I feel for him tonight. This is a decision that both Jim and I said we immediately needed to make after the game."