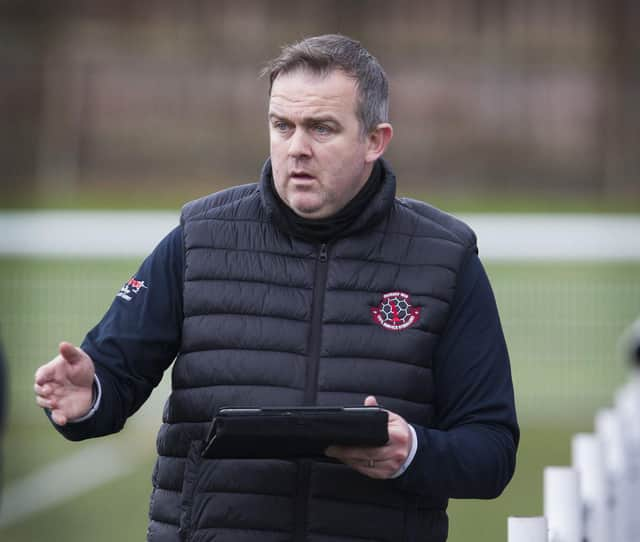 Civil Service Strollers manager Gary Jardine will respect any decision made by the Lowland League
He was speaking ahead of Monday's board meetings arranged by both the Lowland League and Highland League, Scottish football's fifth tier, to consider the options amid growing concerns over coronavirus.
The Scottish Government has made it clear that any decision to suspend the semi-pro game should be made by the "football authorities", but the Scottish Football Association (SFA) has made no changes since a new national lockdown was announced last week.
Jardine respects Dalbeattie Star's request for a suspension but thinks Tuesday night's match against Spartans will probably go ahead.
He said: "I think we've got to protect players and we've one already who has said he can't come back just now.
"If you're part-time your main job is outside football and you owe it to the people you work with. There's other factors that come into it as well and I don't think Dalbeattie is alone in what they're thinking."
He added: "I think you probably play under a bit of duress but you have to by the rules. It's really important that people are safe and as long as you're meeting up and playing, you can't be."
Strollers are due to play Spartans on Tuesday night and Jardine said: "I expect the game to go on and on Saturday we're at home to Vale of Leithen.
"We've some really good games coming up, if they go ahead, but we'll respect any decision that is taken."
Dalbeattie boss Ritchie Maxwell, who works for the NHS, said: "Whilst we fully appreciate that we're all in football for the love of the game, we believe it's a distant second right now to the safety of everyone in Dumfries and Galloway and beyond.
"We believe that the cessation of fixtures for a period of time to allow the lockdown measures to have a positive effect in lowering case numbers is the only sensible option to us all."
The SFA secured a 'professional' exemption in October for more than 250 senior clubs in the top seven tiers of the men's game and top two leagues for women.
The North Caledonian FA has suspended its league until February 6 and the juniors have suspended their six leagues in the north and east regions.
The South of Scotland League has called an EGM for Thursday, but the East of Scotland and West of Scotland Leagues have decided to carry on.
West of Scotland League chairman Dave McKenna said: "We will leave it to the experts. We have notified the clubs that we've been taking guidance from the Scottish Government through the Scottish FA and we have decided to leave it to the experts."
McKenna, is also vice chairman of the Lowland League, and added: "The Lowland will meet on Monday night to discuss the way forward. A couple of the clubs have raided their concerns and we will discuss the situation at the board meeting. But It's likely to be the same line we are taking."
An SFA spokesperson said: "The joint response group meets daily to discuss Covid-related matters affecting the professional game. The Scottish FA continues to adhere to government guidance regarding professional sport."