Zlatan Ibrahimovic 'recovers' from COVID-19 ahead of Celtic Europa League match
AC Milan's Swedish striker Zlatan Ibrahimovic has declared himself clear of coronavirus and has ended his self-isolation quarantine in time to face Celtic this month.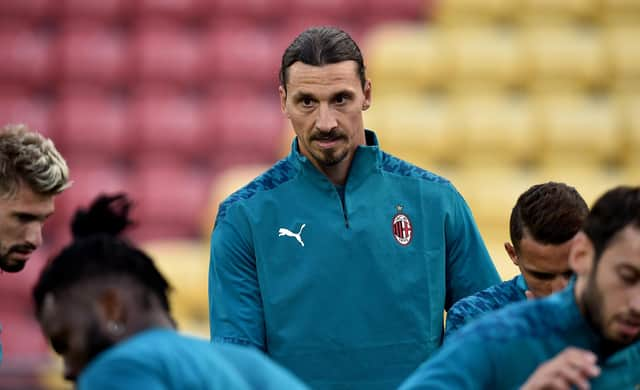 Zlatan Ibrahimovic warms up for the UEFA Europa League second qualifying round match between Shamrock Rovers and AC Milan at Tallaght Stadium on September 17, 2020. A few days later the striker would test positive for coronavirus. (Photo by Charles McQuillan/Getty Images)
The enigmatic forward tested positive for COVID-19 on September 24 but said he felt no symptoms of the virus.
However, after posting fitness videos on his social media accounts throughout his isolation period, the striker who is expected to be in Glasgow to face Celtic in two weeks' time, is now ready to be unleashed on Inter Milan in the city's derby next Saturday and then Celtic the following Thursday.
Ibrahimovic tweeted: "Health authorities warned, the quarantine is over. You can go out!"
The message appears to clear up confusion in Italy earlier this week which stated that the 39-year-old was still returning positive tests two weeks on from his initial diagnosis.
Milan defender Leo Duarte has also been affected by the virus in the lead-up to the Europa League group stage games, which kick off on October 22.