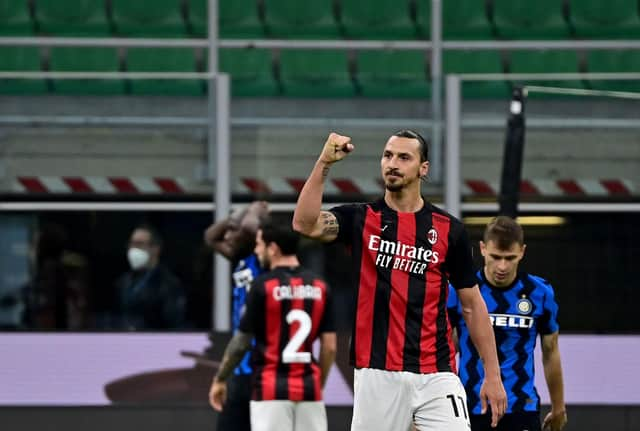 Ac Milan Swedish forward Zlatan Ibrahimovic celebrates after winning the Italian Serie A football match between Inter Milan and AC Milan at the San Siro stadium in Milan on October 17, 2020. (Photo by Miguel MEDINA / AFP) (Photo by MIGUEL MEDINA/AFP via Getty Images)
And the striker fired a warning to next opponents by declaring "no-one can stop me" following his brace.
The striker scored a double inside four minutes to put his side ahead, though Romelu Lukaku pulled a goal back for Inter on the half-hour mark.
It is surefire sign the 39-year-old is over his two weeks of quarantine and positive COVID-19 test and ready for Europa League action on Thursday night when Milan play Celtic.
He said: "If I had the fitness levels I did 10 years ago, nobody would stop me. In fact they can't stop me now either.
"I train hard, I play with experience and have teammates who are ready to help out. I won't accept them taking their foot off the gas, in training or in a match. We must always train at 200 per cent. We are taking it one game at a time."
Earlier this month there was some debate on whether the enigmatic frontman would be ready to face the Scottish champions, or eligible, with speculation over the virus still reporting positive results from tests carried out by the Italian club days before his two-week isolation period was up.
Speaking to Sky Sports Italia he added: "I was stuck at home for two weeks, I was hungry and it showed."