'You know how hard it is to follow guys like that?': Celtic boss Ange Postecoglou responds to question on emotion of beating Rangers in final
Ange Postecoglou confessed he never loses sight of the burden he carries through standing on the shoulders of recent Celtic managerial giants as he reflected on Viaplay Cup success over Rangers.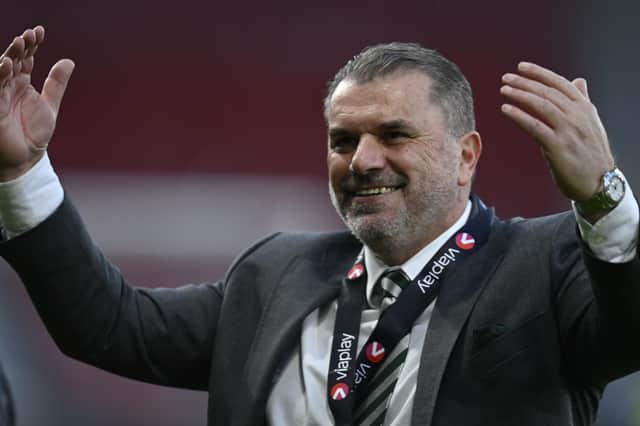 A third honour across his little-more than year-and-a-half in charge, the 2-1 triumph that snared the League Cup trophy against Rangers nudges him closer to the silverware hauls of his immediate predecessors. But the Australian understands he is merely meeting demands – reflected by a clearly Rangers-trolling banner at Hampden unfurled at the Celtic end come full-time that read '22 trophies in 11 year – we set the standards'.
"It's not about me and how I feel," he said when asked to sum up his emotions over events at Hampden. "These are just the expectations at this club. I have just spoken to Gordon Strachan. You know how hard it is to follow guys like that? And Martin O'Neill, Brendan Rodgers and Neil Lennon? This club is steeped in success so when you take the job you know that's the responsibility. That doesn't diminish the achievement. We still celebrate as we don't take it for granted. You don't just roll up in a Celtic shirt and it's given to you. You have to earn it and we did."
Interviewed on the pitch, Postecoglou acknowledged the tension of such an occasion, Celtic losing their way for a period after being pegged back to 2-1 25 minutes from time, before finishing strongly.
"The overwhelming feeling is relief," he said. "People think you are jumping for joy but it's relief as you know how much it means to people - the players, everyone at the club and the supporters. You carry that burden for 95 minutes and when the final whistle goes. it's just relief. Moments like this, you want to get the whole experience. You watch the players, the fans, what it means to them. I take great pride in it. It's a day I'll remember forever. We've been consistent for a very long time. We don't let our standards slip in terms of our football."