Why VAR interventions are helping teams when they play Celtic
St Johnstone midfielder Cammy MacPherson has suggested that VAR interventions provide a welcome relief when facing up to a relentless Celtic and their multi-ball approach in the east end of Glasgow.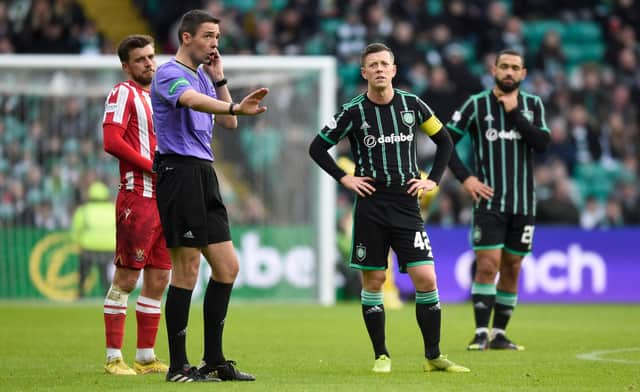 There were three lengthy stoppages courtesy of VAR in the Scottish champions' 4-1 victory at home to the Perth side on Christmas Eve. Two of these resulted from offside checks – the first overturning the flagging initially to rule-out a fourth goal for Ange Postecogou's men, with the second confirming that the strike that allowed Callum Davidison's side to pull a goal back was legitimate. MacPherson confessed that breaks in play are to be welcomed when Ange Postecoglou's men are in all-out attack mode.
"When Celtic get going at that intensity they're hard to stop," he said of St Jonstone's first leg loss in seven outings. "The multi-ball system helps them as well. You never get a break. It's actually good when it goes to VAR because you can get a bit of a breath. This game isn't the most important one we'll play this season. When you come here it's a free hit. Not many teams – if any – will win or even get a point.
"Maybe they took the foot off the gas a wee bit but I thought we were more compact in the second half and got a goal to show for it. It's sign of how much we've progressed that we're feeling disappointed that we didn't get anything from the game. In previous games it's been about limiting the score but we went into this one with an attacking formation and the plan was to press them high up the pitch."