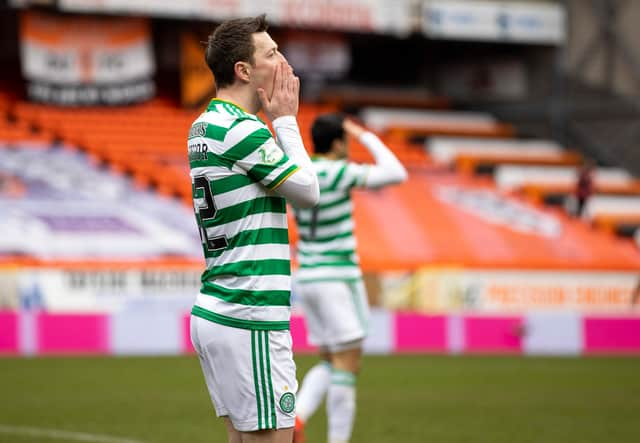 The condemnations over that diminishment across the past six months have been vicious and voluminous. Yet, now that their league-winning run can be spoken of in the past tense, and as just the nine, it is right and proper to offer commemorations.
Rangers should be recognised as outstanding champions, and Celtic a desperately poor relation to them. However, what must also be set in context is the Covid-19 age across which this turnaround has occurred. It was finalised exactly a year to the day, but a footballing lifetime ago for Celtic, from them demolishing St Mirren 5-0 at home to then move 16 points ahead in the closing stages of their nine-in-a-row tilt. As the final act came against Dundee United at Tannadice, in failing to fashion a single goal they gifted Rangers full-swing championship celebrations in sliding 20 points behind their ancient adversaries.
Without the, sometimes, bizarre and debatable impacts that playing football in a pandemic age has had on the game, the Ibrox men would have taken this title. The same is true of Celtic last season, before the health emergency forced the entire country to shutdown with only 75% of the games contested. An asterisk has been placed on that campaign. So too must there be one on this term. It can be no other way. Nothing to do with the absence of fans at games, which has been an even-handed drawback. Everything to do with Celtic being placed on the back foot through early games being cancelled by the government as a consequence of an unauthorised trip away by a player on his day off; having a key player denied to them for a crucial derby because of where he sat playing a video game with a doctor's approval; and 13 players made unavailable for two games because of where they sat on buses and planes.
It hasn't been normal, and in this abnormal environment Celtic have spectacularly lost their way. Yet, however bitter the club's faithful may feel towards all those that have allowed their club's title crown to slide off through laughably bad decision-making, and laughably wretched moments in games, this should not be how the club, the present playing squad, and those helming them in this horrendous campaign, ought to be remembered. Amid the asterisks, the Celtic of this era demand the goldest star. One that will shine on for the posterity they have earned through the peaks they scaled ahead of the freefall with the 10 record on the line.
Of course, there have been nine-in-a-row sequences before - one for Celtic and Rangers. However, there has never been a period of domestic dominance as we have witnessed across the past decade. Jock Stein's Celtic that accomplished the first nine run of titles from the mid-1960s are peerless in the Scottish game. In becoming the first non-Latin side to lift the European Cup in 1967, before reaching the final again three years later, they proved themselves to be among the top six sides across the continent in those halcyon days. The current Celtic team, and the iterations of it across their record-equalling championship sequence, cannot claim to be among the six best in the Scottish game.
Yet, they eclipsed all of them, and set records unlikely ever to be usurped. Indeed, a look at the top 20 most decorated players in Celtic's 133-year history tells its own story. Seven of the names on that list have played in this era: six among the current squad, in the form of Scott Brown, James Forrest, Callum McGregor, Leigh Griffiths, Tom Rogic and Nir Bitton, with Mikael Lustig having left two summers ago.
They have earned those proud places because the now-deposed champions achieved extraordinary feats. They not only won nine titles but, across the past four years, garlanded those championships with four straight trebles. That isn't just a feat unprecedented in Scottish football. While nine titles is no outlier - there have been a host of more extended league monopolies - no team has ever won three national competitions for four years on the spin anywhere in the world. That is the legacy of this Celtic era, achieved with a top flight Rangers it should be acknowledged, and not the desperately lame attempt to reel in the 10.
Moreover, the Lennon who led Celtic to nine of the 19 trophies they have snared in the past 10 years may have crashed and burned this season, but his reputation, his place in football's lore, will be freed from the ashes in time. A place where he stands alone as the only man in the history of the Scottish game to win a treble both as a manager and player. That is owed to him when his honours' haul across his two spells in charge, which bookended the nine, place him behind only Willie Maley and Stein in the list of Celtic's most successful managers.
And, however pathetically nasty they choose to be about Brendan Rodgers for his flit to Leicester City, when reflecting on the past decade, Celtic's support should instead be grateful. Rangers could yet win the title with the same points haul - 106 - as Rodgers in his first season at Celtic. They might even go unbeaten in the Premiership, as did the Irishman's team. However, as a result of their League Cup loss, they cannot replicate what Celtic did in 2016-17, with the 'invincibles' tag earned for an unbeaten treble. That is an accomplishment unlikely ever to be threatened.
As much as Celtic, as an entire entity, inevitably now will be slaughtered by their own and the Ibrox legions as losers, what will reverberate more profoundly through the ages are their triumphs.
A message from the Editor:
Thank you for reading this article. We're more reliant on your support than ever as the shift in consumer habits brought about by coronavirus impacts our advertisers. If you haven't already, please consider supporting our trusted, fact-checked journalism by taking out a digital subscription.