Why Eddie Howe's first task as Celtic manager should be a permanent deal for one loanee
It will surprise no-one that, with 21 goals in the past eight months, Celtic's Odsonne Edouard has the best strike-rate of any player hitting double figures to be based in Scottish football.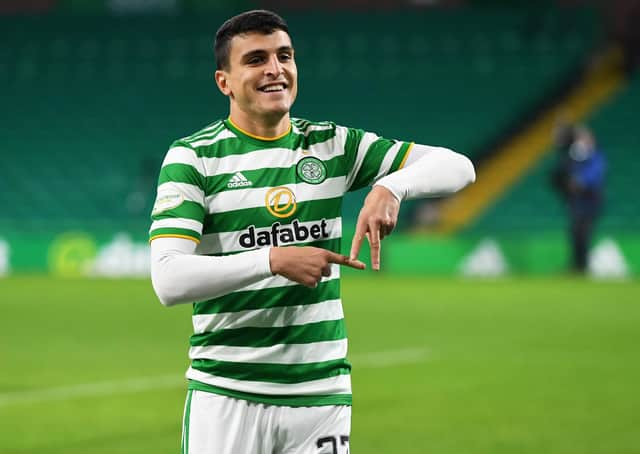 Mohamed Elyounoussi celebrates his goal in Celtic's 3-0 Scottish Cup win over Falkirk last Saturday - his 16th of the past nine months, his strike rate is second only to Odsonne Edouard in Scottish football. (Photo by Ross MacDonald / SNS Group)
Yet, while the Frenchman can boast a goal every 132 minutes of action across the year, there is another attacker not far behind through finding the net every 138 minutes. It is fair to say the identity of that individual would probably be guessed wrongly by most. For while Rangers pair James Tavernier and Alfredo Morelos have plundered 17 and 16 goals, respectively, these totals have required far more game time than the 2205 minutes it has taken Mohamed Elyounoussi to bag his 16.
Morelos, rightly, is lauded for his exploits in continental competition. Here again, though, Elyounoussi has no equal in the Scottish game this season. The Colombian has netted five times in 13 European outings in this campaign. The Celtic man has six goals in this domain from only nine appearances. That total includes a double away to a Lille that, with their win over Paris-Saint Germain last weekend, remain firmly in position to hold off the Qatari-cash-inflated nouveau riche for the French title.
Celtic's chief aerial threat
Mohamed Elyounoussi demonstrated his aerial prowess with his goal in the 1-1 dreby draw three weeks ago. (Photo by Alan Harvey / SNS Group)
In light of such productivity – most recently evidenced with smart finishes against Rangers and Falkirk in his past two outings – the on-loan Southampton forward can often appear an under-appreciated performer. Sometimes by those within his temporary home, and other occasions by the club's followers. In part, that can be attributed to perceived inconsistency. There is no question the 26-year-old's finishing can be erratic. He seemed determined to create a one-man miss-fest as Celtic were hideously blunt in their scoreless draw away to Dundee United a month ago that handed Rangers the title. And, certainly, his form has undulated as Celtic have kangaroo-jumped from trough to trough. But that may also be owed to Elyounoussi, who inarguably possesses the most potent aerial threat of any attacker at Parkhead, never having been deployed regularly in a defined role. He has played all across the frontline, and even in more withdrawn wide positions, where he tends to operate for the Norwegian national side.
However, he is arguably as accomplished as any performer in the Scottish game. Edouard is destined to move on in the summer. As a result, should, as expected, Eddie Howe be confirmed as Celtic manager in the coming week then one of his first tasks really ought to be investigating the potential for Elyounoussi to be acquired permanently by the Parkhead club.
Commitment second to none
The likeable personality's application across his second loan season has been beyond question. In contrast to some permanently-contract Celtic team-mates … and despite the brainless, confected 'controversy' about the player checking his phone during the Europa League loss to Sparta Prague in November. Crucially, too, he has given no indication he would averse to having the opportunity to perform in front of the Celtic support again next season.
Southampton's Austrian manager Ralph Hasenhuttl has sent out mixed signals when it comes to Mohamed Elyounoussi being given another chance with the club when his second loan season with Celtic ends next month. (Photo by CLIVE BRUNSKILL/POOL/AFP via Getty Images)
There were reports this week that Elyounoussi would return to Southampton for pre-season training, and be given a second chance there a second following his early struggles subsequent to his £16m move from Basel in the summer of 2018. However, the same was said a year ago …
Moreover, the hang-up with the sum forked out to bring him to English football overlooks the understanding that this included almost £5m of add-ons. Owing to the fact he earned only 19 appearances for Southampton, and failed to score for the club he has come nowhere close to activating these add-ons. Indeed, there has been a growing sense that the club do not want to risk the potential of him doing so, and would prefer to cut their losses. In the past month, it has been mooted that in Elyounoussi going into the remaining two years of his original five-year deal, they would be willing to accept a bid in the region of £5m for him. Moreover, the internet figures that have listed his salary as £60,000-a-week are believed to be well wide of the mark.
Mixed messages from Hasenhuttl
Southampton manager Ralph Hasenhuttl has always given respectful responses when asked about the possibility of a second chance for Elyounoussi on the south coast of England. Following his double that earned the 2-2 draw in Lille in late October, the Austrian made it sound as if this was a given. "I am very deeply invested in what my loan players do and I am very happy for [Elyounoussi] that he scored and I am happy to see it," he said then. "And, definitely, the player has a chance to maybe come back in and to be a part of the team, maybe next year." Fast forward to last month, though, and Hasenhuttl was rowing back from such certainties. "You can be sure that every player who is on loan we try to follow," he said. "We try to have the latest information about his performances, his physical condition at the moment. We have to do this and, therefore, we will have a look at a few and everybody who does well has a chance to come back in the summer. This is how it should be."
Howe will have a raft of players to recruit and knit into the rump squad that will be left once Celtic clear the decks with their group of want-aways and loanees. There is little possibility of the Englishman acquiring, in the £5m bracket, a player with more to offer than Elyounoussi. Especially, when the new manager's reputation is for improving players. Get the best out of the Norwegian, and you have a precious commodity on your hands. As the stats demonstrate, even in the midst of the tumult that has beset Celtic this season, he has been all of that.
Want to join the conversation? Please or to comment on this article.