Why Ange Postecoglou is the right fit for Tottenham and where his departure leaves Celtic
The footballing cycle moves at a bewildering pace these days.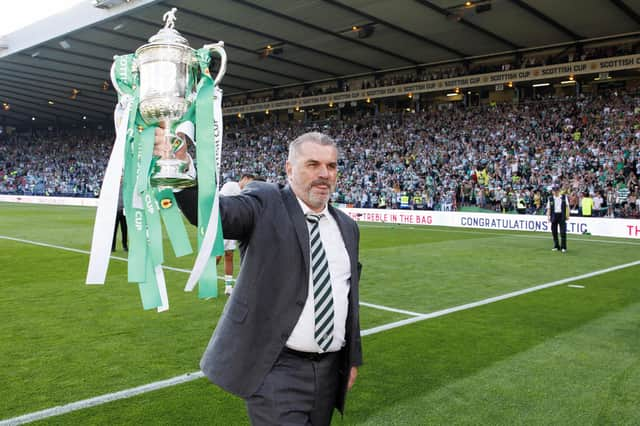 It was only nine days ago Feyenoord's Arne Slot was being presented as the Tottenham Hotspur manager-in-waiting. Just as Ange Postecoglou was working behind the scenes on signings to ensure he embarked on a third season at Celtic with a strengthened and refreshed squad. Already those scenarios feel like they belong to another lifetime ago as merely the formalities require to be concluded on the Greek-Australian departing the Scottish treble-winners for the north London club.
Some among the Celtic support will harbour resentment over Postecoglou, effectively, dropping them like a stone at the first enticement from a leading team in the English Premier League. The world's superpower of a football set-up with untold monetary, playing and prestige riches. Yet, the fates have conspired against Celtic faithful more than the 57-year-old manipulated their feelings. A fanbase he communed with in a genuinely profound fashion as he ripped it up in Scottish football to ransack five of the six honours available to him courtesy of a rip-snorting, attack-obsessed approach.
It is simply the case that - as no-one could have anticipated - the cards simply have fallen beautifully for him with the Spurs job. Starting with Slot declining to upsticks from his Rotterdam post. And underpinned by in-coming chief football officer Scott Munn just happening to be a fellow Australian with experience of working for the City Group. Postecoglou's paymasters in his time with Yokahama F Marinos from where Celtic plucked him - mid-season - almost two years ago. A sense of the pre-ordained further bolstered by Spurs' transfer fixer being none other than Postecoglou's agent Frank Trimboli.
These bonds will create a synergy that could offer Spurs the immediate propulsion necessary. As they set about reshaping their football operation and put a desperately unsatisfying campaign behind them. Postecoglou is the most single-minded and clear-headed of aura-possessing team leaders. And devoted to the flair-filled football that is an article of faith for White Hart Lane adherents. Moreover, his remarkable emotional intelligence not only allows him to bring players with him in cult-like fashion, it detaches him from the febrile and frippery that cause so many in his trade to let their focuses be diffused. With his array of trophy successes attained in the relative backwaters of Scotland, Japan and Australia, he may appear a one-man tent compared to marquee managers of the club's recent past in Antonio Conte and Jose Mourinho. Yet, he is completely free of the character flaws - and negative football instincts - that contributed to both ultimately failing to enjoy the returns sought.
Scotland could not contain his ambitions because of an unshakeable belief his talents are befitting of the game's greatest stage; and his unswerving drive to demonstrate that this fact should have been recognised long before he was nearing 60. Such insatiable desire - never waste a single day, he demands of himself and those in his charge - could be as transformative for Spurs as it proved for Celtic, Yokohama, Brisbane Roar and South Melbourne. Of course, the degree of difficulty is ramped immeasurably as a consequence of the cash, class of performer and elite coaches swirling around the English top flight. Yet, in the past five years only five clubs in the sphere have had a bigger net transfer spend than Tottenham. Precedent suggests his unerring eye for a player will allow Postecoglou to derive full value for any outlay…which could be eye-watering with reports of a £100m move for captain Harry Kane from Real Madrid.
Celtic's followers will be fascinated to discover if their lost love can prove as adept as he has appeared when pitched into the most unforgiving of environments. To fully earn his £15m salary over an initial two-year contract through making sure that the London club mix it - and match up - to such as Manchester City, Arsenal, Manchester United, Liverpool and Newcastle United and regain top four, Champions League-earning, status. More immediately and acutely, though, they will be fretting over what his departure will mean for their club. The strong possibility that Postecoglou could also take his Celtic backroom team in assistant John Kennedy, first team coach Gavin Strachan and analyst Greg Wallace with him has hardly proved a mood helper on that front.
However, it should be noted he is merely the third Celtic manager in six years to achieve a clean sweep of the domestic honours. The Glasgow club, then, have proved themselves adept at renewal across managerial eras. The links to Brendan Rodgers, David Moyes, Jesse Marsch and Kjetil Knutsen as possible successors are deliciously intriguing. Frankly, with the fiscal advantages Celtic have over all other clubs in Scotland, the pedigree of all would give rise to confidence they could take up the baton from Postecoglou without a dip. Even if the standings of Rodgers and Marsch have been dented through being jettisoned by relegated Leicester City and Leeds United respectively last season.
Of course, there is an obvious added, awkward factor to any Celtic pursuit of Rodgers. Countless among the club's support have been unable to find it within themselves to forgive the Irishman for leaving in February 2019 as the club pursued an unprecedented treble treble. Rodgers rapidly departing for Leicester having bagged seven straight trophies and led the club to a domestic clean sweep without suffering a single loss in a dazzling debut campaign of 2016-17. With the current turn of events around Postecoglou, maybe an overly-emotional Celtic support will now recognise Rodgers wasn't a traitor so much as an ambitious coach accepting an opportunity it proved impossible to reject. The only difference between the situations to have now cost Celtic two immensely capable managers proving the timing of the offers received from a set-up with irresistible pull.
Rodgers has the coaching nous to pick up from where he left off and so, in time, overcome any supporter resistance to a return. There are, though, claims his relations with the Celtic heirarchy, principally largest shareholder and kingmaker Dermot Desmond, somewhat cooled towards the end of his first spell. We could be about to find out whether this was merely temporary. Certainly, the Irish billionaire is not a man to care a jot about any public antipathy - however widespread or feverish - to such a call if he considers it the correct one for his club.
Comments
 0 comments
Want to join the conversation? Please or to comment on this article.