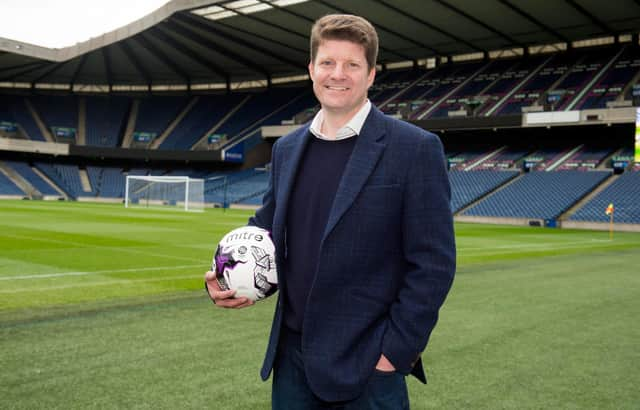 Dominic McKay will take over from Peter Lawwell at Celtic. Picture: SNS
Dominic McKay is joining the club from Scottish Rugby where he held the key position of chief operating officer.
He said the opportunity to join Celtic was "once in a lifetime" and will work closely with Lawwell who is hoping to "ensure a seamless transition… in order to make changes as smoothly as possible and maintain a focus on continued success on the field of play."
McKay speaking with SPFL chief Neil Doncaster. Picture: SNS
He is a key figure in Scottish Rugby and has been for the last 13 years having joined the organisation back in 2008 as director of communications and public affairs.
A keen sailor, he used to chair charity Ocean Youth Trust Scotland which allows young people of all backgrounds to experience sailing.
McKay has raced yachts across the Atlantic and Pacific oceans.
Prior to joining Scottish Rugby, McKay worked primarily in communications, most notably with Pernod Ricard, the parent company to Scotch whisky business Chivas Brother. It was there where he got his biggest career break.
At Scottish Rugby McKay, his influence grew over more than a decade. Firstly as director of communications and public affairs before joining the Scottish Rugby Board as an executive director in 2013.
In 2015 he was appointed chief operating officer which was a wide-ranging role involving managing the BT Murrayfield Stadium, plus marketing, ticketing and communications activity.
He helped bring non-sporting events to the stadium, played a role in the growth of Glasgow Warriors and Edinburgh Rugby off the field.
During his time at Scottish Rugby, the organisation have had great success in growing its revenues.
Across four years to 2017, they increased by nearly £20million while drastically reducing debt.
It arrived via a number of avenues, including games regularly selling out, a lucrative sponsorship deal with BT and partnerships with key organisations such as Tennent's, Royal Bank of Scotland and Barr soft drinks.
It allowed for more investment into women's sport which McKay enthused about.
Why should supporters be encouraged?
One of McKay's aims was to ensure Scottish Rugby connected with supporters in a "meaningful way".
Scotland games at Murrayfield were renowned for being an occasion that was more than the action on the field, with activities for all the family in and around the stadium on matchdays.
"By going that extra mile… it's enabled us to transform our relationship with those supporters, which has been fantastic, but also grow our revenues," he told The Scotsman in 2017.
Could he push for alcohol to return to games?
"I guess we respect the fact that once the game's over it's nice to go and celebrate with a few beers," McKay said.
Scottish Rugby ensured there were plenty of amenities for fans to enjoy themselves before and after games, keeping them at the ground before and after games rather than letting them drift off to pubs around the city too quickly.
Considering the current climate, the discussion around alcohol in football grounds is far down the list of priorities. However, McKay, who will hold a key position within Scottish football could be in a strong place to look into such a possibility sometime down the line.
"I can honestly say I have enjoyed the best 13 years of my life at Scottish Rugby and made life-long friends across the sport and all its numerous Unions, partners, broadcasters and sponsors.
"It has been a huge privilege to work with such a talented and passionate group of people over this time and I'd like to pay special thanks to Mark Dodson for his support, friendship and leadership.
"Joining Celtic FC as Chief Executive is a once in a lifetime opportunity and a new challenge I am very excited about taking on later this year. I have been incredibly impressed with the vision and people within the club and I look forward to working with them."
Scottish Rugby chief executive Mark Dodson: "I have hugely enjoyed working with him and he has made a significant contribution to the progress we have made as a sport and organisation, including recently helping to bring significant private equity investment into the PRO14.
"While we are sad to see him go in the summer we wish him well at Celtic FC and are delighted he is staying in Scottish sport and look forward to our paths crossing again in the future."
The Scotsman's former chief rugby writer David Ferguson: "Dominic is making a big effort to engage with the media. I find him easy to deal with."
John Jeffrey, Scottish Rugby chairman: "He has been instrumental in making Scottish Rugby a more attractive and viable commercial partner for a wide portfolio of sponsors and supporters, which in turn has helped us to increase investment across the game at all levels. Dominic has also worked to develop our positive relationship with the Scottish Government, which has been increasingly important during the pandemic.
"He can be proud of the legacy he will leave behind and we thank him wholeheartedly for his hard work and commitment to driving Scottish Rugby forward during his tenure."