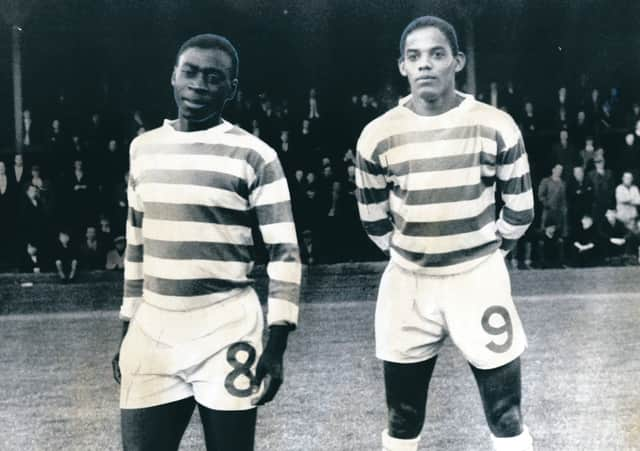 Ayrton Inacio and Marco di Sousa ahead of their Celtic bows in 1965.
Jimmy Johnstone was not accustomed to them looking elsewhere. If the football pitch was a room, then he was that magnetic soul on whom all eyes fix upon entry. Now, thousands of Parkhead mortals stared beyond Jinky and inwards to a new twinkling presence. It was a minor deed of betrayal, like the actions of those wretches who glance over a person's shoulder during conversation.
Johnstone needed their doe-eyed gazes and their boisterous plaudits. He needed tidings to reach Jock Stein, not long Celtic manager, that his was a talent worthy of First XI permanence. The winger had thus far etched many a poem in the saggy turf – enough melodious couplets to make green Glasgow purr, just not enough to escape the second team for good. Summer of 1965 folded into autumn and the name Jimmy Johnstone rested in pencil on that purgatorial middle teamsheet between firsts and reserves. The second last thing he needed was a dashing Brazilian team-mate vying for attention. The last thing he needed was two.
There were at least 11,000 spectators in the ground that day, September 4th, neglecting Johnstone during a tie between Celtic's reserves and Motherwell's. Most had come to see Ayrton Inacio and Marco di Sousa. Hope bloomed that the pair would be Pelé and Garrincha in Hoops, samba lads with a taste for square sausage. Perhaps it was time for Brazil to repay her footballing debt to Scotland; at last the fruits of the Charles Miller and Thomas Donohoe exchange. Both men were inside forwards. Inacio wore the number eight upon his shorts, di Sousa nine.
Ayrton Inacio scores for Celtic against Motherwell in 1965.
"He's bulky", wrote the Daily Record's Hugh Taylor of the former, "…with the hip wiggle of a Carmen Miranda and one of the most spectacular shots to horrify Scottish goalkeepers in a long time."
In the 18th minute, Inacio bowled into a Motherwell defender, purloined the ball from him and hammered it into the net. Seven minutes later, di Sousa nudged him through. Though wide of the goal, Inacio thwacked in a shot that swerved its way home as if cartwheeling along a rainbow. Hundreds of children ran over the cinder, on to the pitch and mobbed tomorrow's heroes. It was, continued Taylor in the Record, "a Brazilian bombshell" and a "football fiesta".
At the interval, Jinky stirred. In the second half, he scored a wondrous goal of his own. On came the children again. This time they huddled the wee man. Samba had not yet replaced the Gay Gordons.
A salesman with exotic stock
During the summer of 1965, Jose Ramos arrived in Glasgow with merchandise to flog. His stock was exotic: Brazilian footballers, available on trial for the price of an air fare and, that catch-all and elastic out-going, associated costs. The Portuguese advertised his wares indiscriminately and with the gusto of a door-to-door salesman on a first shift. Scottish clubs of all sizes were contacted and offered meetings among the heavy curtains and busy carpets of the Royal Stuart Hotel on Clyde Street. The interest of many officials was piqued by what must have seemed an impossibly tropical offering in the monochrome world of domestic football.
In the third week of July that year, Dunfermline manager Willie Cunningham – successor to Jock Stein at East End Park – met with Ramos. The Pars were floating high and happy, in the previous season finishing only a point behind champions Kilmarnock and as beaten Scottish Cup finalists. Managers have long sought personnel that will gild their squads, tipping them over the creative edge and into greatness; players that make "the difference". Cunningham must have looked into Ramos' eyes and seen trophies instead of pupils, just as a cartoon felon perceives dollar signs in those of someone he is about to exploit. On July 26th, his board authorised the flying over of two Brazilians: Alexandre Gabrielle, aged 20, and Joaquim "Chico" Filho, aged 25. Both, claimed Ramos, had starred for Juventus di Sao Paulo.
Ramos was smashing his sales targets. In early August, St Mirren received another two of his Brazilians, Fernando Azevedo and Roberto Faria. Faria faded quickly from view – perhaps the bright lights of Paisley distracted and beguiled him – while Azevedo was hailed in the local press as a "Top Brazilian". Cue fever among Buddies, cue old men whistling The Girl from Ipanema on County Square and down by the Abbey. On the first Saturday in August, St Mirren played Northampton Town in a Charity Cup match at Love Street.
With international clearance stuck in the post somewhere between the Amazon and the Clyde, Azevedo was restricted to a half-time unveiling. His silky keepy-ups had supporters cooing in anticipation.
St Mirren, incidentally, lost two-nil and their young star, Archie Gemmill, broke an ankle.
A day later, Sunday August 8th, Gabrielle touched down in Scotland, with Filho following the next Wednesday. Both were due to meet Pars board members in the Royal Stuart Hotel. With clearance from the Brazilian FA still to arrive, and perhaps secreted in the same envelope as Azevedo's, the Fifers called off the meeting and refused to reimburse Gabrielle and Filho's air fares. On August 20th, Celtic welcomed four Brazilians of their own: Inacio and di Sousa, plus Fernando Consul and Jorge Farah. In unison they marched across the gravel outside Parkhead resembling a jazz quartet arriving at a Midwest roadside venue. Farah wore a suit jacket over a white polo-neck t-shirt and carried an Alitalia crew bag, di Sousa sported a suave corduroy blazer and waistcoat, Consul a beige jacket and tie and Inacio a casual sweater ideal for a Glasgow summer. He would soon upgrade to the kind of bulky knitwear that mid-century mothers insisted upon their sons wearing, the work of an insistent landlady in club digs, perhaps.
Come late August over in Fife, with paperwork cleared and passes stamped, Gabrielle and "Chico" Filho began to acclimatise. "I kind of looked after Chico," recalls inside forward Bert Paton now. "I took him home for decent meals and things. He was a better player than the big lad [Gabrielle], who was a bit of a poser. The food was very strange to them. They were interested in finding different food to ours and not interested in our fish suppers. Even in those days they were worried about diet."
Jock Stein couldn't be swayed
A week on from Inacio and di Sousa's exhibition against Motherwell Reserves, the fixture card offered a derby at Love Street – St Mirren versus Morton, that cantankerous old joust played first when Gladstone was prime minister. Whether schooled in the intricacies of Renfrewshire rivalry or not, Fernando Azevedo found himself in the home side's starting line-up.
Were this tale one of romance rather than an intriguing curio, the first Brazilian to contest a league match in Scotland would defy baying voices from the tumbledown terraces to dance between the raindrops and score a hat-trick. Instead, Morton won 1-0 and Azevedo played only a solitary further game for St Mirren, against the boilermakers of Babcock and Wilcox in the Renfrewshire Cup. Some history sings and some ends in a whimper.
That same afternoon, Inacio and di Sousa once more wore the Hoops, this time in a reserve fixture at Clydebank's Kilbowie Park. Jimmy Johnstone pulled the strings in a 7-1 victory, though Inacio again netted twice and this time di Sousa joined him on the scoresheet. It could never be enough to sway Jock Stein, though. Celtic's tarot card showed not exotic incomers, but a flame-haired bantam genius from Viewpark. They released all four of the jazz quartet soon after the Clydebank game. Inacio tried his luck at Cliftonhill and scored a goal on his only league appearance for Albion Rovers. Two years on, in the 1967/68 season, he returned to Scotland once more, turning out twice for Clydebank. Of the other three Ramos commodities traded to Celtic, we know little. In Fife, Gabrielle failed to turn heads and was released on September 13th.
"I think he was just brought along to carry Chico's case," says Paton, below. Chico remained ready to dazzle, and was named as Dunfermline's number 9 the following Saturday in a forward line incorporating a combative type from Govan, Alex Ferguson. Scottish league football's second Brazilian would travel to Cappielow to face Morton, who by now must have been wondering where their own standard issue South American had got to. Chico neither scored nor impressed in a one-all draw by the Firth of Clyde.
A second outing would not materialise and, by October, he had left Fife and bequeathed a souvenir to Paton: "When they eventually left, Chico said to me 'I want to give you these boots.' These boots, they were like slippers, such soft leather, and in those days they were nothing like our boots, which were more solid, stronger built. I was running about, showing off these new boots and all the other young lads were jealous. But with them being so soft, they ruined my two big toe nails. They got bruised to bits because they had no protection from players standing on your feet like our own boots had, no toe-caps. So they didn't last very long. I swear my toes have never been right since."
Paton was clearly unperturbed by the underwhelming dalliances of those Brazilians at East End Park. It was he, when manager of Dunfermline three decades later, that would sign two of their fellow countrymen. Following Sérgio Gomes' 1995 spell at Dundee United, the Pars' Sérgio Duarte and then Edinho became the fourth and fifth Brazilians to play league football in Scotland. "My wife reckons Duarte was the worst signing I ever made. That's what she always says," adds Paton now. "I knew he could take a free-kick, but that was about his limit."
In a whirlwind spell between the autumn of 1997 and the late winter of 1998, Duarte played in a midfield beaten 7-0 by Rangers, man-to-man marked Henrik Larsson, bought a house in Rosyth and missed the team bus home following a Coca-Cola Cup semi-final defeat to Celtic. "Sergio has gone back to Brazil with his family," said Paton upon his exit in March, "and he went pretty quickly as well. I don't think he liked the weather in Scotland very much. And who can blame him?"
"I prefer the ball at my feet to play it on the ground, but that was not going to happen," Duarte told the Edinburgh Evening News. Edinho, a friend of Duarte's, joined on loan from Bradford City in November 1998, scored one goal in nine games and then returned to Valley Parade.
Ours, though, is a sixties yarn and not a nineties one. After Chico left Fife and Inacio departed Glasgow, Jose Ramos seemed to disappear, as a travelling salesman is prone to.
Whispers and tittle-tattle percolated. In football club board rooms, curses hung in the air alongside the usual maelstrom of Brut aftershave and cigar smoke. The word "perfidious" grew tired with overuse. A contemporary journalist conversed with a man named Peter Pullen, Brazil's spokesman in Europe, who had not heard of Ramos nor his players, and commented "I don't think that they are first-class." Their credentials as significant figures in the history of football are more weighty: not only were they the first Brazilians to play in Scotland, but Inacio, di Sousa and Chico Filho were the first black players to represent Scottish teams since Celtic's Gil Heron in 1951.
Whoever Ramos was and whatever his intentions, for a short while his players scattered Copacabana sand grains on Dalgety Bay and pulled the Maracanã towards Paisley. Fleeting as it was, lightning had struck and turned an old greying sport luminous.
A message from the Editor:
Thank you for reading this story on our website. While I have your attention, I also have an important request to make of you.
The dramatic events of 2020 are having a major impact on many of our advertisers - and consequently the revenue we receive. We are now more reliant than ever on you taking out a digital subscription to support our journalism.
By supporting us, we are able to support you in providing trusted, fact-checked content for this website.