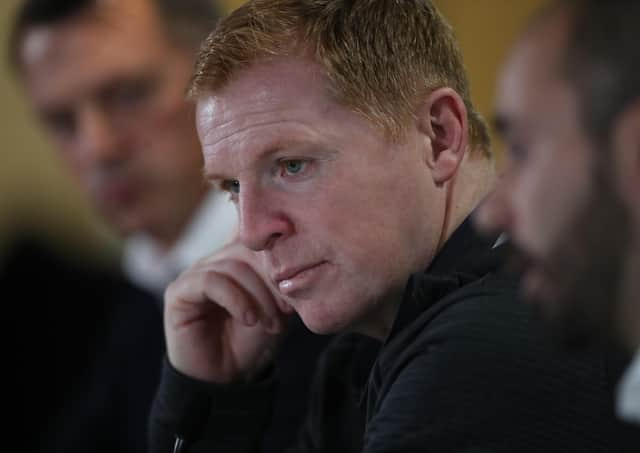 Neil Lennon is "just working day to day" as he tries to come to terms with Scottish football being placed in limbo. Picture: Getty.
There is uncertainty over the resilience of many Scottish clubs throughout the four senior divisions in coping with the lack of regular income streams during the current suspension of the game which began on 
13 March.
Scottish champions Celtic are in a strong position to ride out the unprecedented storm facing football clubs, having reported a healthy financial position in their most recent set of accounts with almost £33 million in the bank.
But Lennon is looking beyond the security of his own club as he expresses a desire to see a bigger picture and safeguard the future of everyone in the current SPFL set-up.
"I definitely feel sympathy for other clubs and professionals," said Lennon. "There are great guys out there throughout the game and plenty of good football people.
"So it is important that we keep these clubs afloat and we maintain the Scottish game as it is because it is strong – or it was strong until this current situation arose.
"It was a really good product we had for the size of the country. So we must try all we can to keep it that way, if at all possible."
As Lennon tries to come to terms with Scottish football being placed in limbo, he admits trying to make any clear plans for the future at Celtic is impossible.
"We're just working day-to-day," he added. "You can't have a fixed date in mind for anything at the moment as it's impossible to know.
"All the clubs want the season finished and all the countries and associations want that. We're no different.
"But we can't put dates on things and a lot of clubs are going to need financial remuneration from associations, eventually.
"I don't know what is going to happen in the next few weeks. It's too hard to predict.
"There is no point in me 
coming out and saying this, that and the other is going to happen, as we just don't know. We will be guided by government and associations."
The contractual status of players is one of the biggest issues for clubs with the 2019-20 season increasingly unlikely to be concluded before many deals expire at the end of June.
Celtic's loan agreements with Southampton duo Fraser Forster and Mohamed Elyounoussi and Stoke City full-back Moritz Bauer are all due to run out in the summer, while goalkeeper Craig Gordon and utility player Jonny Hayes will both be out of contract.
"We can speak with all of them, but in terms of what we can do going forward, we don't really know what we can and can't do yet as the season is yet to finish," said Lennon.
"There are so many imponderables. I keep hearing that word 'unprecedented' used a lot. But it's the perfect word for the situation in which we find ourselves at the moment as there are so many different outcomes and circumstances which could happen."