Watch as Celtic fans celebrate 'nine in a row' triumph outside Parkhead - despite club's pleas to stay at home
Celtic fans headed to Parkhead today to celebrate after their club was crowned Scottish Premiership champions.
It meant Hearts being relegated to the Championship for the second time since 2014, with the league decided on a points-per-game average.
But with Celtic being crowned Premiership champions for a ninth successive season, many of their fans were in the mood for celebrating today - but some went to Celtic Park despite advice from the club not to.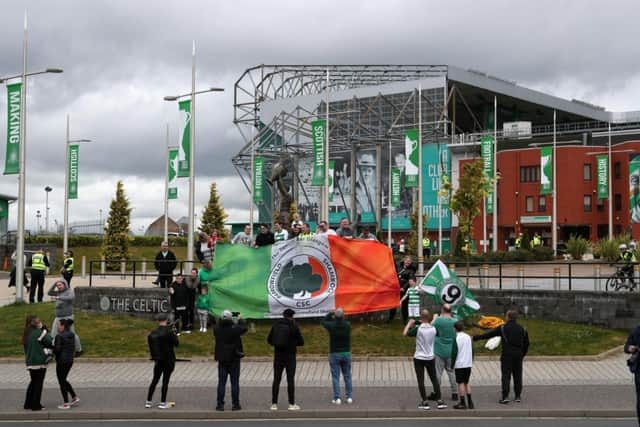 A statement released by on the Celtic club website today said: "We dedicate this victory to you. To all our supporters. To the key workers who are saving lives, cleaning hospitals, stacking shelves and shielding loved ones at home."
The statement continued: "We want Celtic fans all over the world to celebrate in style. but, of course, safety is the number one priority for all, and for now this means celebrating in our homes. We all must stay safe and stay home. Please DO NOT come to Celtic Park.
"We dedicate this title to you. We dedicate nine in a row to you."
The decision to conclude the season was expected after the Premiership clubs took part in a conference call on Friday where there was a "clear and unanimous view that there was no realistic prospect of completing the outstanding fixtures".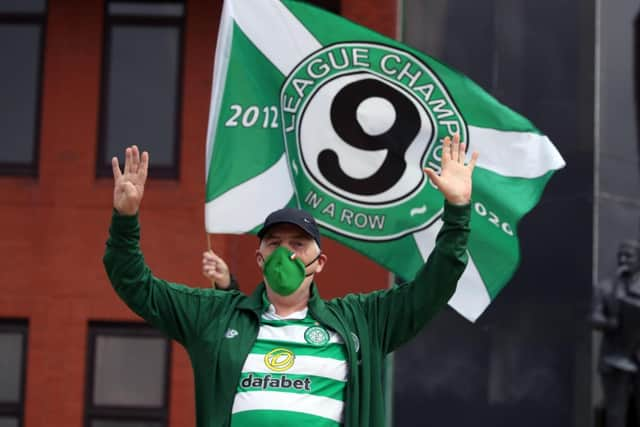 SPFL chairman Murdoch MacLennan said: "Firstly, I would like to take this opportunity to officially congratulate Celtic on their achievement of winning the Ladbrokes Premiership this season, and also to sincerely commiserate with Hearts on their relegation.
"We would all have rather seen the league season played out on pitches, in stadiums and in front of supporters. This is not the way anybody involved with Scottish football would have wanted to conclude the league season but, given the grave and unprecedented circumstances that we are facing, the Board has agreed that it is the only practical way forward.
Covid-19 has wreaked havoc on sporting competitions around the world and the repercussions will be felt for a long time. Scottish Government restrictions and deep concerns for both player and spectator safety left the SPFL with no realistic option but to call the Ladbrokes Premiership now and we thank the Premiership clubs for their support on this decision."