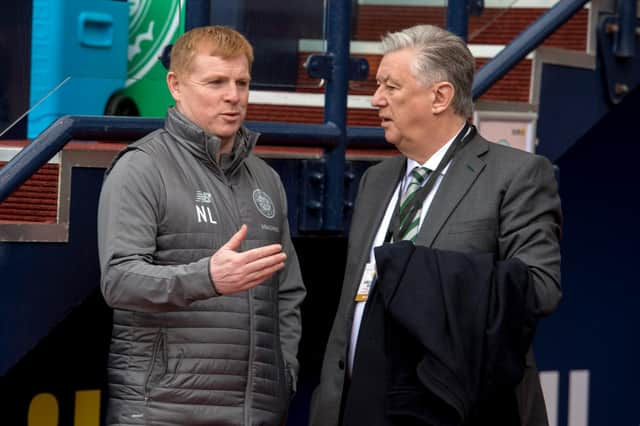 Celtic manager Neil Lennon (left) says his latest frank discussions chief executive, Peter Lawwell (right) and largest shareholder Dermot Desmond were not an exercise in "papering over the cracks"
Lennon has said the pair communicated their belief in his ability to arrest the downturn in the Scottish champions' fortunes that has lost him such faith from a support incandescent he remains in charge.
However, he stresses there was no emergency element to the link-up following Thursday evening's 4-1 slaying by Sparta Prague that has resulted in Lennon becoming the first Celtic manager this millennium to have endured a nine-game run featuring only two wins.
It is a sequence that has allowed Rangers to establish an 11-point lead over their ten-in-a-row chasing title rivals, who have played two fewer Premiership games. And it is form that makes the League Cup tie at home to Ross County tomorrow a must-win.
"It was a normal call that we have. It was no big deal. It wasn't a special army council meeting or a COBRA meeting," Lennon said. "It was about, 'Where can we improve things on and off the field for the players?' We are going through a bad patch and we are looking for solutions to it. I speak to Dermot twice a week and I speak to Peter every day. We are very strong and durable. I believe in the process but the players are struggling with some belief and confidence.
"They played pretty well for large parts in Prague. The scoreline flattered them. But that's how it goes for you when you are going through a sticky patch. That's what it is – this isn't terminal by any means. Europe is over now. We need to look at the domestic games. The other two Europa League games will maybe give me a chance to freshen things up and get players some games."
Lennon acknowledges the conversations between the trio yesterday were honest and forthright. However, he says that is no break with convention either and not the product of recent events.
Instead, it is merely typical of their interactions across his 21-month second spell at the Celtic helm that has yielded four straight trophy successes and moved the club to within a Scottish Cup final win of an unprecedented quadruple treble.
"It is always the way with Dermot that he's honest with me and I am with him. It's the same with Peter. We aren't smoothing over any cracks here. We aren't saying everything is fine, it's obviously not. We are honest enough with each other to debate that. They are trying to help me and I am trying to help the players. It wasn't like a huge ordeal for me.
"Every player or manager goes through a sticky patch in their career. I have had a lot worse than this, to varying degrees. I need to keep a calm head and a sense of perspective.
"I spoke to the players after the game in Prague and opened it up to them. We are all together and very much unified. We aren't happy with the way things are and we are disappointed for the fans. The players are feeling it and they want to put it right."