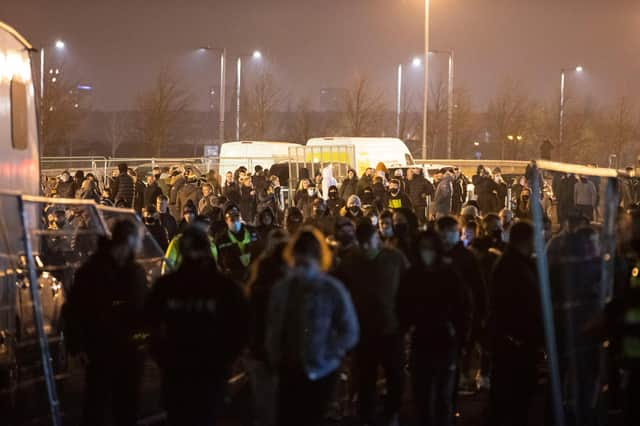 The thuggishness of supporters that clashed with police outside Parkhead after gathering to to tell Neil Lennon to "get tae f***" and turn on the club's board explose how shamefully toxic an element of Celtic's fan culture has become.
It was excruciating to watch a team that has been a blitzkreig force in claiming trophies across the longest run of silverware success in the country's football history see that era end entirely bereft of the fortitude, wit and imagination that had framed it.
However, it was far more disturbing to see a neddish element that possesses none of those facets - once staples of a fanbase past admired for faithfulness and humour - ensure the greatest Celtic embarrassment of the day was nothing the failing Lennon and his players did but their actions.
Ryan Christie's post-match interview had to be cut short as the trouble brewed outside. The trouble brewing inside ahead of that point proved the agonies the attacker was churning through in his mind.
Clearly hurting over a desperate situation created by a sequence that, in bringing Celtic only two wins in 10 games, appears as if it will cost Lennon his job, Christie's message for an insurrectionist support was to address the charge most levelled at the squad as they have completely buckled under their manager in the past two months.
"I think the most important thing that everybody needs to know is that we still care, " he said, admitting that players felt responsible for the abuse aimed at Lennon. "When you go on a run like this, people automatically say they don't care for the club or they're not trying their best, whereas every single person out on that pitch today was absolutely desperate to get a result to put things right.
"That's why it is so frustrating when people do say that we're not caring or we're not trying our best. Nobody would be at this club or would have done so well in their professional career if they didn't have that attitude going into every single game.
"But it's hard, everyone is hurting. We hurt as much as them. It must be horrendous for them sitting at home watching us, the team they love to see win every week. It's been near perfection over the last however many years, so when a run like this comes along it is a real shock to the system.
"We have to stay within ourselves. It's frustrating when things don't go our way and it does get harder to block out the outside noise, but the most important thing is to keep working hard and believe in ourselves and the process.
"It's the same process that has got us so much success for the last however many years. It's easy when things go wrong to point your finger at this, that and the other, but we've not changed anything going into this season. It's the same as last season. It's just one of those runs. We've been pretty unstoppable in the last few years and we've not come across a run like this. We're just desperate to get back to that."
A message from the Editor:
Thank you for reading this article. We're more reliant on your support than ever as the shift in consumer habits brought about by Coronavirus impacts our advertisers.
If you haven't already, please consider supporting our trusted, fact-checked journalism by taking out a digital subscription.