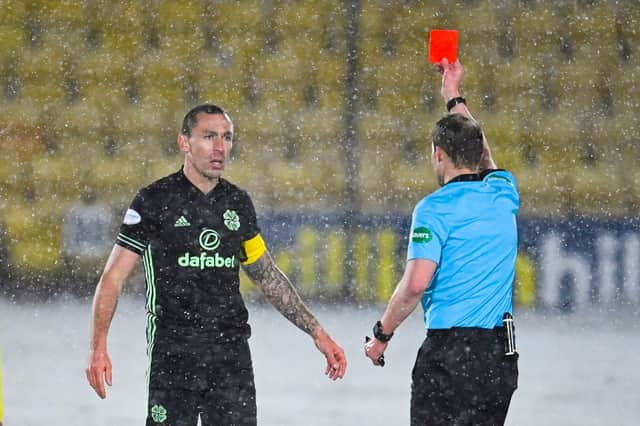 The result means Celtic have failed to record a win in four consecutive league games for the first time in more than 20 years and puts the position of manager Lennon under further pressure following his controversial press conference on Monday.
Michael McDonald (@Mikey_Bhoy_1993): 20 points behind. 7 wins in 22. 4 league games without win = not since 2000. Boli. Home exits v Ferencvaros & County. 2-8 v S.Prague. 3 losses in a row v Sevco. £12m: Barkas, Duffy & Ajeti. Dubai. CEO's apology. Presser meltdown. With no weekend game, announce #LennonOut TOMORROW
Paul McQueen (@queenmachine67): That's it now. No more excuses, that's the end. If he's not got the character to do the right thing then you need to earn your money Lawwell and make the call.
Shane (@shanecfc88): Lennon must be sacked and Scott brown needs stripped of his captaincy. On and off the pitch this season we've become a laughing stock.
Daniel Christie (@Dannybhoy_c): 6 wins in 22 games. Tonight was the very last chance of a miracle happening and your captain goes and does that . No manager would still be at any other club never mind ours.
Celtic Gossip (@CelticGossip): The board of @CelticFC are negligent in their duty. The club is falling apart on and off the park and yet silence from our custodians. You claim a review is underway, we don't need that, we can see with our own eyes what the problems are; Lawwell and Lennon, get them out now. HH
Buff Egan (@buff_egan): Lawell, Lennon, Kennedy all need to go....everyone associated with the fiasco that has unfolded this year best exemplified by the Dubai fiasco need to be shown the door ASAP....if Lennon really loves Celtic he will do decent thing and resign…
martinbhoy (@martinbhoy3): Can we just stop this farce now celtic , new manager and start rebuild now , how Lennon has survived so long is staggering , surely he cant be in charge for the next game
lummy316 (@lummy316): This is the END for Celtic this season, that's it definitely at the point of no return.Time for Lennon and his pals to go.Underperforming players can leave, and Lawwell needs to stand down. The club have catastrophically collapsed in 6 months after a decade of dominant success.
William Mckenna (@mcklennox79): I'm done, I won't be watching again until NL has gone. Just embarrassing now, we can't beat a second string Livy. Duffy and Barkas are the worst signings in about 20 years. And they substitutions were just baffling tonight!
Marc McArdle (@marcmcardle1): If we're not careful the gap this season could finish at 25-30 points. That's the very real danger now. Even best case scenario I don't expect us to get the gap below 15 points or so, but 25-30 would be a whole new level of humiliation.
A message from the Editor:
Thank you for reading this article. We're more reliant on your support than ever as the shift in consumer habits brought about by Coronavirus impacts our advertisers.If you haven't already, please consider supporting our trusted, fact-checked journalism by taking out a digital subscription.