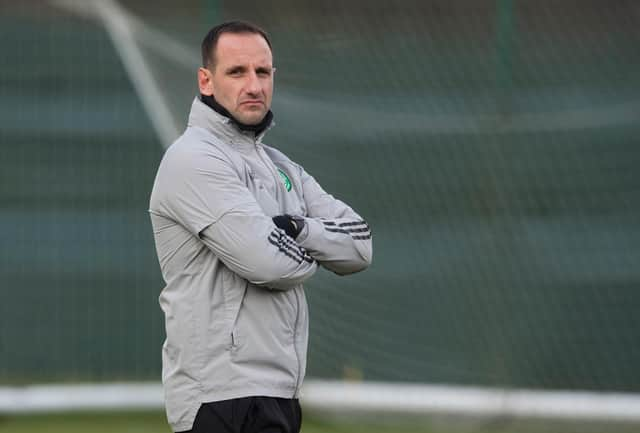 The buck stopped with Neil Lennon until he was stopped having to buck any more in departing this week. Now the focus has moved on to his erstwhile assistant and newly-appointed interim manager John Kennedy. However, in casting aside any idle chatter of auditioning for the job permanently - "People who know me know that's not my style. It's not about me, it's not like I'm going around saying, 'I'm in charge'", he says - the 37-year-old recognises attention must shift onto the crucial constituency at any football club: the players.
The driver for Kennedy across the remaining eight league games is simple. Or wholly meagre. It is a deriving a scintilla of pride after a fall - the spectacular fall of Celtic's empire through a brutally-botched quest for a 10th straight title. To do that he must draw something from within a squad that has been utterly lost since lockdown. And he knows it.
"We've been very clear with the players over what's expected, the atmosphere we're going to have," said, Kennedy, who will take charge for the first time in today's home encounter against Aberdeen. "It's always been there but it's about putting demands on them and giving them more responsibility. They are not children – they are professional adults who have to perform in front of the world. They need to take that responsibility within the parameters we work. We've tried to steady things and bring clarity in the last couple of days after a very muddled time with the emotions around people losing their jobs. Away from the psychological and cultural side, the focus has been very on pitch, looking at what we do well when we are winning games."
The personal flak he has encountered, and will further encounter, he says "is par for the job" and intensifies "the closer you get to the first team". Kennedy is tainted by Celtic's on-field demise, but it should be remembered that this will be first season in seven he has not been a member of a title-winning backroom team. "We need to trust in what we believe in," he said. "If you listen to too many voices and opinions you can start to doubt things. I've been saying to the players in the last couple of days to believe in each other. These guys will admit they have under-performed this season, but at the same time most of them are treble winners and won trophies every season. It's been a major set back this year. It's been a stressful and challenging time. It's about going back and saying, 'what makes us good?'
"I know it's about results, but results are the outcome of what you do. We have to think about all the things that made us good. If might be you need determination to get that winner or stop that goal to get you over the line in certain games. But you need a plan and process in place, and that's what we've had over the years. There will always be times when it doesn't go to plan but it's about fixing it."
The permanent fix in the coaching team that take Celtic into next season will come from outside. The temporary one is Kennedy's former team-mate Stephen McManus stepping up to join Gavin Strachan and goalkeeping coach Stevie Woods. "Stephen is a very good coach. It's not just a case of he's someone I've known for a very long time," he said of the one-time Celtic captain, who signed professional terms at the club the same 1998 day he did. "I like the way he works with the reserves and he'a a good fit with the first team. We want the right people on board. It gives us more contact time to work with certain players in different areas. The more support we have to point them in the right direction will only enhance us."
Lennon's inability to turn the course of a dead-end season cost him his position. And much more besides, with the losing battle deeply scarring, as Kennedy accepts. It was put to him that the man with whom he bonded and has contacted since his midweek departure, might be relieved to be out of the firing line.
"Probably, in a way. Without thinking that beforehand," Kennedy said. "He's had a helluva lot of criticism this year and has had to stand out there every matchday. He's had to attend every press conference and answer all the difficult questions. There have been a number of challenges with different things and Neil, as the manager, has dealt with it all. He's a strong guy, a strong character and has shown very good leadership behind the scenes dealing with all this and staying calm. For anyone, it must be exhausting - but Neil never showed that. He came in with an attitude to try to improve and turn the corner, so credit to him for that. But probably when he sits back now, as much as he'd love to be in a better position and still be here driving it forward again, he's been through an exhausting time.
"I've spoken to Neil [since Wednesday]. We have always had a good relationship. I knew him before he came back and then we worked very closely together. He's been great. He decided the time was right. He probably got to the point where the light wasn't there for him anymore. Neil gave everything he could, he worked all the hours under the sun. It was all focused to bring the team success - and he's had great success as a manager and a player. We wanted that this year but it didn't materialise and he's the first guy to hold his hand up to that. But we share that responsibility - as players, backroom staff and management team." A collective responsibility, indeed.
A message from the Editor:
Thank you for reading this article. We're more reliant on your support than ever as the shift in consumer habits brought about by coronavirus impacts our advertisers. If you haven't already, please consider supporting our trusted, fact-checked journalism by taking out a digital subscription.