The unlikely figure in Celtic's treble chase - and why 'Inverness still have a chance'
If Celtic do go onto lift their fifth treble in seven years next month, as so many expect will happen, an unlikely figure can be deemed to have played a part in the process.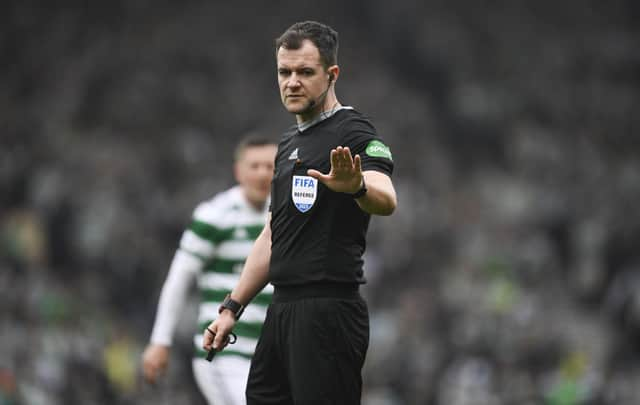 Taking his place alongside more obvious contributors, such as Sunday's match winner Jota, will be Don Robertson, who only learned he was being promoted to referee Scottish Cup semi final win over Rangers a few minutes before kick-off after original appointee Willie Collum injured his calf in the warm-up.
While the 36-year-old was generally felt to have done a decent job overall, he angered Celtic – momentarily, at least – when he failed to penalise Nicolas Raskin after the industrious Rangers midfielder appeared to bundle over Matt O'Riley near the penalty area shortly before half time. Any fury soon melted away, however.
Robertson chose not to blow for a foul and the ball ran free, which is where Rangers' problems began. Daizen Maeda was first to react ahead of left back Borna Barisic, who appeared to be waiting for the referee to blow for a foul to Celtic. Maeda whipped a cross in and Jota easily stole in front of James Tavernier to head home what turned out to be the winner. It has been added to the litany of avoidable goals Rangers have lost to Celtic in recent clashes.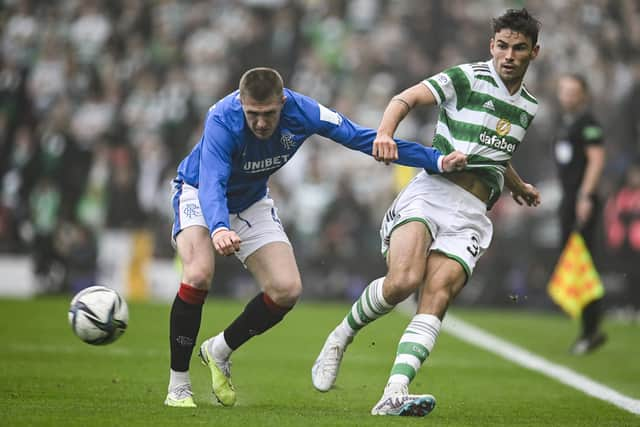 O'Riley remained convinced he was foul long after the final whistle sounded but the midfielder was understandably happy that Robertson appeared to think otherwise. "It was definitely a foul," he said as he reflected on the latest Old Firm meeting. "I was appealing for it and the ref told me it probably was a foul when I walked past him but he said: 'If I'd given the foul then you guys wouldn't have scored' and I was like: 'Yeah, fair enough!"
Rangers were caught sleeping twice. Both when the ball broke following Raskin's challenge, and when Maeda sent an early ball in towards the back post. "We wouldn't usually cross from that kind of area, we would usually try to work it a bit closer, but Daizen saw the opportunity and it was a great ball for the goal," said O'Riley.
Despite the narrow lead, and the spells of dominance Rangers enjoyed, the midfielder maintained that Celtic were always confident of success. It is now just one defeat against their Ibrox rivals in nine meetings. "I don't think there was ever a doubt in our mind that we would win the game," said O'Riley. "Even though they managed to get a few crosses into the box, we still felt very calm on the pitch, although I do think we could have relaxed a little bit more to make it easier for ourselves. But it was a cup game, so the most important thing was to win."
While there are few if any signs of overconfidence are emerging from Celtic Park, Inverness Caledonian Thistle manager Billy Dodds will carefully collate all references to Ange Postecoglou's side having all but secured the treble already. The Highlanders will relish being written off to the extent they have been following their 3-0 win over Falkirk on Saturday.
"That's not fair," agreed O'Riley. "Inverness can get promoted as well and the bottom of the top league and the top of the second league are probably very similar. We have shown before that we haven't always necessarily won against teams at the bottom, so I don't think it is fair to get into the frame of mind thinking that we have already won that game. It is a cup final and Inverness are going to be up for it so we will need to be as well."
O'Riley was quick to point out that as recently as two weekends ago Celtic were roundly expected to see off opposition at their own ground and failed to do so. "It just happened against Motherwell," he said. "Everyone expected us to win and we had good chances but couldn't score. That could happen in the cup final as well. We will do our best, but Inverness still have a chance."
He noted the reaction when Celtic were held at home by Motherwell. "A draw is a loss, isn't it?" he said. "That was a big thing for me when I came here. At previous clubs you could go away to a team and get a draw and you would pat yourselves on the back but here, it doesn't matter if you are at home or away to anyone, you are expected to win. I've really enjoyed that challenge of having to win every game and being very competitive."
Celtic only have to win their next match – against Hearts at Tynecastle on Sunday – to seal another Premiership title and then one more after that, be it in normal, extra time or via the dreaded penalty shootout, to clinch the treble and give O'Riley the clean sweep of Scottish domestic trophies at just 22-years-old.
"It would be crazy if I allowed myself to get carried away," he said. "But a lot of it is still new to me. I'm still pretty young so I have a lot to learn but each experience helps me to learn new things and the main thing I have learned is to stay in the moment as much as possible and not get carried away with whatever, even on the pitch.
"If you are thinking too far ahead then you are probably not in the right frame of mind. It is always about staying grounded and having a steady frame of mind. If you do that then, usually, the rest takes care of itself."