The ultimate Celtic turnaround recalled by the man who made it happen
There will be nothing in the mind of Peter Grant beyond leading his Alloa side to victory when they host Cove Rangers in the Scottish Cup third round today.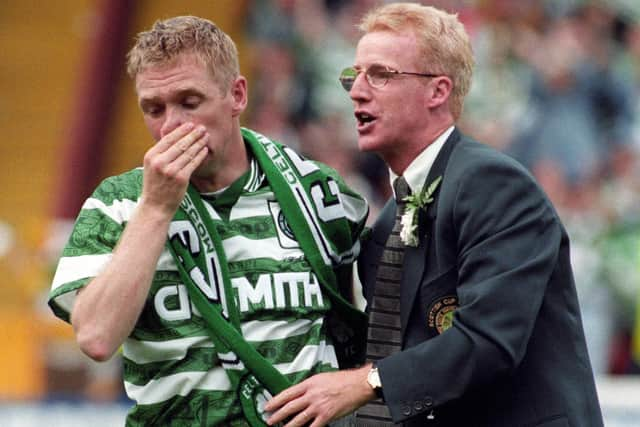 It will be the 55-year-old's first experience of managing a club in the competition. A new chapter in his relationship with a trophy he won twice as a Celtic player. Yet, for those well versed with his football career, and the 15 years spent with his beloved boyhood club, considering Grant in the context of Scottish Cup instantly conjures up memories of one of the most life-affirming episodes in the country's oldest competition.
Few individuals have a final that simply takes their name. Few have made a contribution that absolutely demands it, delivered in a manner so possessed of symbolism. The Peter Grant final is now how the 1995 showpiece is remembered. An occasion that witnessed the end of the club's torturous, tumultuous six-year wait for a silverware success it had appeared may forever elude them. It proved the crowning glory of his time at the club that, beyond the club's extraordinary last day title success of 1986 and the centenary double of 1988, was so often lathered in pain.
Grant endured that through sheer force of will to produce a man of the match performance at Hampden then, as a Pierre van Hooijdonk goal allowed Tommy Burns to lead his Celtic team to glory over Airdrie following a brutal 90 minutes. Yet, he should have been nowhere near the turf of the national stadium that May afternoon after a knee ligament problem forced him off on a stretcher at Tannadice a fortnight earlier.
The Celtic midfielder had to be fitted with a brace. It remained in place until the Thursday before the final. Or at least was supposed to have remained in place. Celtic meant too much to him - not for the first or last time - to give into physiology. Not when on the line was his former team-mate and soul-mate Burns' future, and the need to demonstrate Celtic hadn't become serial losers six months on from their soul-destroying penalty shoot-out loss to Raith Rovers in the 1994 League Cup final.
"I didnt tell anyone but, the nutter that I am, every night the week leading up to the final I took the brace off and clattered my knee against a wall in my back garden to see if it could stand up to it," Grant recalled yesterday. "It was incredibly sore every time, but I was heartened the pain quickly went every time. I phoned the great Tommy Burns, God rest his soul, on the Thursday and said: 'I'm telling you I can play, and I'm not saying this for myself, because I know we need to win'."
Burns accepted that Grant was being "honest" and he did more than drag himself through the final. He rampaged and snapped into tackles with agonies raging through his body, galloping 50 yards in the closing stages to put in a saving challenge against Alan Lawrence. "He innocently fell on top of me and the knee went. Physio Brian Scott came on to treat me. He knew I was in a state and said 'we might need to take you off'. No way, I said, I have to see this through."
He did and when the final whistle sounded, and he was quickly embraced by Burns, in common with captain Paul McStay, the tears flowed. "Some folk have got the wrong idea of those tears," he said. "It wasn't some celebratory outpouring, emotions simply boiling over. It was sheer relief, there was little happiness in them. People talk about Celtic's six-year wait for a trophy, but it was only me and Paul of that team that suffered every one of the proverbial kicks to the nuts the club took during that time. Some of our winning team had only been at Celtic for six months.
"Paul and I knew what Celtic should be, and what it failed to be during the bleak times. We understood Celtic should be winning one, two, three trophies a year. That is what the expectation has always been, and must always be. And we hadn't lived up to that for far too long, so we shed tears of utter relief. And the day left me completely burnt out because of it. I would normally let go when we enjoyed success, but I had half a beer at Tommy's that night then went to my bed. I was completely drained."
More than that, he was physically broken. "For the next eight weeks, my knee was so gone. I couldn't drive, I couldn't bend it to get in and out a car," said Grant, who had an ill-fated eight month spell as assistant to Tony Mowbray at Celtic across the 2009-10 season, and was Alex McLeish's Scotland no.2 more recently. " Should I have played? Probably not. Was it worth it, and do I regret it? Yes to the first, and not for a single minute when it comes to the second.
"Celtic meant everything to me. I have often said I am humbled that when people think of me they instantly associate me with the club. I understood that means giving every ounce of my effort to that cause, as I do now for the cause of Alloa. That is the way I am as a person. I was away from Scotland for the best part of quarter of a century after I left Celtic but since I have been back up, people still want to talk to me of my time at the club. It is fine if they want to remember me for the 1995 final. But it also makes me understand that, after all this time, my manners and decorum matter because I'm still not just representing myself, I'm representing that badge I wore, and what that demands."
A message from the Editor:
Thank you for reading this article. We're more reliant on your support than ever as the shift in consumer habits brought about by coronavirus impacts our advertisers. If you haven't already, please consider supporting our trusted, fact-checked journalism by taking out a digital subscription.
Comments
 0 comments
Want to join the conversation? Please or to comment on this article.