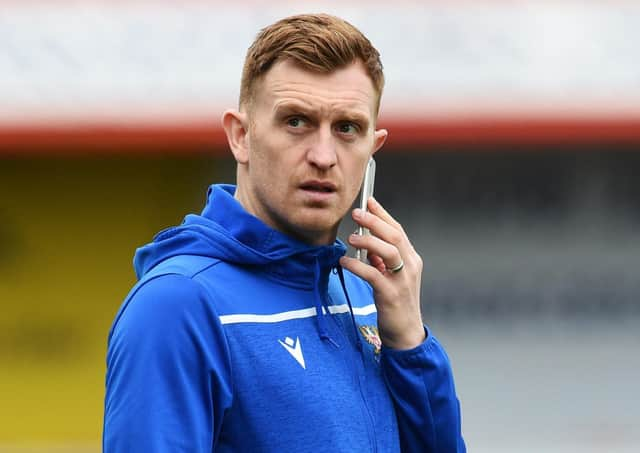 St Johnstone's Liam Craig feels the players have been ignored. Picture: Ross MacDonald / SNS
PFA Scotland chairman Liam Craig claims the SPFL and Scottish FA have "forgotten about the players" during the Covid-19 crisis and is demanding they now be included in all talks on the future of the game in this country.
The St Johnstone midfielder spearheaded the survey of PFA Scotland members which this week revealed their forcible support for league reconstruction to be instigated from the start of next season on a permanent basis.
Craig is among a host of players throughout the four divisions of the SPFL whose contracts are due to expire this summer. The 33-year-old former Falkirk and Hibs player was left frustrated by the lack of consultation from the governing bodies, prompting the survey in which almost 700 PFA Scotland members participated.
"I think people have forgotten about the players in the midst of this," said Craig. "It is our livelihoods and our jobs at risk right now.
"The uncertainty throughout the world just now is concerning for everyone. We have probably not been involved enough in the whole process as it affects Scottish football over the last six or seven weeks. Every decision that gets made at the SPFL and SFA affects the players in one way or another, not only with reconstruction. If clubs are going to move up to higher divisions, and they are going to change their squad, financially it could have a hit on them.
"That will affect players' contracts, maybe the length of contracts as well. The knock on effect of reconstruction could potentially be huge and the players have not been involved enough.
"That's why there has been such a great response to this survey. People forget that the players really matter here. It's our livelihoods that are getting spoken about. Why should we not have a voice at that table? To have 700 responses just shows how strong a message the players want to send.
"Moving forward, the PFA has to be involved in more of these discussions. Every decision that does or does not get made will have a massive impact on the players. The more we talk, the more we
discuss options moving forward, the quicker it gets done."
Craig confirmed that PFA Scotland members are open to the prospect of playing matches behind closed doors in order to resume football as quickly as possible.
"We've said from the start that players' safety is paramount and that'll always be the case," said Craig. "If the medics and government give us the go-ahead to play and it is safe to play behind closed doors, then obviously we will when it's the right thing to do."