The 'no-stakes' Rangers-Celtic derby? Unenviable reality facing Michael Beale if Ange Postecoglou gets way
The fair-minded – an admittedly far-from-populous cohort in Scottish football – would recognise that definitive pronouncements on Michael Beale as Rangers manager must be reserved until next season.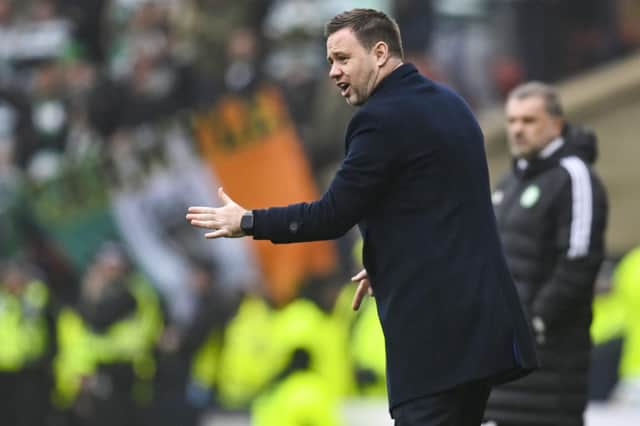 It is only right and proper to hold off from arriving at any such judgements prior to the Englishman having assembled his own team, underpinned by a raft of his own player purchases and own decisions on those rendered surplus to requirements. Yet what he needs like a hole in the head before seriously setting about those daunting endeavours is being owned by Celtic counterpart Ange Postecoglou.
This is the unenviable reality of what could befall Beale on Saturday when his team lock horns for the sixth and final time with their bitterest rivals in this ill-starred campaign for his club. Foes living it large after landing a second consecutive title last weekend to place them on course for a fifth treble in seven years. Now, it would be understandable were that backdrop, and the 13-point gap between the pair going into the fourth from last round of cinch Premiership fixtures, to give rise to the notion that this derby represents the deadest of dead rubbers. Oh, how the Rangers manager would truly wish that to be so, indeed. But his record in his team's confrontations with Celtic since he assumed the Ibrox reins jus over five months ago precludes any sense of irrelevance.
In the recent history of these tribal tussles, protracted periods of domination for each haven't been unusual. Beale would remind that in his former guise of Steven Gerrard's right-hand man at Rangers, the club enjoyed a seven-game unbeaten run in it. That feat, between 2019 and 2021, is eclipsed by the 12-derby sequence without defeat that Brendan Rodgers enjoyed at Celtic after taking charge in the summer 2016. What is rarer, though, are extended winning runs. And as a result, should Postecoglou's men triumph in the backyard of their ancient adversaries at the weekend, they will equal the longest stretch of victories in the fixture for almost two decades. A four-game winning run – which would match the longest by Rodgers' team, after Martin O'Neill's Celtic triumphed in seven derbies on the spin across 2003 and 2004 – is in Celtic's grasp because of the slender losses suffered by Beale in three different competitions as he has gone head-to-head with Postecoglou over the past 10 weeks.
The clubs' new year meeting at Ibrox, when it seemed the Englishman had instantly cracked it in the clash with a 2-1 advantage in the closing minutes, only for Kyogo Furuhashi to conjure up an equaliser, now feels dim and distant. That's primarily a result of the 1-0 Scottish Cup semi-final defeat a fortnight ago following a 3-2 reverse at Celtic Park at the start of April that, in turn, came on the back of the 2-1 League Cup final loss in late February. Beale simply dare not fail to halt this sequence, which it should be noted he has accepted is on him. The outcome of Saturday's derby may appear to make no material difference in a competition that has ceased to be live at the top end. However, the issue for Beale is that if can't break Posecoglou's victory hold in the derby, it will dog him. He will be painted as damaged goods by many in a querulous Ibrox support even before his summer shopping spree. It could so easily pave the way for Celtic to double the points advantage they had over Rangers when he followed the deposed Giovanni van Bronckhorst at the end of November. Pressure would then be shovelled on to him going into the first date with Celtic next season - likely to come in the first month of that campaign - in leaving him seeking to avoid becoming the first manager of one of Glasgow's big two in 19 years to lose five straight derbies.
That is the baggage-carrying problem for mid-season appointments unable to initiate a momentum shift in their first six months. Intriguingly, the Celtic manager only last week spoke of how his ability to revive the Parkhead side following their spectacular collapse chasing a record 10th title was helped by his picking up the wreckage, not finding himself among it. "It was maybe a bit easier for me because I had the energy," the 57-year-old said. "There was nothing from a previous season hanging on to me." Beale doesn't have that luxury. And, truth be told, more recently has appeared a little drained by the downturn in Rangers' fortunes across the past two months or so.
None of that will be lost on his Celtic counterpart. The flipside of where Beale finds himself is the opportunity it provides for Postecoglou. It isn't so much him kicking a rival when he is down but continuing to press foot to his throat. He has made plain his championship-winning team won't ease up ahead of their Scottish Cup final meeting with Inverness Caledonian Thistle on June 3. It would perplex if it were otherwise. It wouldn't just go against the grain when relentless is his favourite buzz word. It would make no sense for a man who consistently shoots for the stars when his team are within four wins of posting a 107 points total that would be a record haul in Scottish football. More than that, though, Postecoglou will know that in being able to play with a freedom that has eluded them in the past month, Celtic have a real chance to further shackle their rivals, inflict further derby psychological scarring on a group of players who won't all be departing the scene come the summer. For a seemingly no-stakes derby, these remain darn high for those who will occupy the technical areas.