The danger of Michael Beale becoming Rangers version of Celtic's Neil Lennon, and need to be radical with keeper and striker selections at Hampden
It is a perturbing situation Rangers and Michael Beale suddenly find themselves in.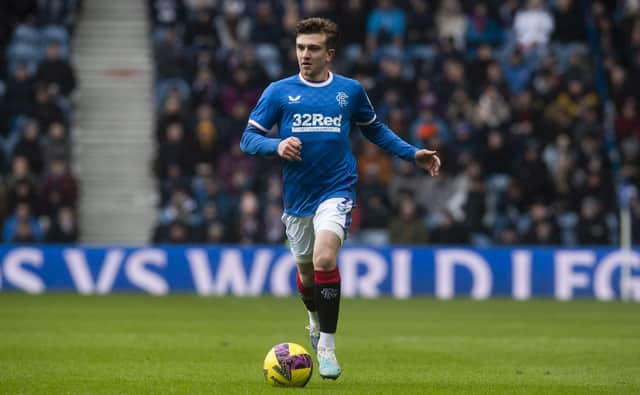 The 2-0 loss in Aberdeen on Sunday evening may have represented the Englishman's first defeat to any team outside of Celtic since he took the reins in November. That, though, hasn't stopped it being presented as close to the last straw for an Ibrox support in foment. When Beale was putting together the club's second best top flight sequence in 15 years, the Rangers faithful didn't go a bundle on lauding his efforts. Yet, if the 42-year-old cannot lead his side to a Scottish Cup semi-final victory over Ange Postecoglou's side on Sunday, it can be rest assured the lashing from this same faction will be truly frightful. Such is the febrility around Rangers.
Indeed, there are parallels with the situation which Beale, as second-in-comand to Steven Gerrard for the Ibrox men's towering title success, had a hand in bringing about across the city two years ago. For reasons best known to themselves, by then there was a core group of Celtic fans prepared only to tolerate Neil Lennon - like Beale, in a second spell at his club - while all was going along relatively smoothly but turn their ire on him as if he were a war criminal in the event of any deviation from that. The case when Celtic's pursuit of a record 10th title began to falter. It was a first defeat in the 10th game of that 2020-21 league campaign - which followed eight wins and a draw - in the closed-doors derby at Celtic Park in October that engendered the first calls for Lennon's head. On the back of his banking…oh, just the previous five domestic trophies that had been contested. The Irishman seemed to be perceived by a hard-to-please Celtic public as too gobby and too downmarket, the latter a consequence of following the much more glamourous appointment of Brendan Rodgers.
Beale seems to put a concerning number of the Rangers faithful's teeth on edge for much the same reasons. To them he appeared a cheap, unambitious option after Giovanni van Bronckhorst and Gerrard had been attracted to the post previously, and is considered to have just too much to say for himself. Ultimately, though, he is in danger of simply becoming the dumping ground for 18 months of bubbling frustrations over Rangers' brief, but mighty, pre-eminence in the Scottish game having utterly evaporated. At Hampden this weekend, Beale must avoid a third straight defeat at the hands of his club's bitter rivals to avoid being placed on the hook for a fifth Celtic treble in seven seasons. As would seem a certainty if Postecoglou's men set up a final with either Inverness Caledonian Thistle or Falkirk.
Domestically, Beale effectively finds himself in much the same position as was van Bronkhorst going into the same Scottish Cup last four match-up a year ago. Except then the Dutchman was also in the process of leading his team to a continental showpiece. As he proved powerless to halt Celtic's march to a first title under Postecoglou, van Bronckhorst bought himself time courtesy of combining his cross-border adventures with a semi-final victory at Hampden that set the club on the path to silverware. A double-whammy success since it denied Celtic a domestic honours clean sweep. Without being melodramatic, if Beale cannot do likewise his longevity in post will instantly be placed in doubt. Rangers will give him a summer transfer window to re-upholster his squad to mount a stronger challenge to Celtic in the cinch Premiership next season, whatever the outcome. And he absolutely has earned that right. Yet, van Bronckhorst won himself such latitude and was still replaced before the subsequent window rolled around.
The manager at the helm of the second-best team in Glasgow is always living on borrowed time. As Lennon discovered, to his cost. Beale doesn't need the gravitational pull of the Scottish game articulated to him. What he needs right now is for his players to explain how they were so meekly mastered at Pittodrie on Sunday. Chillingly, the performance - early control and a series of opportunities squandered before the roof came in - had strong echoes of the 1-0 defeat away to St Johnstone in November that significantly loosened van Bronckhorst's grip on his job. There are so many tried-and-failed-types within his playing pool, as well as some injury handicaps, the challenge for Beale is how he can set about redrawing his starting line-up to prevent the same scenario unfolding at the national stadium. As redraw he must. Indeed, and perhaps out of desperation as much as anything else, in radical fashion.
To this end, he must consider personnel changes in all departments. Allan McGregor is suddenly looking every day of his 40 years. Jon McLaughlin may have been responsible for some grave errors earlier in the campaign, but isn't tainted by the defeats of recent weeks at Parkhead and Pittodrie. For that reason alone, he is worth a punt in the semi-final. The return of Connor Goldson at the heart of the Rangers defence will be a mighty relief. Unfortunately offset by the recent travails of possible partners Ben Davies or John Souttar as seven goals have been conceded across three encounters. Davies' fragility makes the case for Souttar being given the nod beyond what the Scotland international has actively contributed.
Malik Tillman is undeniably a talented 20-year-old but it is equally undeniable that his limbs seem to go limp in the derby arm-wrestling. However, with Alfredo Morelos mentally appearing to already in the process of dissociation from his current employment whenever a match situation requires him to be all-in, and Antonio Colak patently not trusted by Beale, there could be some mileage in deploying Tillman - a natural scoring threat - as a false no.9. Freeing up Fashion Sakala for a wide, supporting role on the right, with the expected-to-be-fit, Ryan Kent on the left. With Ryan Jack sidelined again, John Lundstram may earn the deep-lying berth alongside Nicolas Raskin more by default than anything else, but maybe Beale should produce a string of surprises. Both Ianis Hagi and Ridvan Yilmaz were on the bench at Aberdeen. Could they somehow be utilised amid a system rejig by Beale, with Tillman and Borna Barsisic giving way and Kent played through the middle? Or how about pushing the technical Souttar forward to link with Raskin, in turn meaning a reprieve for Davies? The Rangers manager is in danger of becoming so boxed by events, surely he requires to think outside of it.