The Celtic player on cusp of world first after title triumph over Hearts
With his eighth Premiership title now secured, Celtic captain Callum McGregor can focus on another piece of history as he attempts to become the first player in world football to win five trebles.
The Premiership title seemed an inevitability for a while although no-one at Parkhead was taking it for granted. But having wrapped that up with a hard-fought 2-0 victory over Hearts at Tynecastle, another triumph – this time over Championship side Inverness Caledonian Thistle at Hampden on June 3- would complete the set of domestic trophies and write McGregor's name into folklore.
"There is still a lot of football to be played," said McGregor. "You just look at the next success, the next trophy that's on offer, and you want to win it. We have given ourselves a good chance. It's a cup final. But, we have to prepare well and that includes the last four league games. We have to be bang at it, we can't come off it - the manager wouldn't let us anyway. We just continue to play the way we're playing, stay hungry and once we get to the cup final we try to deal with it the best we can."
With the remaining league matches in mind he said his league celebrations would be limited to a cup of tea, while the squad will all be back in to training on Monday morning. But, the joy and sense of achievement at racking up success after success has not been diluted, with the 29-year-old Scotland midfielder explaining that he probably treasures each new trophy win more highly than the last.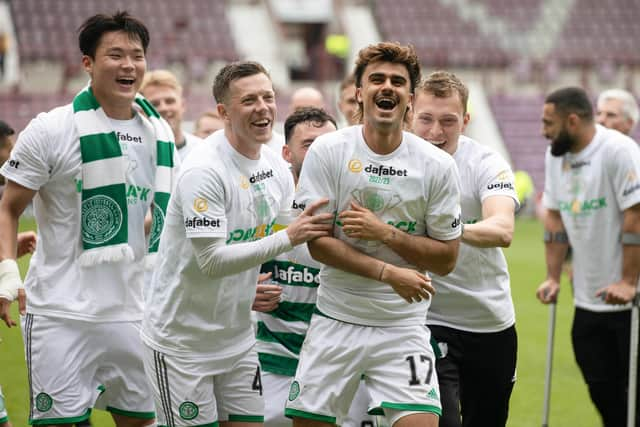 "As you get older, you probably enjoy them a little bit more because you know how difficult it is to do," the midfielder continued. "Early on, you just think this is normal, you turn up and it happens. But when you get one taken away, it eats away at you. When you get it back, you appreciate it a lot more.
"The older guys in the group are trying to instil into the younger lads to enjoy it as much as they can. One season you might come and not win anything. That definitely hurts so you have to enjoy the ones that you do."
Having lost out on 10-in-a row, Celtic have bounced back with back to back wins in the last two seasons, making it 11 Premiership titles from 12. "It feels brilliant," said McGregor. "I'm extremely proud of the group of players we have and what we're building. To go back-to-back tells you there's a real hunger in the group to continually succeed. When you have success, you have to go and do it again and try to do it in an even better fashion.
"That's what we've done. You're always looking for improvement. A lot of people think that's [purely] points, but you have to improve performance, improve control, improve defensively and I think in pretty much all aspects we've got better as a team.
"Success is a habit. When you get a taste of winning you just want more. That's what this club demands year in and year out: success. If you don't meet the challenge, it's very difficult to find yourself here for a period of time."