Stuart Kettlewell has say on Celtic fans' pitch invasion amid safety concerns after late winner at Motherwell
Motherwell manager Stuart Kettewell has insisted that he never feared for the safety of his players amid chaotic scenes at Celtic's winning goal.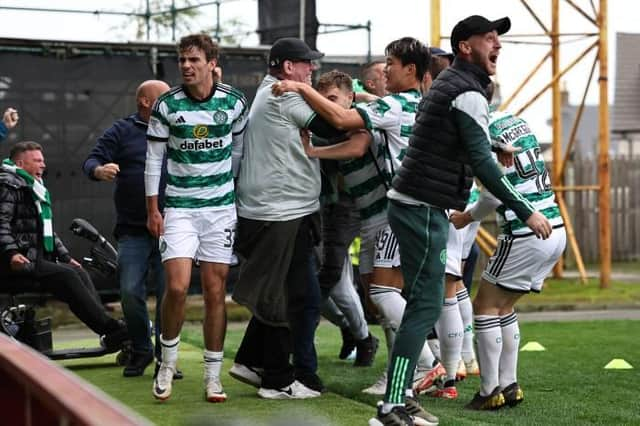 Motherwell fans had spilled onto the pitch to celebrate what they felt was a point salvaging draw when Blair Spittal netted in the fifth minute of added time. When O'Riley responded with the winner, it was the turn of Celtic fans to jump into the pitch with a brief moment when it looked as though it might get ugly between both sets of supporters.
"You're always thinking about your own players' safety," said Kettlewell. "When fans are overpowering stewards and coming onto the pitch, it looks a bit ugly, a bit nasty. Nobody wants to see those scenes but I have to put it into a bit of perspective.
"By the emotion of the game, Celtic knowing they were in a real game and scoring so late to win it, I understand the emotion of the football supporter. That doesn't vindicate us having fans streaming onto the park. It does look a bit messy, a bit ugly.
"You're always concerned about your players' safety but Celtic supporters were on to cheer their goal and celebrate with their team. There was no situation where our players were accosted."
The Motherwell manager, meanwhile, was credibly magnanimous at the timing of Celtic's 97th minute goal. The fourth official's board had shown five minutes of time – which was up when Spittal netted. Greg Taylor required treatment on a calf injury with Kettlewell refusing to point the finger for further time than had been anticipated.
"I'm not complaining about it," he said. "I could say I wanted extra minutes when we are chasing to get back in it. But then that flips when you have dragged yourself back. So it's not something I'm talking about. It was a complete whirlwind, so the time pales into insignificance when you have been dealt that kind of bitter blow."
Comments
 0 comments
Want to join the conversation? Please or to comment on this article.