SPFL chief Neil Doncaster has say on Celtic v Hibs fixture fiasco
Neil Doncaster has defended the SPFL's role in various situations which have engulfed Scottish football recently.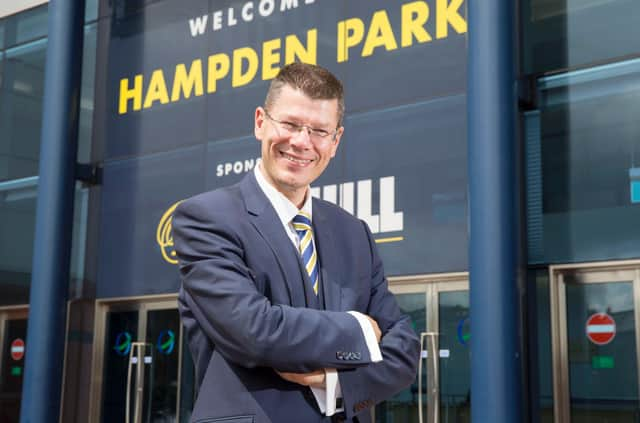 The SPFL then proceeded to reject Hibs' request for the Celtic players to be re-tested for coronavirus after Christopher Jullien had tested positive which forced up to 16 players and staff to miss Monday's fixture.
Neil Doncaster, the organisation's chief executive, claimed he had discussions with Hibs about moving the match which fell "in line with previous procedure" and that "no special treatment was given".
"I had various conversations with Hibernian around that time," he told the Scottish Sun. "It's for the club to take their own view on what happened."
'Severe consequences'
Hibs released a statement on Monday ahead of the meeting with Celtic confirming their "reasonable request" for "an additional round of 'on the day' Covid 19".
Doncaster talked about the severity of such a situation and that if the SPFL were to allow individual clubs to decide whether a fixture should go ahead "then that's where madness lies" while defending Celtic and their protocols.
The match went ahead with the game finishing 1-1, Kevin Nisbet netting a late equaliser for the visitors.
'Most serious things'
"If a club cannot fulfil a fixture, or refuses to fulfil a fixture, then that is a disciplinary matter any league would have to take up," Doncaster told the Scottish Sun.
"With the history of these issues that tends to be one of the issues that's taken most seriously in sporting competitions.
"You may remember a few years ago Middlesbrough failed to fulfil a fixture at Blackburn and they were docked a number of points. They ended up being relegated as a result. So failing to fulfil a fixture is very much one of the most serious things a club can do.
"The league has to be the determiner of whether a fixture goes ahead or not. That was the case here."
Protocols
He added: "Hibs were informed that all of the Celtic players who were participating in the game had produced a negative test result.
"We have a very clear set of rules around testing which apply to all Premiership clubs.
"They require every club to test its players in the 168 hours prior to a game taking place, and to provide negative results for those players to take part in the game. Those are the rules and Celtic followed them.
"It's absolutely fine for Hibs to make a request to cancel the game. But we spoke to government officials that day and they confirmed the rules and said there was no need for any further testing to be carried out."