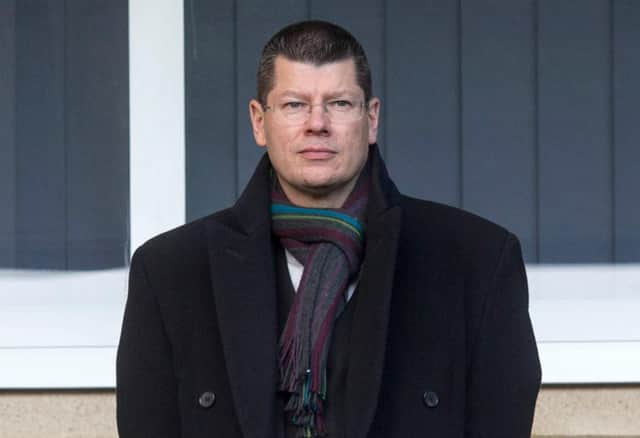 SPFL chief Executive Neil Doncaster.
The SPFL board has asked clubs to hand it power to make decisions on any future Covid-19 related disruption.
The move is to avoid "the division and rancour" that has scarred Scottish football since the decision to suspend the game in March.
A vote on Good Friday involving all 42 clubs saw the Championship, League One and League Two seasons curtailed, with the SPFL board also given sanction to curtail the Premiership campaign, which they duly did on 18 May.
Now the SPFL board want the power to act on all issues related to the pandemic. This authority would only exist in relation to season 2020-21 before then expiring.
The board admit the current rules "do not adequately cover the situation where a season has to be curtailed, with a number of games remaining to be played".
Hearts and Partick Thistle have taken legal action, challenging their relegations in a petition to the Court of Session and seeking compensation.
Clubs have been asked to return a voting slip within 28 days on the Covid-19 emergency powers proposal.
With reference to the controversy over the re-sent Dundee vote in April, the SPFL board also noted that "Once you have returned to the Company your agreement, if any, to Written Resolution, you may not revoke that agreement".
To pass the proposals a 75 per cent majority is required from three different sections: the Premiership; the Championship; and a combined Leagues 1 and 2 vote.
"Following the curtailment of Season 2019/20 due to the Covid-19 crisis, a number of clubs have suggested that the Board should 'do something' to avoid a repeat of the uncertainty and division that we saw during Season 2020/21," writes Neil Doncaster in a letter sent out to clubs earlier today.
"These circumstances were created by the Board asking Members for the express authority to curtail the season and cancel the play-offs. As we know, this effectively meant asking clubs to vote for the relegation of other clubs in circumstances where the season could not be completed.
"The repeated suggestion has been that the Board should take the responsibility for dealing with such emergency decisions in the interests of all SPFL clubs.
"Clearly no-one can predict how quickly Covid-19 will dissipate, nor whether and how quickly a vaccine may be developed. While we are optimistic about the Premiership commencing on the weekend of 1 August, it remains entirely feasible that Season 2020/21 may be disrupted by a second wave or further spikes in the occurrence of cases of Covid-19.
"As was so apparent earlier this year, SPFL Rules do not adequately cover the situation where a season has to be curtailed, with a number of games remaining to be played.
"The accompanying resolution is recommended to member clubs as a means of giving your Board the express power to deal with Covid-19 related disruption to Season 2020/21."