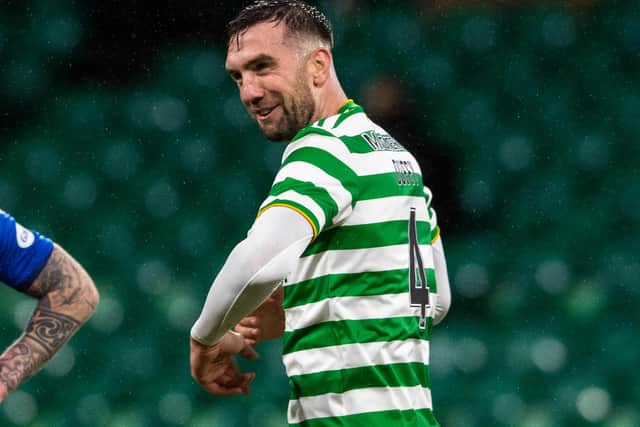 Celtic's Shane Duffy says he understands fans' criticism and knows he has to produce better form. (Photo by Craig Foy / SNS Group)
The Republic of Ireland captain is damning of the contribution he has made since joining his boyhood club in September. But he maintains that is precisely why talk of him heading back to the south coast prematurely was bogus. "I don't listen to that," he said. "I don't know where it has come from. I'm here. It would be cowardly of me to leave without producing. It's not in me and I would never do that."
Duffy has returned to the Celtic starting line-up for their revitalising back-to-back wins in the past week. He claimed an imperious header in Sunday's 2-0 victory at home to Kilmarnock after impressing in the 3-2 success over Lille three days earlie,r having last month been taken out of the team for his own benefit by Neil Lennon as he toiled. He praises the Celtic manager for his handling of him.
"The manager is a big reason why I came here because of the faith he showed in me to try and get me here," said Duffy. "He's been brilliant from the day that I walked into the club and gives you confidence. Listen, I wouldn't have put myself out the way he did. He came around [to see me] and he really cares about players and their emotions. He knows I was going through a tough time, I've really never had a manager like that before: 'How are you getting on life?' 'How are you handling it up here?' It meant a lot to me and I''ll always respect him for that.
"I actually felt he took me out of the team at the right time because my form wasn't good. He's done the right thing by me and picked the time to bring me back in. It was obvious to see my form did dip. The Celtic fans haven't seen me before and since I've come into the club I haven't been me. I get them, I understand the criticism. I wouldn't be happy with myself either to be honest, if I was watching me play from the stands. I'm realistic and know what levels I can get to. It'll be a lot more than this to keep me down.
"I've had a tough year. [I lost my dad] who was a massive part of my life. It's hard as he was the one I'd speak to about everything in life. My two kids also live back in Derry and I'm up here alone. With the Covid restrictions I can't really interact with the team as much as I'd like. But listen, I'm big enough and ugly enough to know I've got to do better on the park. Maybe I took things a little bit to heart and was trying too hard to do well here and not let everyone down. But it affected me when things weren't going well and I was all over the show. That's just me being honest. But I have a manager who has been brilliant."
A message from the Editor:
Thank you for reading this article. We're more reliant on your support than ever as the shift in consumer habits brought about by coronavirus impacts our advertisers. If you haven't already, please consider supporting our trusted, fact-checked journalism by taking out a digital subscription.