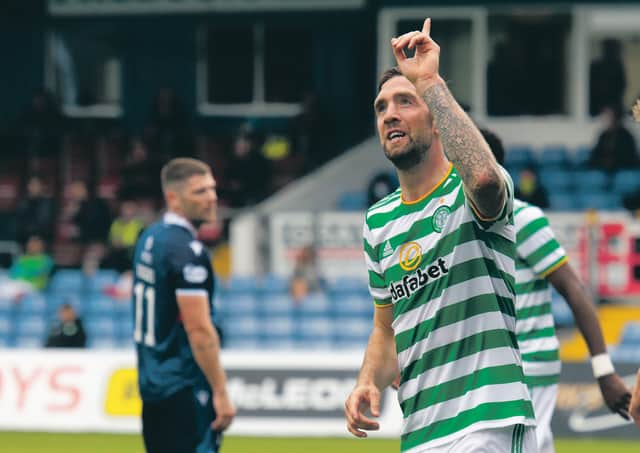 Shane Duffy celebrates his debut goal for Celtic. (Photo by Craig Foy / SNS Group)
The modest circumstances could not take away from Shane Duffy's pride in donning the colours of his boyhood club and crashing in a header to help Celtic to a 5-0 win over Ross County.
These experiences for the on-loan Brighton defender confounded the expectations of the club's former first-team coach Damien Duff, who Duffy revealed had made contact beforehand with the player he now works with in the Republic of Ireland set-up.
"Damien Duff texted me today and said 'I know it's not what you dreamed of going to Dingwall in front of 300 fans playing for Celtic'. But it was still a special moment," said the captain of his country. "This year has been crazy but it's something I'll look back on with immense pride that I've got to play for this club. Hopefully it will be a successful time."
Duffy met the media before he had the chance to check his phone following his scoring debut, but he was certain what he would find when he did that.
"Half of Derry is probably texting me," said the 28-year-old brought up in that city. "It was obviously a proud moment for me, it was something I've always wanted to do and now I've done it. I'll be proud when I look back tonight and reflect on the game, and my mum and that will be proud. It was a big game for me personally because it was my first, so I'm sort of relieved it's done and dusted and now I can kick on."
His goal on the hour mark from a Callum McGregor corner showed that his reputation for being able to do damage in opponents' penalty box was fully on the mark. "I haven't really reflected on it yet, I just said to Cal to hang it up for me," he said. "We've got three big threats now at centre-half and two of us scored, so if he puts it in the right areas then I can't see many people dealing with it. It was straight off the sweet spot."