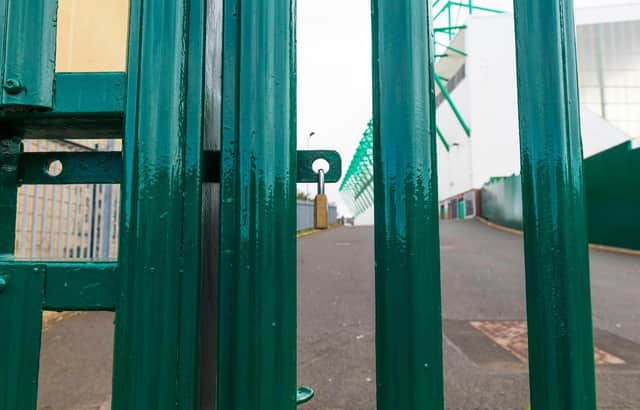 Football grounds around Scotland have been shut over the coronavirus spread
Scottish football's governing bodies are ready to follow guidance from Uefa as they grapple with the thorny issue of determining how the 2019-20 domestic season is settled amid the coronavirus crisis.
The Joint Response Group of the Scottish FA and Scottish Professional Football League will meet again on Monday to address the current suspension of all fixtures which they announced last Friday 'until further notice'.
There is now no realistic expectation of matches starting again until the summer months at the earliest, leaving uncompleted league and cup competitions all around Europe in a state of flux.
It has been suggested Prime Minister Boris Johnson is poised to declare all leagues in the United Kingdom as over for the season, leaving individual leagues to decide whether title winners and relegated clubs will be determined by current positions in the tables.
But as sport is a devolved issue, it would be the Scottish government who have the authority to call a halt to the season in Scotland. With First Minister Nicola Sturgeon having indicated her administration will seek to take any coronavirus-related decisions 'on a consistent UK 4 nations basis', any such lead from Downing Street appears likely to be followed.
As football across Europe tries to come to terms with an unprecedented situation, the Scottish FA and SPFL will take part in a Uefa videoconference summit which has been called for Tuesday.
European football's governing body have stated that the discussions will include 'all domestic' football under their auspices, as well as the fates of this season's Champions League, Europa League and the Euro 2020 finals.
Finish domestic seasons 'as they are'
One option open to Uefa is to advise all of its members to declare their domestic leagues as completed on the basis of how the tables stood prior to fixtures being suspended.
That would be a highly contentious move for many in Scottish football where a number of issues have to be resolved at both ends of all four SPFL divisions.
Celtic feel they would deserve to be declared champions for a ninth consecutive season in such circumstances, given their 13-point lead over Rangers at the top of the Premiership with eight games left to play.
But the Ibrox club, who have a game in hand and are still scheduled to face their Old Firm rivals twice, are likely to question the sporting integrity of that scenario.
Hearts are also anxiously monitoring the situation which could see them relegated as a consequence of their present position at the foot of the table, four points behind Hamilton Accies.
In the Championship, Partick Thistle would have an even greater sense of injustice at their potential relegation to League 1. The Firhill club are two points behind Queen of the South at the bottom of the table but have a game in hand.
League reconstruction? Bosses eager to avoid 'null and void' outcome
A form of league reconstruction has been mooted by some in order to mitigate against any clubs being relegated without the season being completed, with each division accepting two promoted teams on the basis of current standings.
While the SPFL and Scottish FA await the outcome of Tuesday's Uefa talks, they remain firmly opposed to the alternative action of declaring the 2019-20 season null and void.
They believe this could have devastating financial implications for clubs as broadcasting companies and sponsors would not be obliged to fulfil their contracts.
This season's Scottish Cup, which had reached the semi-final stage, could now be played at the start of next season as the Scottish FA look to protect the continuity of their flagship tournament.